21 Best Flies For Pennsylvania Steelhead: Plus Guide Flies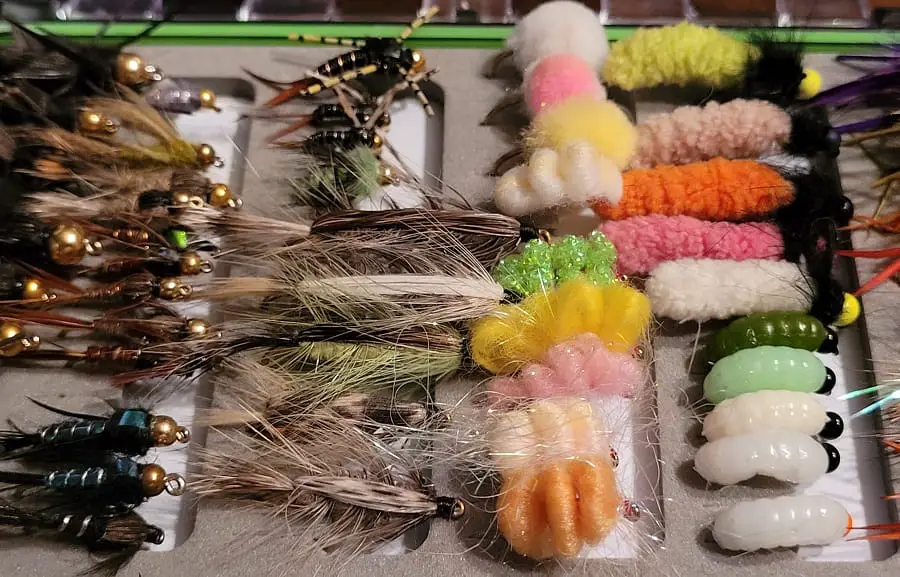 I've been a guide around the Great Lakes for 22 years and have been fishing for steelhead with flies for 37 years. I've tried just about every steelhead fly ever published, and based on 37 years of testing flies in all conditions, I can honestly say there are less than a dozen flies that make up the best flies for Pennsylvania steelhead.
The truth is, myself and most steelhead guides I know will catch 90% of our fish on the same four or five fly patterns. Some flies just consistently catch a lot of fish, while others don't!
But, to make your life easier, I will also list over 30 steelhead flies that are recommended online.
The Best Flies For Pennsylvania Steelhead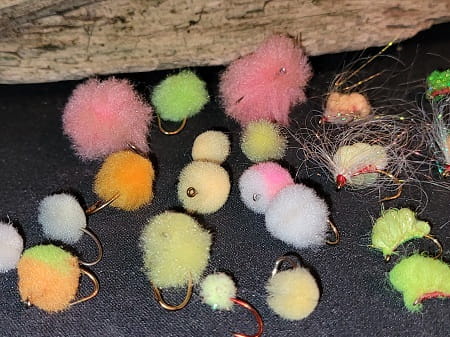 The best flies for steelhead fit into five categories.
With most good flies, it's wise to have multiple sizes and colors for all conditions.
Egg Flies: The most used and likely the best flies for Pennsylvania steelhead are egg patterns. The basic Yarn Fly probably accounts for more steelhead than any other egg pattern, and chances are good you will find it in all steelhead guides fly boxes. I'll show you a few other great egg patterns to try.
Nymphs: Stoneflies, mayflies, such as Pheasant tails nymphs, Copper Johns, and Hare's Ear nymphs in multiple colors can be deadly under the right conditions.
Worms: Worm patterns such as the San Juan Worm or Squirmy Wormy will work for steelhead year-round. Pink or red four-inch worm is often my most effective fly.
Streamers: Local PA anglers and guides do well with Woolly Buggers, Zonkers, and Muddlers. Black, white, and olive are hot colors.
Spey Flies/ Swinging Flies: Most swinging flies are made with Marabour or Rabbit to create movement in the water. One of the best is the Hoh Bo Spey.
Eggs Are Often The Best Flies For Pennsylvania Steelhead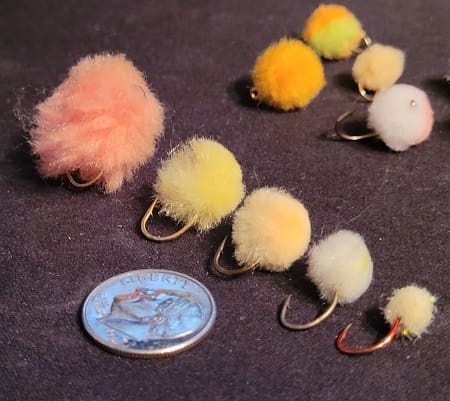 Most of the time it's hard to beat egg imitation fly patterns for steelhead. However, in my experience some egg fly patterns will work better than others.
Pro Tip: If you were to look into most steelhead guides fly boxes, you will find one egg pattern that stands out the most. It's the simple, basic round egg pattern known as the Yarn Egg or Glo Bug tied in multiple sizes and colors.
Despite lots of fancy egg fly patterns, the Glo Bug accounts for over 80% of the steelhead that I and my clients catch when using egg patterns and it rarely lets us down.
Bright And Flashy Eggs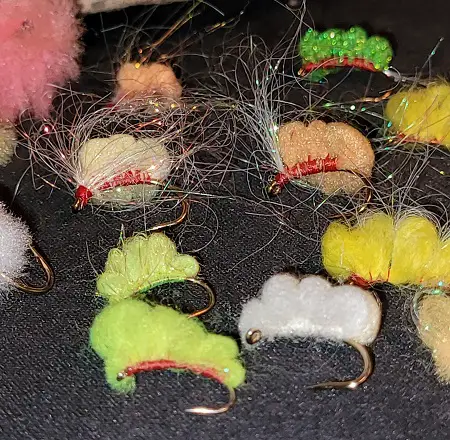 Under low light conditions, when they steelhead first enter the river, and when the water is high or off-colored, flashy egg flies like an Estaz Egg, or a Crystal Meth egg can work very well.
These flashy and bright flies also excel anywhere in the river when the water is high and dirty or stained. This is also when bigger sized egg patterns will also work.
I use eggs from half an inch to one inch (Dime and Nickel Size).
Best Flashy Egg Flies:
Crystal Meth Fly
Estaz Egg
Breaking Skein Glitter Fly
However, when the river is low and clear, these flashy flies are less effective, and more natural or more subtle colored egg flies are better.
Natural Egg Flies: Glo Bug Patterns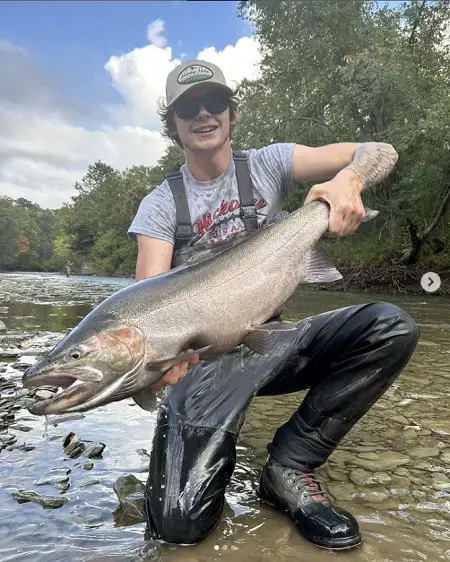 When steelhead are pressured, or when the steelhead have been in the river for a while, or when I am fishing clear water, I do much better on smaller flies in natural colors like peach, white, light orange, light pink, and pale yellow.
This is when a simple Glo Bug pattern excels.
Glo Bug Fly
Sucker Spawn Fly
Blood Dot Fly
Scrambled Egg
Eggstasy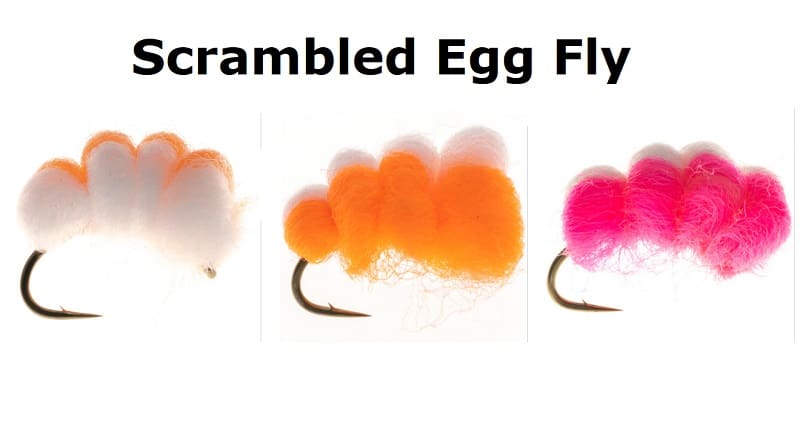 When the water is gin clear, smaller egg flies the size of a steelhead egg, or a single salmon egg (4mm to 8mm) will work best.
Light blue, is also a surprising color that actually works well in clear water.
Local guide Jeff Blood has come up with an amazing fly called the Blood Dot fly.
It was Bill Spicer from the New Flyfisher Show that introduced me to this fly on a film shoot I did with them and I was amazed at how well the fly worked.
Watch Jeff work this fly on a local Lake Erie stream HERE.
Tying your own flies saves you money and lets you tie custom flies that will probably work better. If you already tie your own flies, check out The 7 Best Fly Tying Hooks: For Dry Fly, Nymphs, and Streamers, or if you are thinking about starting to tie your own flies, check out 5 Best Fly Tying Kits From Beginner to Advanced.
Best Nymphs For PA Steelhead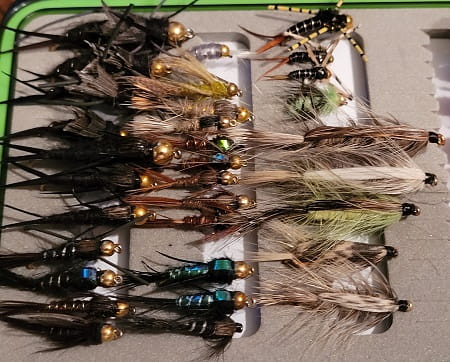 I don't know how many times I've set foot into a busy pool full of bait guys and spent the next 45 minutes catching more steelhead than all of them combined.
What the average angler doesn't realize is that steelhead have great eyesight.
So when five guys in a pool are all drifting roe bags and egg flies past them all morning, the steelhead see those bags go past them over, and over, and over so, the steelhead become weary of roe bags and egg patters.
So when a guy like me walks in and presents a nymph to those same steelhead, they bite it.
Nymph flies imitate the natural aquatic insects found in the stream. Therefore, the best nymph patterns are Stoneflies, Mayflies, Caddis, and scuds/isopods. Even very basic nymphs like the walts worm or Pheasant Tail nymph in brown and black are all you need most days.
For nymphs, there are 3 or 4 that work well most of the time, and there are times when a Gold, Silver, or copper bead-headed version will work better.
Stonefly Nymphs: Black, Brown, Yellow, size 8 to 10 (favorites are the B.H Stone, and the Midnight Intruder Stonefly
Pheasant Tail Nymph: Size 8 and 10, size 12 to 14 in very clear upper stretches.
Caddis Larva: size 10 and 12
Hares Ear Nymph: Size 10 and 12 (Alternatives: Walts Worm, Sexy Walts Worm, Egans Tungston Surveyor, Hare's Ear Blowtorch)
Prince Nymph: Size 8 to 12, good on the lower river or high water and when an attractor pattern is required.
Michigan Wiggler: Size 8 and 10: Orange, white, black, and, chartreuse belly
If you want to learn more about the tactics and setups guides use to nymph, check out Nymphing For Steelhead.
Worm Flies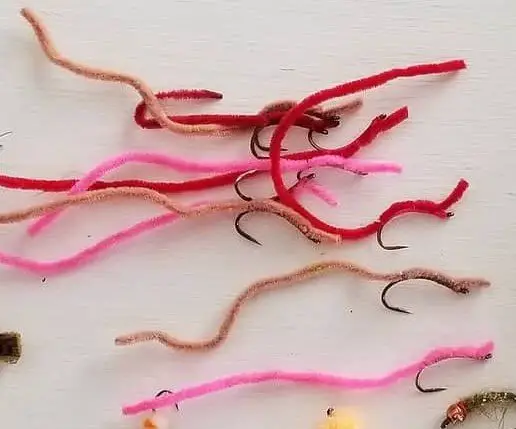 It is rare not to see a worm pattern at the end of my client's leader.
I would say that over the last ten years, 75% of the big steelhead I've landed, (FYI, that is thousands) were on a pink, red, or brown worm pattern.
I like my worms to be 2.5 to 4 inches long.
Pro Tip: Also, as you can see in the above image, I tie my worms differently than store-bought worm flies (which still work well). I do not put the hook in the middle like everyone else does.
I do this for two reasons. First, tying the hook in the middle allows the worm to fold in half when it is pulled by the current. It is more prominent with long 3 to 4-inch worms.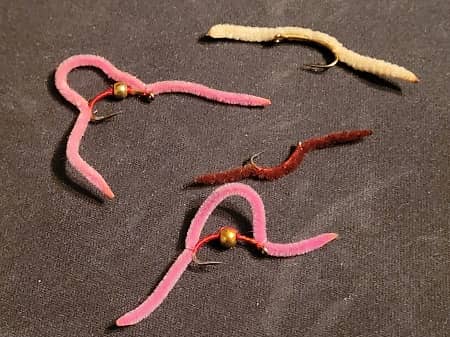 I think that a folded worm looks unusual in the water and can make the worm profile smaller.
My pattern will NOT fold in half, it stays elongated and provides a bigger profile, which I like.
Second, tying the hook at the end gives the worm more tail-end movement and I think it looks more natural in the water.
Streamers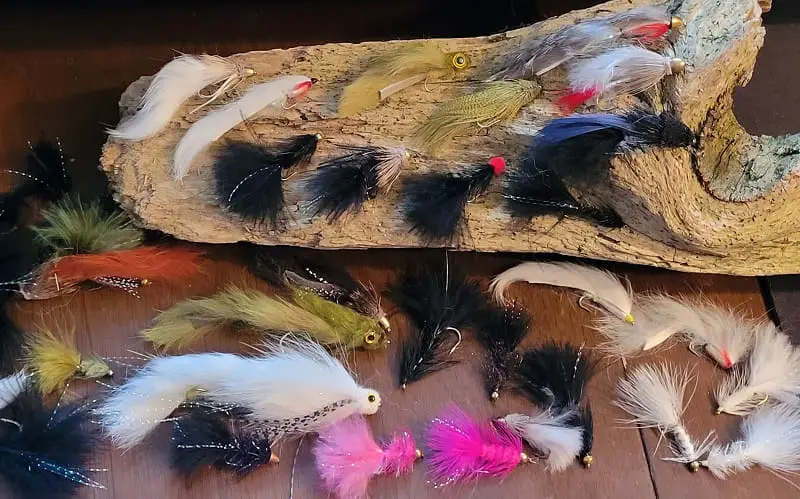 Streamer flies can be used in three ways. You can use streamers while nymphing, or you can cast streamers and retrieve them with a stripping retrieve, or you can swing them across the current.
The best streamer patterns for nymphing will be a 1 inch long to 3.5 inches long and include streamers like Egg-sucking Leeches, Woolly Buggers, and Zonkers.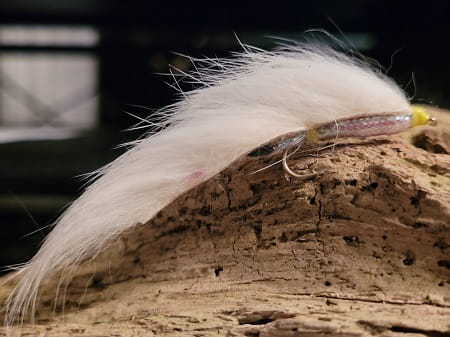 In the Steelhead Alley area, a local guide reports that white zonkers are often one of the best streamers for both nymphing and stripping or swinging.
White Wooly Buggers are also very effective flies for Erie tributaries.
I also do well nymphing micro streamers such as half-inch and 1-inch long Wooly Buggers.
I and other guides use:
Large Zonkers – White, black, olive
White Death Fly – A white zonker imitation
Muddler Minnows
Marabou muddlers
Zoo Cougars – White, black, olive
Circus Peanut
Woolly Bugger – White, black, olive (occasionally pink)
Mini Buggers – White, black, olive
Egg Sucking Leech
If streamer fishing for steelhead is something you want to learn more about, check out Streamer Fishing For Steelhead.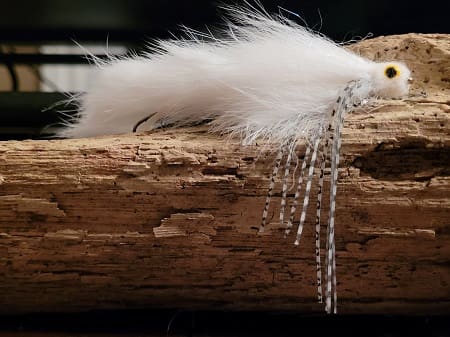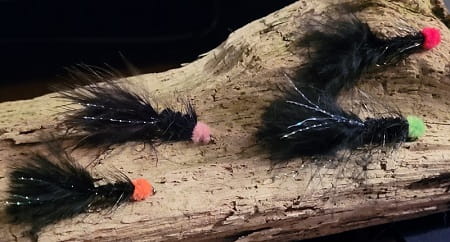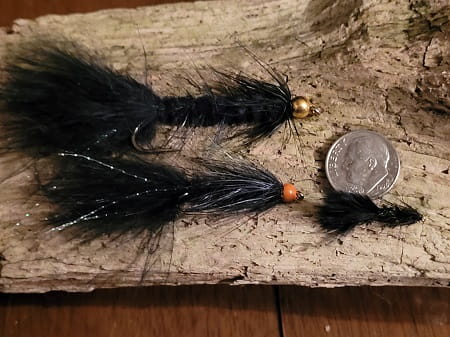 Best Flies For Pennsylvania Steelhead
That wraps up this article for the best flies for Pennsylvania Steelhead. If you have any questions, comments, or suggestions for good flies, let us know in the comments section below.
Tight Lines,
Graham