Tasmanian Trout Fishing: Best Spots and Tactics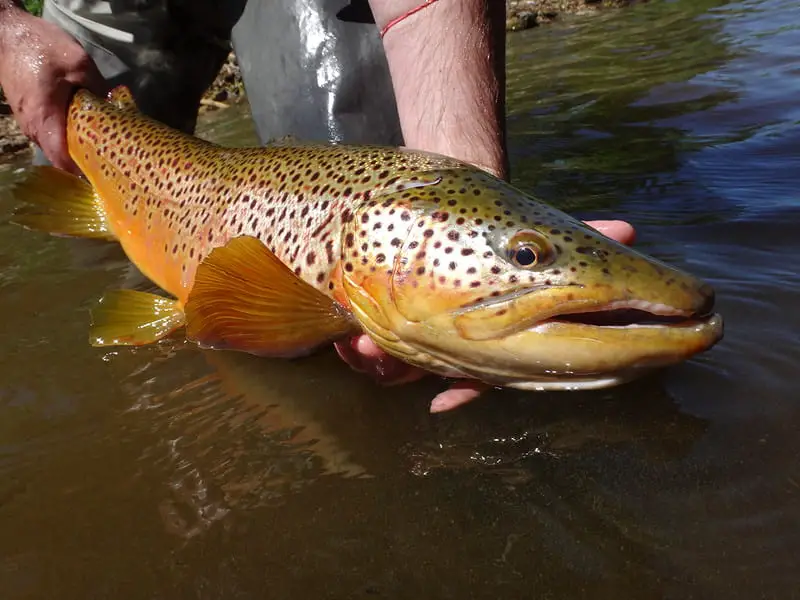 I am researching Tasmanian trout fishing for an upcoming trip I am doing there. I will likely be fly fishing and spin fishing and I want to see if the same methods, baits, lures, and flies that I use as a trout fishing guide will work on Tasmania trout.
Tasmania, the Australian island state, is a trout fishing paradise. Its crystal-clear rivers, stunning landscapes, and abundant trout populations attract anglers from around the world.
From fly fishing to spin fishing, Tasmania offers diverse trout fishing opportunities throughout the year. In this article, I will explore the best times to fish for trout in Tasmania, the most popular trout destinations, as well as all the tips I find on Tasmanian Trout Fishing.
Trout Fly Fishing Season in Tasmania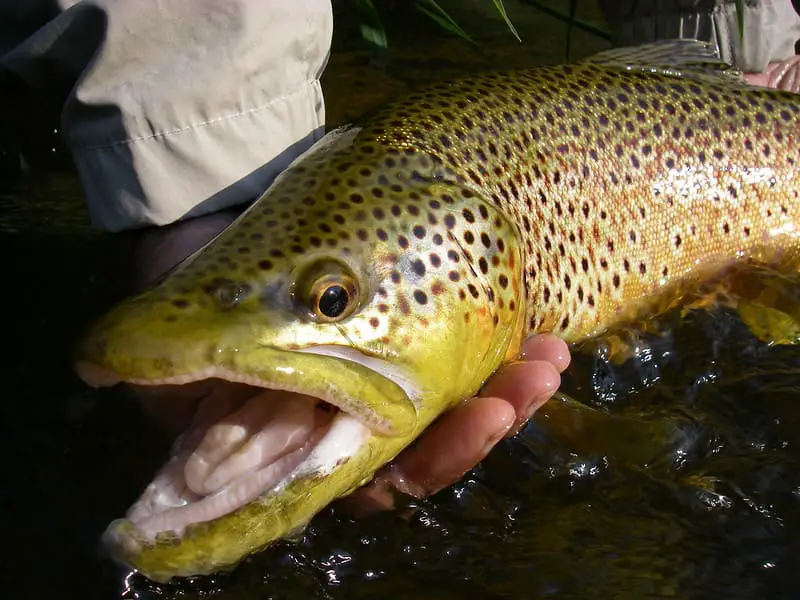 The Tasmanian trout fishing season runs from August to May, making it one of the longest fishing seasons in the world. During the winter months, many rivers are closed to fishing to protect spawning trout populations.
The fishing season officially opens on August 6th each year, with the rivers opening in stages throughout the season.
Early season fishing can be productive, with hungry trout eager to take a fly after a long winter.
However, the weather can be unpredictable, with cold and windy conditions often challenging for anglers. As the season progresses, the weather becomes more stable, and the fishing becomes more consistent.
By November, the fishing is usually excellent, with mayfly hatches and dry fly action attracting anglers from around the world.
Tasmanian Weather And Trout Fishing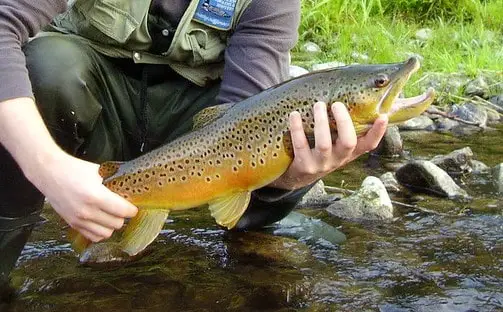 The weather can have a significant impact on Tasmanian trout fishing.
Cold and windy conditions, for example, can make it more challenging to catch trout, as the fish may be less active and harder to locate.
On the other hand, stable weather conditions can make for more consistent fishing, with trout more likely to be feeding and willing to take a fly.
In the early season, August to October, weather conditions can be unpredictable, with cold fronts and strong winds common. This can make fishing more challenging, but it can also provide opportunities to catch aggressive trout that are eager to feed after a long winter.
During the summer months, from December to February, warm and stable weather can make for some excellent dry fly fishing. However, hot weather can also make the trout less active, and it may be necessary to fish deeper or at different times of the day.
In the autumn months, from March to May, rainfall can cause the rivers to rise, making it more challenging to fish. However, the cooler temperatures can also trigger aggressive feeding behavior in the brown trout, providing an opportunity to catch trophy-sized fish.
When the water and weather are cold, nymphing is best, and there two great methods of nymphing that will work for Tasmanian trout.
Summer Fishing in Tasmania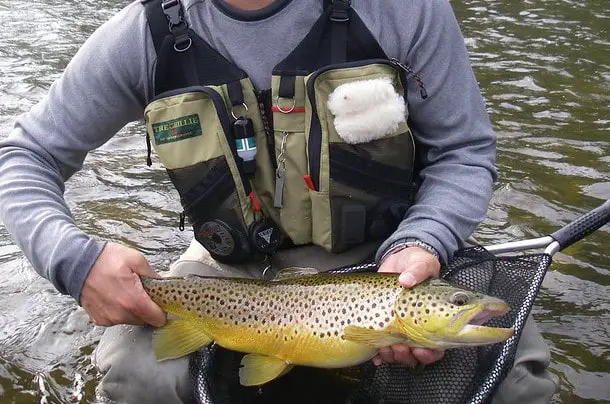 During the summer months, the Tasmanian trout fishing continues to provide great opportunities. Since the rivers are low and clear at this time, they are perfect for dry fly fishing and for sight fishing large trout.
January and February are summer months in Tasmania are the peak months for hopper fishing, a technique that can provide some exciting action from the biggest trout. As the summer progresses, terrestrial insects become more prevalent with other insects like beetles becoming a big part of a trout diet. Be sure to check out 29 Best Trout Flies.
This can provide anglers with plenty of options to entice the trout.
Autumn Trout Fishing in Tasmania
As the leaves begin to turn and the weather cools, the autumn months offer some of the best trout fishing in Tasmania. The water levels rise with the autumn rains, and the cooler temperatures trigger the brown trout spawning season.
This can make for some challenging fishing, but it also provides an opportunity to catch some trophy-sized brown trout.
The autumn months are also a great time for streamer fishing, with the brown trout often taking a well-presented streamer aggressively. For more on guide tactics fro streamer fishing and the best streamers for trout, check out Trout Fishing With Streamers.
As the season winds down, fishing can be more challenging, but the cooler temperatures and stunning autumn colors make Tasmanian trout fishing more enjoyable to be on the water.
Top Fishing Destinations in Tasmania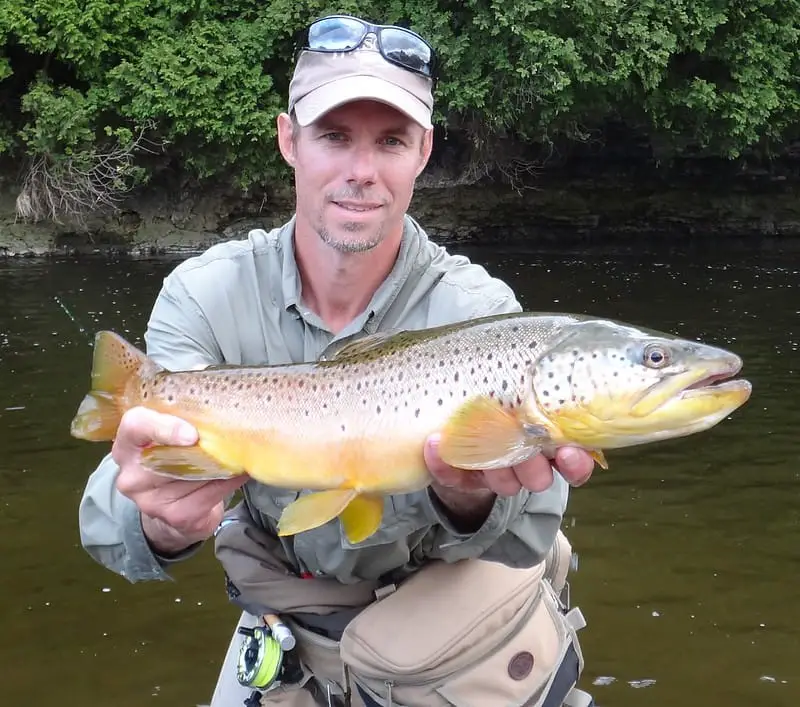 In terms of the best locations for trout fishing in Tasmania, it depends on your preferences and also the time of year.
Tasmania offers a wide range of fishing destinations, from small streams to large rivers and even lakes. Here are some of the most popular destinations:
The Western Lakes: A wilderness fishing experience, with remote lakes and rivers offering the chance to catch wild brown and rainbow trout.
The Central Highlands: Home to some of Tasmania's most productive trout fisheries, with famous rivers like the Meander, Mersey, and South Esk.
The North-West Coast: Offers a mix of small streams and larger rivers, with the Leven and Mersey rivers being popular with anglers.
The North-East Coast: Provides some of Tasmania's most scenic fishing, with rivers like the St. Patricks, Ringarooma, and Pioneer offering the chance to catch both brown and rainbow trout.
Yingina/Great Lake – Great Lake provides anglers an opportunity for large rainbow trout and migratory brown trout. There is a migratory run of brown trout in some tributaries however check the fishing regulations before you fish.
Little Pine Lagoon in the Central Highlands
Woods Lake – Central Highlands
Tyenna River – 1 hour from Hobart
Meander River – North Tasmania
Penstock Lagoon – Central Highlands
The Central Highlands region is often considered one of the best areas for trout fishing in Tasmania, with famous rivers like the Meander, Mersey, and South Esk offering excellent trout fishing opportunities.
The Western Lakes wilderness area is also a popular destination for Tasmanian trout fishing, with remote lakes and rivers providing a true backcountry fishing experience.
The North-East Coast region of Tasmania is also known for its scenic Tasmanian river fishing, with rivers like the St. Patricks, Ringarooma, and Pioneer offering the chance to catch both brown and rainbow trout.
The North-West Coast region provides a mix of small streams and larger rivers, with the Leven and Mersey Rivers being popular with anglers. It is said this is the best area for Tasmanian trout fishing.
Overall, Tasmania offers a range of fishing opportunities for trout anglers, with stunning landscapes, crystal-clear waters, and abundant fish populations.
The Best Trout Rivers In Tasmania
1. The Tyenna River Trout Fishing: Hobart Tasmania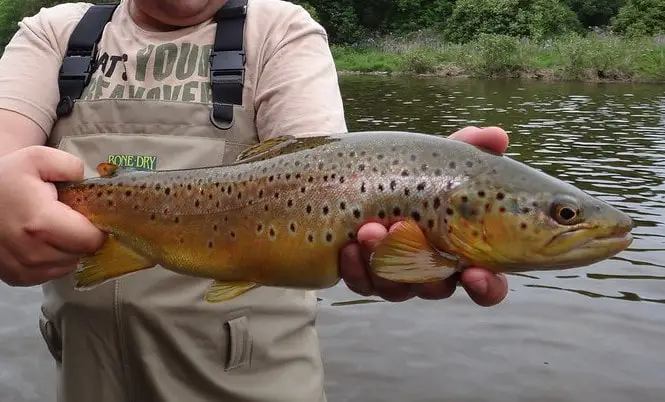 A hidden gem for trout fishing in Tasmania is the Tyenna River which is about an hour's drive from the capital of Tasmania, Hobart. This beautiful trout river is surrounded by breathtaking landscapes that make it the perfect destination for a trout fishing day trip from Hobart.
The Tyenna River is managed as a wild trout fishery with mostly brown trout however the Tyenna also has some large rainbow trout fishery. There are good populations of small to medium-sized brown trout and rainbow trout and all sport fishing methods are permitted.
The entire valley is filled with rolling green farmlands and tall, majestic forested areas that create an idyllic backdrop for a day of fishing.
One of the things that make the Tyenna River so special is that it offers some of the best river trout fishing in Tasmania.
The fly fishing conditions are particularly excellent during the late summer and autumn months when water levels are lower. The fish seem to be more active, making it an ideal time to fish for the big brown trout that reside in the river.
When water levels are high, nymphing turns out to be a highly effective technique but during the warmer months, as water levels drop and fish become more willing to rise, dry fly fishing can be equally rewarding.
The Tyenna River has become one of the go-to spots for anglers looking for a fishing day trip from Hobart. Click this link for Tyenna River angler access maps.
2. Meander River Trout Fishing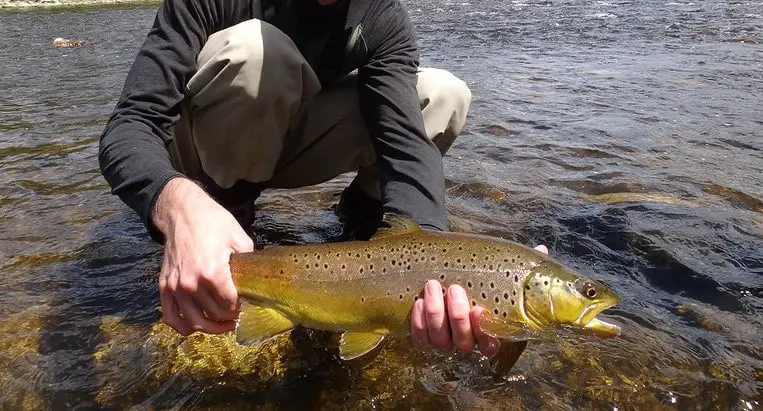 The Meander River is a trout river located in the northern part of the island of Tasmania. This great trout river is surrounded by lush vegetation, stunning state forests, and fertile farmland, making it a delightful spot for anglers.
If you're based in the Central Highlands regions, such as Miena, the Meander River is just about an hour's drive away, providing a refreshing change from the larger lakes in central Tasmania.
The river can be divided into two sections – above and below the dam at Lake Huntsman. The upper section usually features fast and clear waters, while the lower section offers longer and shallower runs, making it more appealing for fly fishing enthusiasts.
Throughout the season, the Meander River is known for its excellent fishing opportunities, thanks to regular hatches of mayflies, damselfly, caddis, and grasshoppers. With a healthy population of both brown and rainbow trout, anglers can enjoy catching fish using dry flies and nymphs.
However, fly fishing on the Meander River can be challenging due to its fast-flowing waters and the surrounding boulders and rocks, which can make casting and wading tricky. But don't let these challenges deter you – the river is home to plenty of good-sized trout, making the effort well worth it.
3. The Mersey River and Tributaries Trout Fishing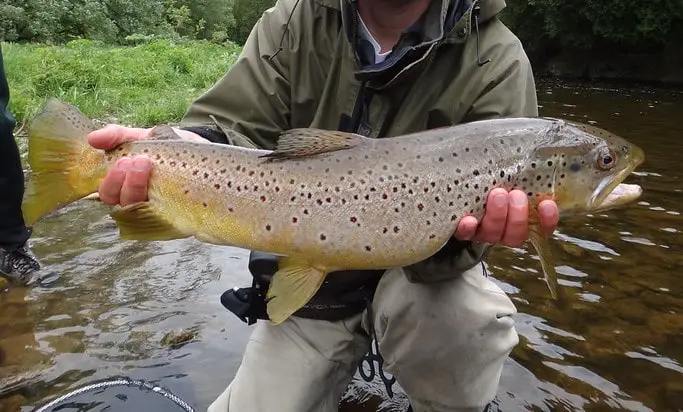 The Mersey River, a picturesque waterway in Tasmania, is an angler's paradise. Although technically a tailwater, the river has numerous tributaries feeding into it as it flows north and drains into the Bass Strait at Devonport. These tributaries, including the Dasher River, Mole Creek, and Lobster Rivulet, are worth exploring as they also hold impressive numbers of trout.
As a medium-sized freestone river, the Mersey offers generally favorable wading conditions. However, be cautious in late-season or low-flow periods, as the riverbed can become slippery. The river boasts a thriving population of wild brown and rainbow trout, as well as runs of sea trout and native Australian grayling.
The Mersey River provides excellent fishing throughout the season, particularly during the first half. Early mornings reveal remarkable caenid hatches (a tiny species of mayfly), while mayfly and caddis hatches are common during the day. Late summer offers superb grasshopper fishing, and as the season progresses, brown trout are known to feed on baitfish runs up the river.
Fish in the Mersey River are highly receptive to dry flies, but early-season nymphing in faster waters can yield impressive numbers of brown and rainbow trout. With numerous access points from Liena to Latrobe just above the estuary, you have plenty of options for exploring this amazing river. Some great locations include Merseylea, Kimberly, Weegena, and Railton.
In summary, the Mersey River is a fantastic destination for anglers looking for a diverse fly fishing experience in a breathtaking Tasmanian setting. With its abundant trout populations and variety of hatches, this river is sure to provide unforgettable memories on the water.
4. Macquarie River Trout Fishing
If you're looking for a serene and rewarding fly fishing destination in Tasmania, the Macquarie River is the perfect spot. This tranquil meadow stream flows through the heart of Tasmania's Midlands and offers abundant access points for anglers in pursuit of wild brown trout.
The Macquarie River is a fantastic option from late spring through summer, thanks to its famous Macquarie red spinners. During mid-spring and summer, adult mayflies lay their eggs on the water's surface, creating a feeding frenzy for trout and, consequently, exceptional dry fly fishing opportunities!
Anglers will target large brown trout in the current sections or pools. In addition to the Macquarie red spinners, the river also boasts excellent grasshopper fishing in late summer, providing even more angling excitement.
Some prime fishing spots along the Macquarie River can be found near the town of Cressy, around the Barton Road Bridge near Epping Forest, and upstream of the Macquarie Road Bridge near Campbell Town.
In summary, the Macquarie River offers a peaceful and diverse fly fishing experience for anglers seeking wild brown trout. With its beautiful meadow stream setting and the excitement of Macquarie red spinners, you'll be sure to create lasting memories on the water.
5. South Esk River Trout Fishing
If you're an angling enthusiast seeking a versatile and rewarding fly fishing destination in Tasmania, allow me to introduce you to the South Esk River. As the longest river on the island, it boasts fishable waters from its source near Upper Esk, all the way to the Trevallyn Dam.
The South Esk River begins as a fast-flowing, clear freestone stream and gradually transforms into a wide meadow stream adorned with rocks, gravel, and weed beds. This diversity offers an abundance of opportunities for anglers to try out different fishing techniques.
One prime section for fly fishing lies between Avoca and Hadspen, where you can witness fantastic lowland mayfly hatches during September and October. Additionally, late summer and early autumn bring outstanding hopper fishing, while still days throughout the warmer parts of the season often yield superb black and orange spinner falls.
For those who relish sight fishing, the lower sections of the South Esk River offer exceptional opportunities on clear days. With so much to explore, it's no wonder this river is a favorite among anglers.
When planning your South Esk River fishing expedition, consider starting near the towns of Perth, Evandale, Conara, and Avoca. These locations provide excellent access points to the river and its various fishing spots.
In conclusion, the South Esk River is a fly fisherman's paradise, offering a diverse range of angling experiences. So, pack your gear and prepare for an unforgettable adventure along Tasmania's longest river.
6. North Esk River Trout Fishing
I'd like to share with you an incredible fly fishing destination in Tasmania, the North Esk River. Originating north of Ben Lomond National Park, this meandering river flows through dense forests and open farmlands before meeting the Tamar River.
The North Esk River is relatively small and primarily consists of freestone, although you'll find some sandy, flatter sections further downstream. What makes this river particularly attractive for anglers is its easy wading conditions, thanks to the bottom structure and moderate water flow.
Throughout the summer, the North Esk River offers excellent caddis fishing opportunities. As the season progresses into late summer, you can expect some fantastic hopper fishing, followed by the appearance of delightful small mayflies in autumn.
While fly fishing in the North Esk River, you might come across the protected native Australian grayling as a bycatch. If this occurs, please ensure that you release the fish unharmed to preserve its population.
In summary, the North Esk River is a remarkable fly fishing destination, providing an array of angling experiences in a beautiful Tasmanian setting. Whether you're a seasoned angler or just starting, this river offers a memorable and enjoyable fishing adventure.
7. Huron River Trout Fishing
The Huon River, a 174-kilometer long river located in the south-west and south-east regions of Tasmania, is renowned for being the location where the largest trout ever caught in Australia was found in 1887, weighing 13kg (29lbs). Flowing east through the fertile Huon Valley before emptying into the D'Entrecasteaux Channel, this tea-colored, fast-flowing river is surrounded by dense forests for most of its length.
The best fishing opportunities can be found during spring in the lower tidal sections between Port Huon and Glen Huon which is where an annual whitebait run attracts large resident and sea-run brown trout, as well as Atlantic salmon and rainbow trout escapees from local fish farms. Anglers frequently catch brown trout ranging from 4-7kg in this area.
Although there is reasonable bank access along both sides of the estuary through to Huonville, a boat is advantageous. Fishing in the middle and upper reaches of the river is best during summer and early autumn when reduced river flows allow access along the shingle river bed.
In late winter and early spring, the best action can be found between Port Huon and Franklin, as whitebait gather to migrate. Sea-run brown trout and Atlantic salmon follow these schools, moving upriver to spawn in the Huonville area or taking up residence in freshwater streams and feeder creeks. Lures and streamers work best in this area. Focus on the edges of current lines or rips and rocky points where fish tend to gather. Check out my article Best Lures For Trout.
In late spring, the Galaxia continue to migrate upstream, becoming bottlenecked at the first few shingle rock bars in the Ranelagh area. This provides excellent land-based fishing opportunities, with prolific action when the river is not in flood.
8. Brumbys Creeks Trout Fishing
For those seeking a unique and rewarding fly fishing experience in Tasmania, let me introduce you to Brumbys Creek, located near the town of Cressy. This remarkable waterway is primarily managed as a wild brown trout fishery, although you might also encounter the occasional rainbow trout. Each year in September, Brumbys Creek hosts the Tasmanian Trout Expo, a popular event for anglers of all skill levels.
Brumbys Creek is a distinctive river system, receiving its water supply from Great Lake via the Poatina Power Station. Before heading out, it's a good idea to check the flow rates and view the webcam to ensure optimal fishing conditions.
The creek features three weirs, each offering different fly fishing opportunities:
Weir 1: This is the top choice for fly fishing, with access to the weedy margins that trout love.
Weir 2: Catering to both lure and fly anglers, this section has faster-flowing water, making it an exciting challenge.
Weir 3: Preferred by lure anglers, this weir also allows small boats powered by electric motors.
Throughout the fishing season, Brumbys Creek is teeming with mayflies, caddis, and damselflies, providing a diverse range of hatches for fly anglers. On calm days with little wind, sight fishing opportunities increase, making it even more thrilling for those eager to spot their target.
In conclusion, Brumbys Creek is a must-visit destination for anyone passionate about fly fishing. With its unique river system and diverse angling opportunities, you're sure to have an unforgettable time on the water.
Tips for Trout Fishing in Tasmania
Here are some tips to help you make the most of your trout fishing experience in Tasmania:
Check the river levels and weather conditions before heading out, as they can change rapidly.
Hire a local fishing guide to show you the best spots and techniques for the area you are fishing.
Use polarized sunglasses to help spot fish in the clear waters.
Match the hatch – use flies that mimic the insects present in the water.
Be prepared for all conditions, with warm clothing, rain gear, and plenty of water.
Most Effective Methods For Tasmanian Trout Fishing
Spin Fishing – Spin fishing with a spinning rod and reel allows you to use lures, jigs, and baits, along with methods like float fishing, drift fishing, and bottom bouncing. Be sure to check out Spin Fishing For Trout: Guide Methods and Tips for More Trout
Fly Fishing – Fly fishing for Tasmanian trout is very common and productive. You can Nymph Fish, Streamer Fish, or Fish Dry Flies on the surface. See Fly Fishing For Trout.
Conclusion: Tasmanian Trout Fishing
Tasmanian trout fishing is known as world-class trout fishing and a destination worth checking out. With a long fishing season and a variety of fishing opportunities, from early season dry fly fishing to autumn streamer fishing, Tasmania offers something for every angler. With stunning landscapes, crystal-clear waters, and abundant trout populations, Tasmania is a must-visit destination for any angler.
By following some simple tips and hiring a local Tasmanian trout fishing guide, you can make the most of your fishing experience in Tasmania. So why not pack your fishing gear and head to Tasmania for the fishing trip of a lifetime? Whether you're a seasoned angler or a beginner, you're sure to be hooked on Tasmania's trout fishing.
Tight Lines,
Graham