11 Spring Trout Flies That Trout Guides Actually Use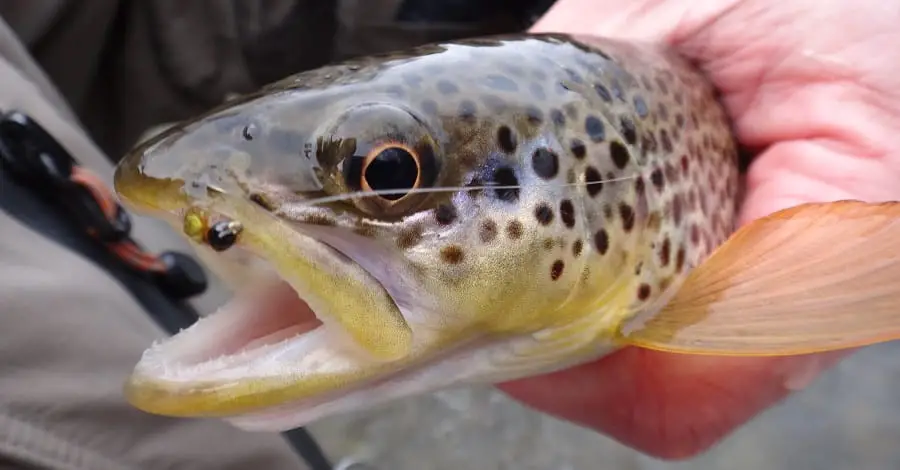 Wouldn't you love to peek into a river guide's fly box to see what trout flies he is using in the spring? Do guides use the same standard spring trout flies that everyone else uses or do they have special patterns that work even better?
As a trout guide myself that works with many other trout guides, and with competition fly anglers, I know the answers to these questions and I'm about to let you in on a secrete.
The best spring trout flies are ones that match early-season mayflies like the Pheasant Tail Nymph, the Frenchie Nymph, and the Polish Pheasant Tail Nymph. Other great trout flies for soring would include stoneflies, caddis, and attractor patterns like the McPhail Caddis Pupa, and the Rainbow Warrior.
The most abundant food source for trout in early and late spring is aquatic insects and these spring trout flies imitate them well and they are my most effective patterns. These trout flies can also be used by spin fishermen, float fishermen, and fly fishermen.
This page contains affiliate links. If you buy something through one of these links we may make a small commission which is at no cost to you. Commissions allow us to continue to bring you great content. Thank you for your support. Affiliate Policy
Spring Trout Flies – The Mayfly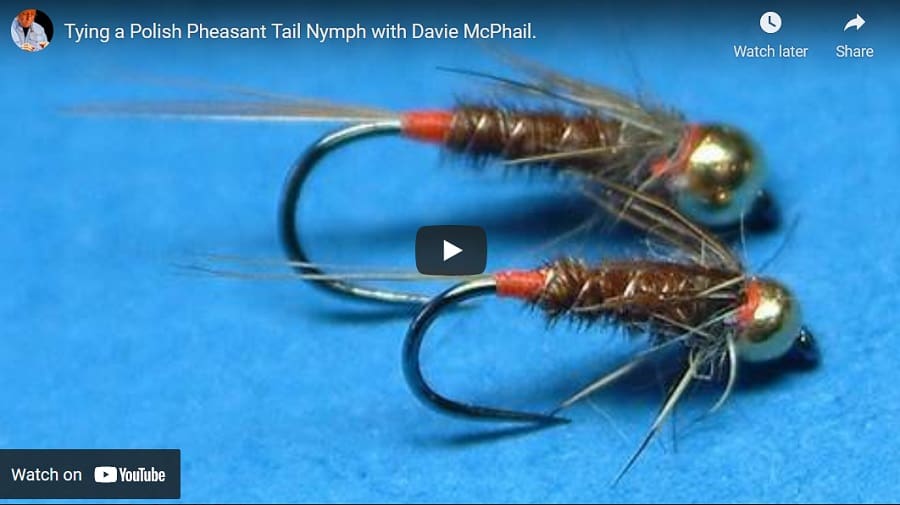 The mayfly is a very common fly on most North American rivers and it can be one of the earliest aquatic insects to become active.
Mayfly species like the Blue Winged Olive start hatching very early in the spring and can be imitated with small size 16, 18, and 20 fly patterns like the Pheasant Tail Nymph, The Frenchie / Hot Spot Pheasant Tail Jig Fly and the Davie's Polish Pheasant Tail Nymph
I fish these flies with an indicator or I use the Euro Nymphing method. If you are a spin fisherman you can and should be using flies either under a float or with a drift fishing method. Check out my page How To Fish Flies With Spinning Gear: 2 Best Methods or Float Fishing With Flies.
Spring Trout Flies – The Stonefly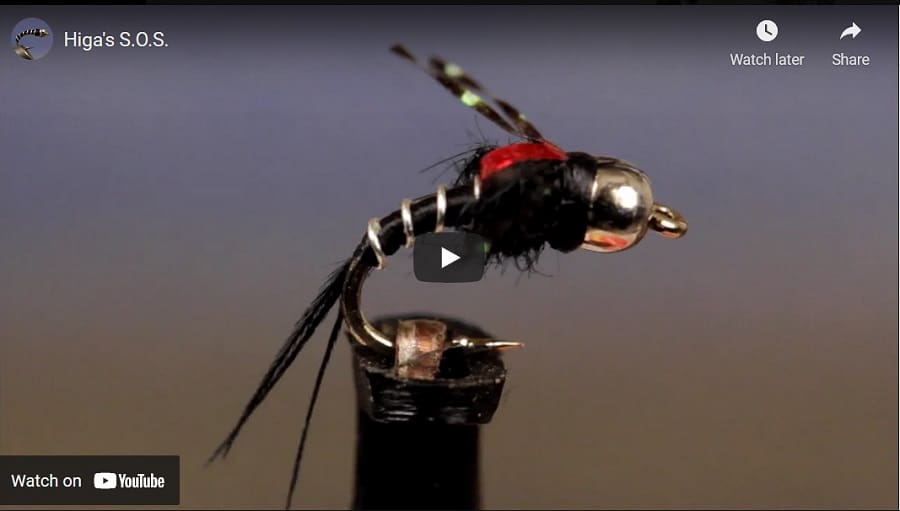 When anglers think of the stonefly nymph they often think of a big dark fly that big trout love to eat, but the stonefly comes in many sizes and in some rivers, there are very tiny stoneflies.
There is one species of stonefly called the tiny winter black which is a small size 16 to 18 fly and it can be one of the best early spring trout flies.
A great fly pattern that I use to imitate the small stonefly nymph comes from long-time guide, Spencer Higa and it's known as Higa's SOS fly. I have tied this fly pattern in its original black which works great as an early spring trout fly, but I have also done well with this fly in brown and olive.
Caddis Larva and Caddis Pupa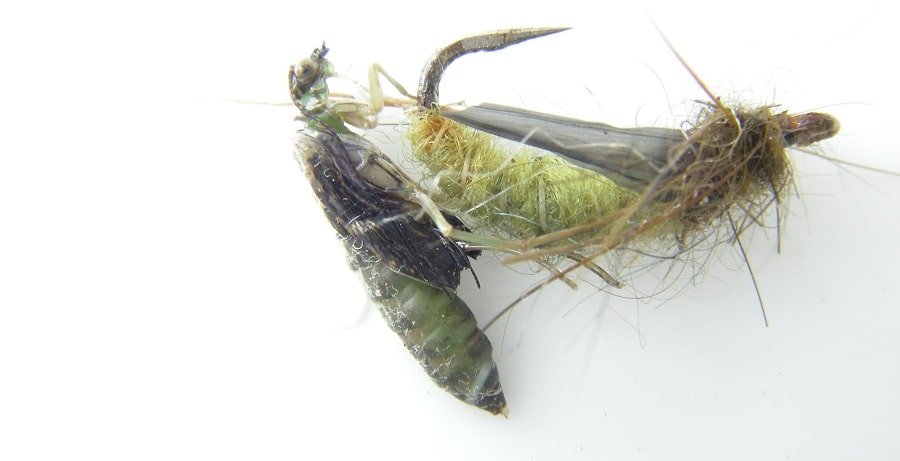 Most rivers of North America will have some sort of caddis. Some call them green rock worms and they look like little green maggots but whatever you call them they are one of the best spring trout flies that you could use.
My favorite spring caddis patterns are the McPahil Caddis Pupa and the Egan GTI Caddis from competition angler and guide Lance Egan.
Scud and Isopod Patterns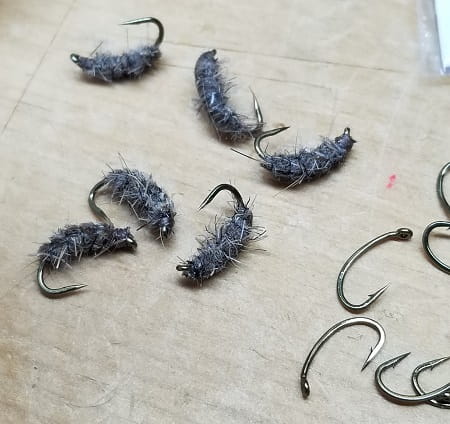 The great thing about scud, cress bug, or isopod patterns is that these species do not hatch and fly away and they are always in the river.
This makes them a great food source for trout and one of the best spring trout flies.
I use scud imitation patterns in sizes 16 and 18, but size 14 can work well on some rivers.
One of my favorite spring scud patterns is the Diamond Dub Scud or the Humps Cress Bug used by guide George Daniel.
I tie my own flies so I can be sure I replicate the size and color better. If you tie your own flies, check out The 7 Best Fly Tying Hooks: For Dry Fly, Nymphs, and Streamers.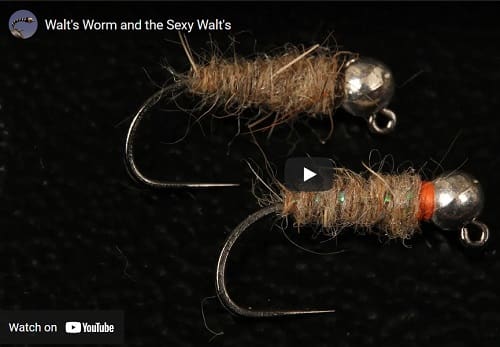 The Walts Worm is a great pattern that can imitate a cased caddis or a Crane Fly larva.
The Sexy Walts Worm has a little extra flash to attract more trout and this can be a deadly fly year-round. Both of these patterns are a must-have in my opinion.
I have also done very well with this pattern on string steelhead around the great lakes region.
Attractor Fly Patterns For Spring Trout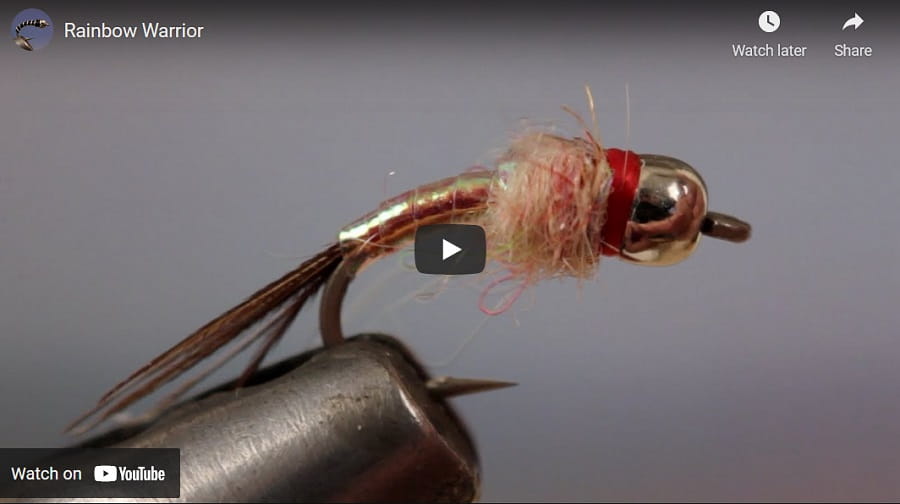 Attractor fly patterns are flies that don't imitate natural aquatic insects but instead are designed to just get the trout's attention. Attractor patterns are great spring trout flies when no natural insects are active in the river and every angler should have a few of the top attractor patterns.
I have done very well with attractor patterns even during a hatch. Some of the best attractor patterns are the Rainbow Warrior which another guide fly from Lance Egan and the traditional Prince Nymph.
The Lightning Bug Nymph is another great attractor pattern
Worm Fly Patterns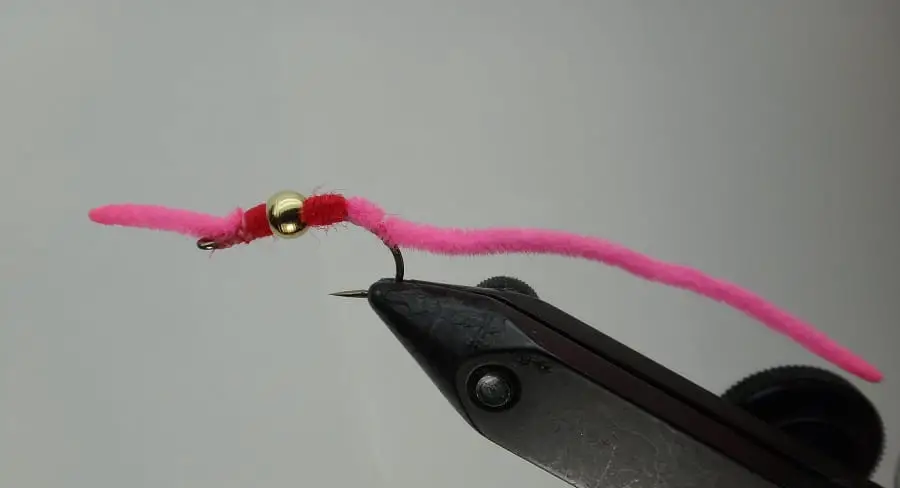 The classic San Juan Worm and the Squirmy Wormy fly pattern are great spring trout flies and are a must-have in any anglers fly box.
My San Juan Worm pattern has caught over 75% of the large spring trout and steelhead that myself and my clients catch. For all trout, I like a 3-inch worm on a size 8 or 10 hooks.
Woolly Buggers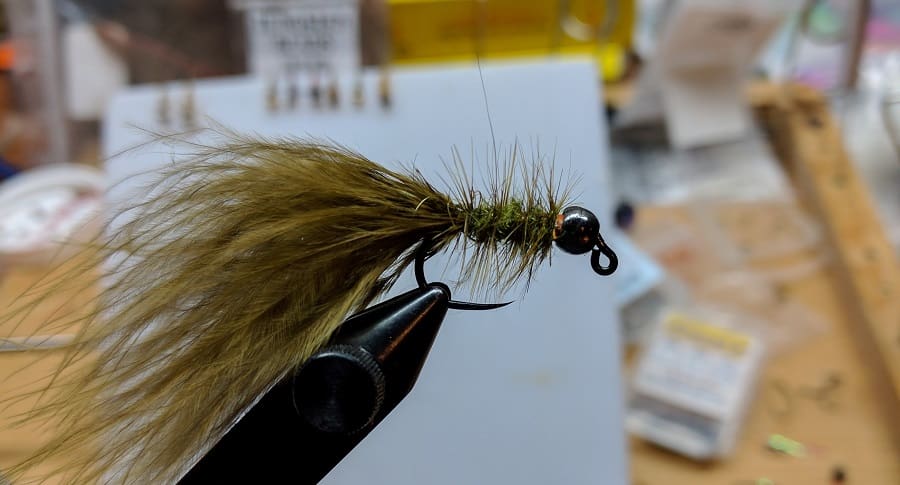 This is one of the most versatile fly patterns and it can be used as a nymph and as a streamer. My best woolly buggers for nymphing are micro buggers that are about 1 inch long but I have also done well with woolly buggers up to 3 inches long when nymphing.
Black is my best color for woolly buggers, but I have done very well with olive and white.
Most Effective Spring Dry Flies For Trout
There are tons of dry fly patterns to choose from, and this leaves anglers confused or wondering which ones they should try. Guys, don't overthink this.
Maybe I think differently than most fly anglers, but I'll be brutally honest with you, after 38 years of fly fishing for trout in the spring, all I need to catch more large trout than 99% of fly anglers are two dry fly patterns. That's it, just two patterns!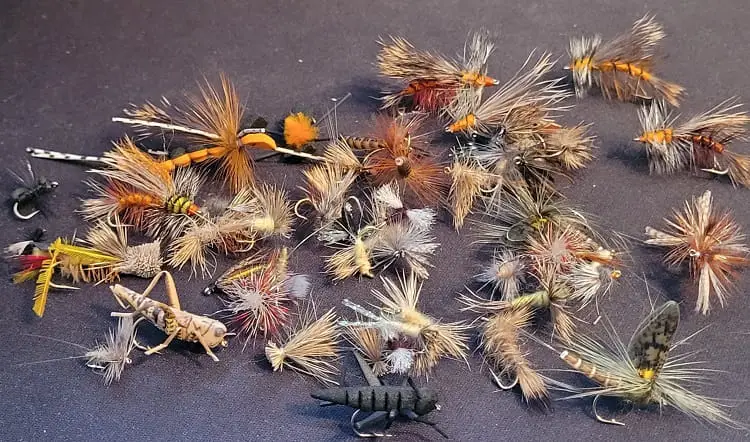 I'm most areas of North America, the predominant aquatic insect in the spring is the Mayfly.
In some areas, you will also have some spring stoneflies and maybe some caddis.
On my page 21 Best Dry Flies, I discuss these two spring trout flies along with plenty of other great flies that you can try as well, but these two would be all I would need to catch trout in the spring. But there is a catch!
1. The Most Effective Dry Fly Mayfly Pattern For Trout!
This simple Mayfly Dun pattern imitates just about every mayfly species you will find in the spring.
The catch is, you just need to change the shape and the size to match the current hatch. That's it!!
In my area in the spring, I will see size 18 – 20 BWO, then size 14 -16 Hendricksons, then size 12 -14 Grey Foxes, then size 16 Sulfers, and I'll see them all before the end of May. By simply changing the color and size of the Mayfly Dun pattern to match each fly, I can imitate all of these mayflies.
When I look into guide boxes, I see a lot of very similar patterns to this Mayfly Dun pattern, however, the only exception is many guides and competition anglers like to use CDC as the wings. It's easier to tie with and it floats. FYI, I use a CDC version as well.
To make this fly even better, or should I say more effective based on the conditions, I do two things to it.
I riffle water, I'll add an extra hackle to make it more bushy which will keep it floating higher for longer.
In slower water, and when targeting big weary browns I keep it very sparsely hackled. Although it does not float as well, it sure fools those larger trout. Whether bushy or sparsely tied, just be sure you follow my fly floatant and desiccant method to keep them floating high and dry.
Guide Tip #1: I trim a V-shape into most of my dry flies on the bottom. This provides more endurance that the fly rides upright and prevents the fly from rolling.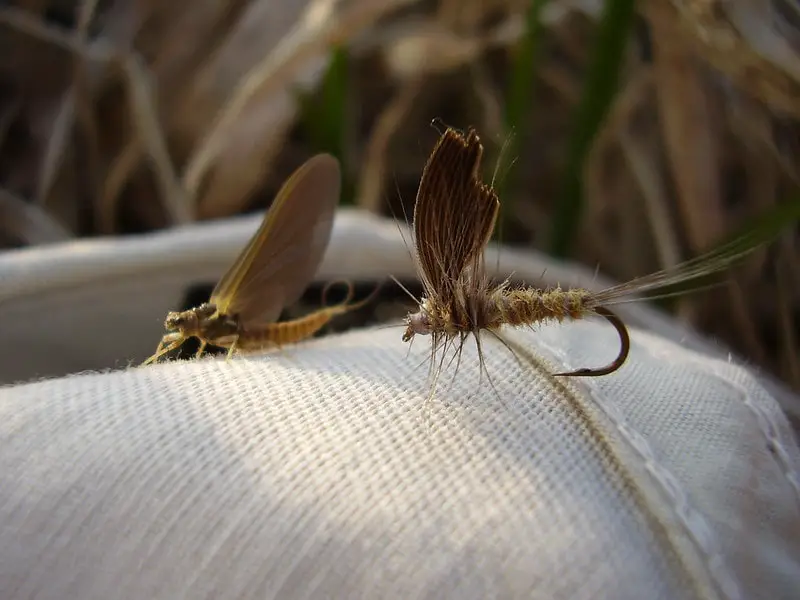 Guide Tip #2: While many fly tiers like to split the wings of their dry flies, I would guess that 95% of dry flies floating on the water surface have their wings closed tight and straight up like a sail.
Therefore, to make it easier to tie, and to look more natural, I rarely split my dry fly wings anymore. See the above image.
Guide Tip# 3: When tying very tiny flies with hook sizes of size 18 or 20, or smaller, instead of using dubbing for the body, I simply build up the body with thread. This is easier and faster, and it prevents bulk which keeps the fly more proportional.
The CDC Dun
This is a CDC slow water, big fly mayfly pattern that is very effective. This is what I was talking bout when I said many guides and competition anglers like to use CDC versions. Use this fly with or without a hackle.
2. The Most Effective Stonefly or Caddis
I mentioned two spring trout flies are all I need and above is the one that I use to imitate mayflies. But, if there are stoneflies or caddis on the water, this is the fly I use.
This is a simple Elk Hair Caddis and if you change the color and the size it will imitate both caddis and stoneflies of all sizes.
There are a couple of things I will do to make it more effective.
In faster ripple water I tie it bushy. In slower flat water or when target wise large trout I tie it more sparsely, or I will trim a V-shape in the bottom so the fly sits up-right, and sits lower and so it doesn't roll.
A variation that is super effective in slower flatter water and when fishing for bigger trout is the CDC Elk Hair Caddis.
This is one of my favorites, I simply change the body, wing, and CDC color, and the size to match the hatch.
Guide Tip: For the body dubbing on any Elk Hair Caddis pattern, a good guide and author told me that if you add a bit of flash to the body it will increase bites, he was right. I will add a sparky-type material like ice dub to some of my patterns.
Attractor Dry Fly Patterns For Spring Trout
The above dry flies are my go-to big fish dry flies for spring trout and for early summer trout fishing, and they also catch plenty of small trout, however, when I'm fishing a river full of smaller aggressive trout, attractor patterns are hard to beat, and they last longer without getting destroyed, and they float higher longer.
Attractor patterns like the Humpy, Royal Wulff, Royal Coachman, and Stimulator are all great spring trout flies, especially when fishing dry flies in fast choppy water.
These are all worth having in your fly box in the spring.
More Great Trout Flies
Another article on trout flies that our readers love is, 29 Best Trout Flies: Modern and Traditions Flies
Got A Question About Spring Trout Flies
If you have a question, or a comment, or would like to suggest some other great spring trout flies that have worked for you, let me know in the comments sections below.
Tight lines,
Graham