Salmon Fishing In Denali, Alaska: Exploring The Wild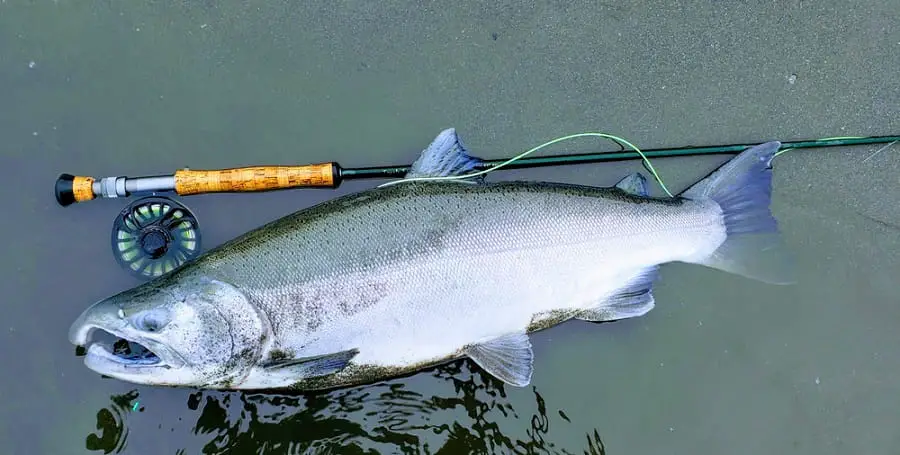 Embark on a journey to the heart of Alaska's wilderness, where the pristine waters provide the best salmon fishing in Denali National Park and the surrounding area.
The area is rich with a diverse range of salmon species combined with some great trout and grayling fishing.
Rivers near the Denali Park entrance have a fall migration of Silver Salmon (Coho Salmo), and anglers can also experience the thrill of reeling in a mighty Chinook while experiencing some fantastic scenery.
Key Takeaways

| Aspect | Description |
| --- | --- |
| Species Diversity | Discover the variety of salmon species in Denali. |
| Prime Locations | Uncover the top fishing spots around Denali. |
| Guided Trips | Learn about the advantages of guided fishing trips. |
| Fishing Techniques | Master the effective fishing techniques for a fruitful adventure. |
Discover the Richness of Salmon Species in Denali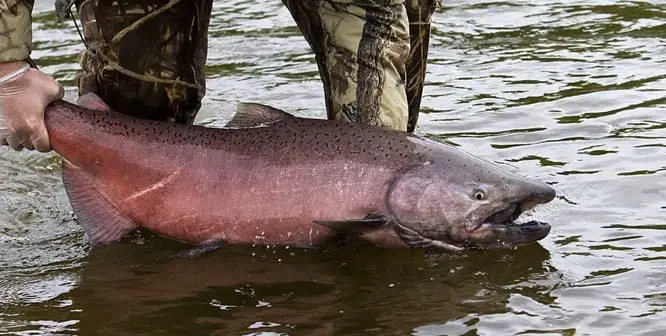 The first step to a successful fishing expedition in Denali is understanding the rich biodiversity of salmon inhabiting its waters. The most cherished among them is the Pacific Salmon, specifically the Silver Salmon (Coho Salmo) which makes its spectacular fall migration, providing anglers with an exciting opportunity to test their skills.
Coho is one of my favorite salmon species to fish. See Coho Salmon Fishing: Methods and Gear.
Yet, the abundance of salmon species doesn't end here. The waters of Denali are home to a spectrum of salmon species, including Chinook salmon, Sockeye, and Chum salmon.
Each species presents a unique challenge with the clear water of the streams.
8 Clear Water Salmon Fishing Tips and Tactics: A comprehensive guide to enhancing your fishing experience in clear waters, especially during the fall migration of Silver Salmon.
Unveiling the Beauty of Denali's Waters
A fishing trip in Denali is not just about the catch. It's about immersing oneself in the untouched beauty of Alaska. The scenic vistas, mountains, forests, tranquil waters, and the casting a line on the water's surface create a serene yet exhilarating experience.
Embark on a Guided Salmon Fishing Journey
Navigating the abundant waters of Denali can be a daunting task, especially for the uninitiated. This is where guided salmon fishing trips come into play.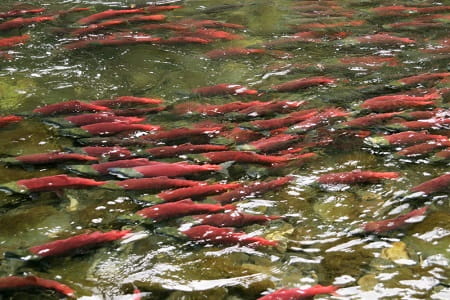 These guided expeditions not only take you to the prime fishing spots in Denali but also provide a wealth of knowledge from seasoned anglers who know these waters like the back of their hand.
Salmon guides of the area include:
Why Choosing a Guided Trip Could Elevate Your Fishing Experience
A guided fishing trip is not just about reaching the right fishing spots; it's about learning the intricacies of salmon fishing in the area. From understanding the behavior of different salmon species to mastering the art of each method used to catch these salmon, a guided trip is a learning experience that enriches your fishing repertoire.
Pacific Salmon fishing around Denali can be epic. All 5 species can be found here. Our favorite target species is Silver Salmon (Coho Salmo) during the fall.

Denali Fishing Guide
Prices and Packages: Half-day and Full-day Excursions
Every angler has a unique preference when it comes to spending time on the water. Some may prefer a short, intense fishing session, while others may yearn for a full day amidst the serene waters of Denali. Catering to these varied preferences, guided trips offer both half-day and full-day excursions at average prices.
Table: Comparing Guided Fishing Packages (prices may change)

| Package Type | Duration | Price Range |
| --- | --- | --- |
| Half-day | 4 hours | $175 – $250 |
| Full-day | 8 hours | $275 – $350 |
This flexibility in choosing the duration allows anglers to plan their trip according to their schedule, ensuring a satisfying and fruitful fishing adventure.
Fishing Around Denali National Park
Most of the best fishing is actually not in the park but is found near the park. Lakes and rivers of the park are often silty from runoff from glacier melt which is not great for fishing. Some exceptions apply.
However, in the vicinity of the majestic Denali National Park, there is also great fishing for Arctic Grayling, large Rainbow Trout, and even Lake Trout amidst Alaska's splendid natural canvas.
Arctic Grayling:

A short journey southward from the borders of Denali National Park unveils a serene Arctic Grayling haven set against the backdrop of the towering Alaska Range. This enclave is adorned with crystal-clear creeks, tundra ponds, and a rich populace of wild Arctic Grayling.
Within the park's domain, Grayling find sanctuary in select clear streams, especially those meandering into the serene waters of the Savage River.

Rainbow Trout:

A notable locale dubbed Fish Denali, merely 21 miles south from the park's threshold, beckons with promises of hefty Rainbow Trout. This spot also extends the offering of guided fishing journeys for a well-rounded angling expedition.
Rainbow Trout fishing from July 15 – September first, south of Broad Pass on Denali National Parks' Southeastern border can be very good and Denali Fly Fishing Guide guide this area.
The realms of Denali and Cantwell, particularly the offshoots of the Susitna River south of Cantwell, unfold a myriad of prospects for the pursuit of rainbow trout.

Lake Trout:

Wonder Lake, nestled at Mile 85 of the park avenue, occasionally graces anglers with the presence of Lake Trout, presenting a lure for those with a penchant for this species.
Local rivers worth fishing are:
Nenana River
Fish Creek
Jack River
Brushkana Creek
Seattle Creek
Bruskasna Creek
Wells Creek
Many other wild rivers and creeks!
Master the Techniques for a Successful Salmon Fishing
A successful salmon fishing adventure in Denali goes beyond just locating the prime fishing spots. It's about mastering the techniques that enhance your chances of a successful catch.
From the art of fly fishing for salmon to the thrill of light tackle fishing, each method offers a unique approach to interacting with the abundant salmon population in Denali.
Gear Up: Selecting the Right Fishing Gear for Salmon Fishing in Denali
The right gear is pivotal for a successful fishing expedition. Whether it's choosing a sturdy baitcasting reel or a durable fishing rod, making informed gear choices can significantly enhance your fishing experience.
| Gear Type | Brand/Model | Description |
| --- | --- | --- |
| Rod | Lamiglas Infinity Salmon & Steelhead Spinning Rod | Best for casting lures, comes in sizes from 7'9 to 10'6. |
| | Lamiglas SI Salmon & Steelhead Spinning Rod | Especially good for bigger, faster rivers with a length of 9'4. |
| | St. Croix Triumph Salmon & Steelhead Spinning Rod | Brand known for quality, specific model for salmon fishing. |
| Reel | Curado K 200 or 300 | Best Overall Low Profile Baitcasting Reel, suitable for salmon fishing. |
| | Daiwa Tatula 200 | Angler Recommended, suitable for various salmon fishing methods. |
| | Shimano Tekota | Best Trolling Reel, suitable for trolling and back trolling methods. |
| Line | Braided Line | Strong, has less stretch, and allows for better sensitivity. |
| | Monofilament Line | It has more stretch which can be useful to prevent hooks from pulling out of the fish's mouth. |
| Lure | Spinners | Creates vibration and visual stimuli to attract salmon. |
| | Plugs | Mimics the look and movement of small fish, enticing salmon to bite. |
You can copy and paste this HTML code into your website's HTML file to display the "Gear Essentials for Salmon Fishing in Denali" chart.
You may also be interested in the excellent Coho Salmon Fishing The Copper River, Alaska.
There are bears in the area so know what to look for and how to protect yourself near bears. See Fishing Near Bears.
Dip net fishing for salmon is common among Alaska residents and this is something you may see while there. This method involves using nothing but large nets to catch salmon.
Salmon Fishing Denali Conclusion
Your salmon fishing adventure in Denali is bound to be a memorable one, filled with learning, excitement, and the joy of connecting with nature. The variety of salmon species, the guidance of experienced anglers, and the right fishing gear are the pillars of a successful fishing expedition.
Reflect on the adventure that awaits in the serene waters of Denali, and consider the richness of experiences that lie ahead. With every cast and reel, you're not just fishing; you're weaving a narrative of adventure and discovery in the wild heart of Alaska.
If you have a question or some advice you want to share regarding Salmon Fishing In Denali, let us know in the comments section below.
Tight Lines
Graham