Late Summer Trout Fishing In Rivers: Guide Tips For More Trout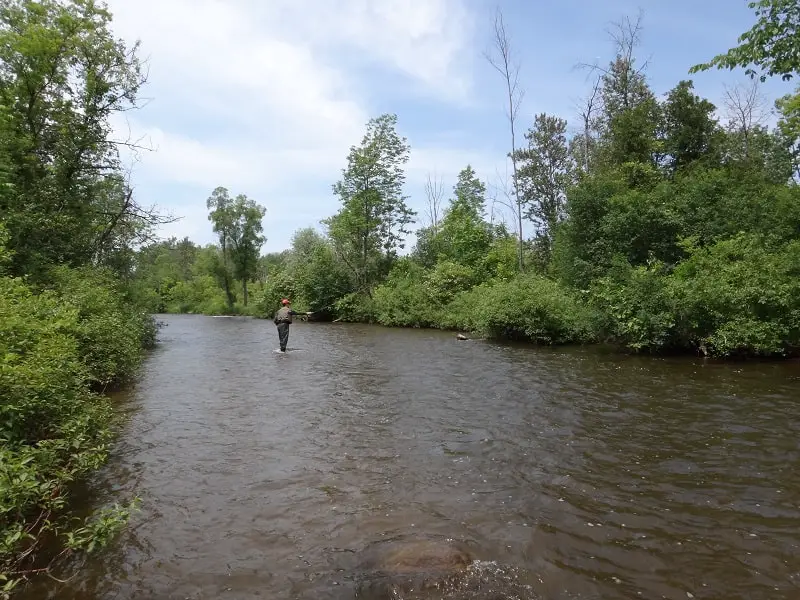 Late summer trout fishing in rivers can be an exciting time of year. In this article, I share some tactics and tips that river guides will use for more and bigger late summer trout.
Late summer trout fishing in the river can be great because the water is starting to cool off again, the trout are bigger at this time of year, and they are starting to feed heavily before they start to spawn and before the winter. Some of the nicest looking trout are caught in late summer.
Late summer trout can also be tough since many of the big hatches are over and anglers aren't sure what methods, flies, and baits are good at this time. I enjoy guiding for trout at this time and I will share some of my tactics with you.
Late Summer Trout Fishing In Rivers
In late August and September, the weather starts to change. The stifling dog days are over and it starts to rain more often and the nights are cooler. Even though it is sometimes a bit windy and cloudy, the weather is still warm enough for enjoyable late summer trout fishing in rivers.
Benefits of Late Summer Trout Fishing in Rivers
Solitude: Late summer trout fishing is an ideal opportunity to have your favorite fishing spot all for yourself. Often anglers are elsewhere targeting other species or have forgotten about trout for the year.
Late August and September mark the end of the summer vacation period and people usually focus on going back to work or their kids starting school. For this reason, there is considerably less angling pressure on most rivers that are often overcrowded during the prime season.
Salmon and Steelhead: The salmon and steelhead anglers mix with trout anglers in June and July, but in late August and September, many guys usually pack up and move to larger salmon and steelhead rivers looking for giant fish. Therefore, many rivers are left to the mercy of trout enthusiasts.
Fish Feeding: Trout appetites increase as they start preparing for the winter season. Therefore, it becomes easier for anglers to find and catch fish that were less active all summer.
In August and September, most rivers are characterized by low flows and reduced food diversity. Hence, large trout move closer to structure that is hard to fish, structure like log jams. In late summer some of the biggest brown trout will start moving out of their summer spots and will start migrating closer to their spawning grounds. This can put big fish in wide open spots.
Late summer brings some of the best days for trout fishing weather-wise. The scorching hot summer days are replaced with pleasantly warm afternoons. It means you can spend the whole day out enjoying trout fishing and more time on the water usually means more fish in the net.
In September, the night and mornings become cooler. It means that trout feed later in the morning so you can start later in the morning. And because the water was colder in the morning, many trout will feed later into the afternoon as well. As a result, you can relish at least an hour or two more of a good night's sleep. 
After three months of eating high protein and high-fat food from spring until late summer, many trout can grow substantially. So even though the number of fish might be the same in September, late summer trout fishing gives you an opportunity to catch bigger trout and even a trout of your lifetime.
September in the northern parts of our country portrays a stunning display of fall colors. Hence, late summer trout fishing in rives includes enjoying the scenery too.
The Best Tips for Late Summer Trout Fishing in Rivers
Choose the appropriate location.
Trout are not always where they were at the beginning of the summer since many will migrate to colder waters. Late summer low flows still affect trout significantly, and many big trout will have to shift to areas that remain deep enough for them. Deep spots can be pretty scarce in August and September so you may find concentrations of big fish in those bigger deeper spots. 
Most riffles become too thin for trout so that eliminates much of the water making it easier for you to locate trout. Even runs that used to be waist-deep in the spring become too shallow to fish in late summer. Trout are forced to concentrate in the remaining water and I do well in 3 to 6-foot pockets, pools, and along the deeper structures. 
In the straight parts of the river, some trout usually find refuge in the central area. Look for them close to a mid-stream boulder or a trench or a slight hole in the bottom, as well as a bubble line in the main flow. Fish are likely to be at the bottom of trailing seams extending downriver.
Around river bends where it's deeper, trout are normally found near the outer banks or the short straight sections that follow. Due to slower water flows in these areas, trout can feed more efficiently. You should be able to find some trout in deeper water next to a shoreline structure, such as a  log or a boulder.
You should also check the following areas:
Dam walls
Deep and fast pockets
Along or under logs that have a depths of 2 feet or more
Sharp drop-offs, ledges, and trenches in the river bottom  
Take Advantage Of The Spawning Season.
Some trout species leave their summer feeding habitat and slowly move upstream to spawning spots. For example, in some climates, brook trout and brown trout shift upstream and begin pre-spawning feeding by the middle of September. 
You should do your best not to disrupt spawning sites when wading but target pre-spawn trout that are still feeding heavily.
Even though rainbow and cutthroat trout are done spawning by the beginning of summer, they often follow their brown trout and brook trout relatives upstream to feed with their eggs. It would be best to go and fish 10 to 20 feet downstream of spawning beds but be careful not to disturb spawning trout.
I often find the first pool or deep spot below spawing fish is an excellent opportunity for anglers.
The Best Technique for Late Summer Trout Fishing in Rivers
Fly fishing is a great way to catch trout at this time of the year and I use multiple fly fishing methods.
Nymphing For Late Summer Trout
The tight line method known as euro nymphing should be your first choice since it allows you to find out if there are any trout feeding at different levels and you can fish in the shallow clear water without spooking trout with a big indicator.
I will often use bright visible flies on the upper part of the leader and more subtle nymphs like a Frenchie fly on the lower part of the leader.
Dry Fly Tactics For Late Summer Trout
Daddy long legs, hoppers, beetles, ants, and other terrestrials are still active during September, and you can target trout fishing on the surface with a single dry fly technique.
If you are an experienced fly fisher, you can exhibit your advanced skills by fishing a dry dropper method, provided your area permits the use of multiple flies. 
If the water surface is wavy, opt for a bigger profiled dry fly that won't break the surface easier. If the surface is flat, or there is just a slight ripple, choose a smaller dry fly such as a caddis or flying ant CDC pattern. 
Streamer Fishing For Late Summer Trout
In September, trout often feed on the fry of younger trout or other baitfish. It is an excellent opportunity for streamer fishing. Streamer fly fishing can be an excellent alternative to ordinary fly fishing techniques on flooded rivers, especially for targeting brown trout. 
The Best Flies For Late Summer Trout Fishing in Rivers
As far as the late summer trout fishing in rivers is concerned, the rule of thumb is to scale your flies down or when possible match the hatch. The fishing season has been running so long that trout have already been targeted with almost every fly you can find in a fly box.
That is often why I find it best to choose a smaller, more natural-looking fly that trout will be more likely to follow and engulf.
Here is the list of the best late summer trout fishing flies:
Olive buzzer
Red holo cormorant
Red Nemo cruncher
Cruncher pearl quill
Diawl Bach black flashback or JC Nymph
Candyman booby
The Best Baits and Lures for Late Summer Trout Fishing in Rivers
Lure and bait fishing are also effective late summer trout fishing methods that anglers should try.
Remember: Less is more when fishing late summer trout and small baits are often best! Therefore, it would be wise to bait your hook with a small worm, maggot, egg, or bead.
Using float fishing methods with small floats, light weights and light leaders can be effective in deeper spots. For effective float fishing tactics and tips check out the float fishing page.
In shallower spots and in pocket water the most effective method is bottom bouncing.
You can use lures too since lure fishing can be effective for trout in most rivers. The point is to maintain the natural action of your lure and determine what speed and depth the trout want your lure at.
I recommend the following lures
Spinners
Spoons,
Rooster Tails
Bang Tails
FlatFish
Quick Fish
Small Apex
Panther Martins
Dick Nite Spoons
Late Summer Trout Fishing Conclusion
That wraps up late summer trout fishing in rivers. If you have any questions or advice and tips for other readers or myself let me know in the comments section below.
Tight Lines
Graham