Jigging For Salmon In Rivers: 3 Best Methods Guides Use!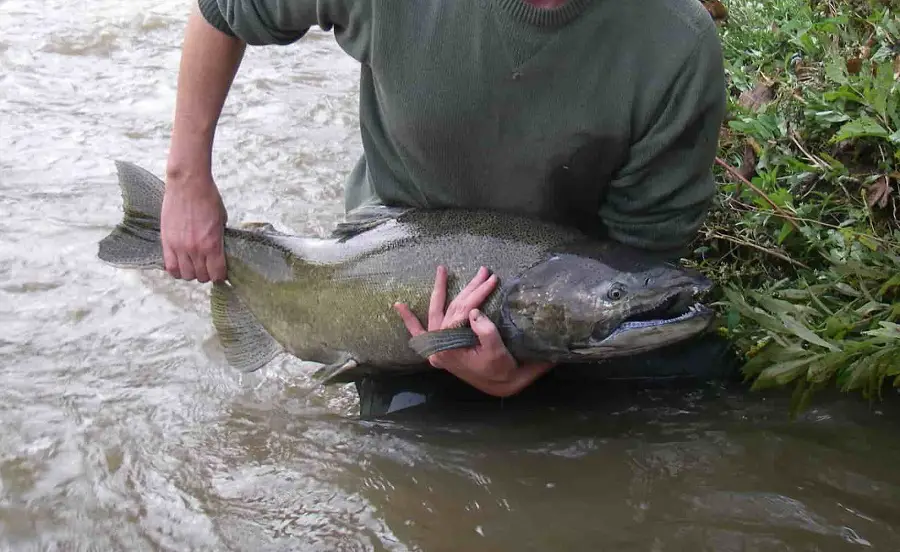 I have been jig fishing for salmon for about 37 years, and as a fishing guide, I've seen what works, and what doesn't work when jigging for salmon. I have learned many tips and tricks from numerous salmon guides that have improved my jig fishing game and I'll share them here with you.
If you are not using these same methods when jigging for salmon you are missing fish!
Jig fishing for salmon can mean casting and twitching larger jigs through deep pools, pockets, and riffles. Jigging for salmon can also mean drifting small jigs under a float the same way you would drift a spawn bag or a bead. Both ways work well.
Jigging for salmon can be a very effective method when fishing rivers, but it's still not a very common method even though there are plenty of river guides, myself included, that jig fish for salmon.
Jigging For Salmon: The Three Methods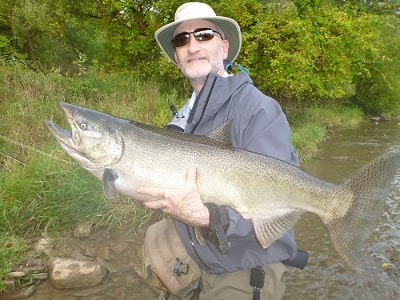 Despite the fact that jigging for salmon can be very productive and fun, and the hits are hard and exciting, I still see very few anglers using it.
When salmon are being pressured by other anglers that are using popular baits like eggs, worms, or beads, jigs under a float or twitched and ripped through a pool can be the best method.
Jigs can work in any type of water anytime the salmon are in the river. Some anglers will also fish the river mouths and the beaches or shoreline beside the mouth of the river, and they can do very well with jigs.
There are multiple ways to jig fish for salmon, but there are three methods that are used the most by river guides.
Float fishing with jigs under a float can be a deadly effective way to catch salmon. I will discuss this a little more below because there are a couple of things I do when using this method.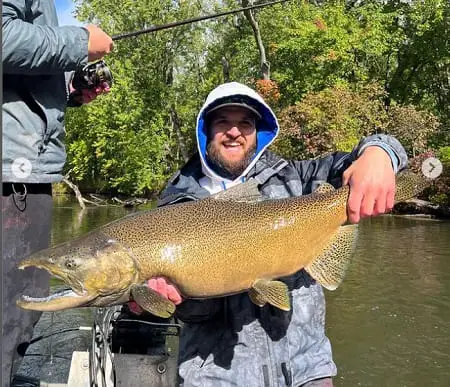 Twitching jigs for salmon is another method that is very effective. With this method, you are casting and retrieving your jig.
I will discuss how to do this method more below.
At times, I will also drift fish or bottom bounce jigs with good success. Drift fishing a jig through faster and deeper water can get your jig in front of a lot of fish. Bottom bouncing your jig through smaller pools, pockets and riffles works very well.
Jigging For Salmon With Floats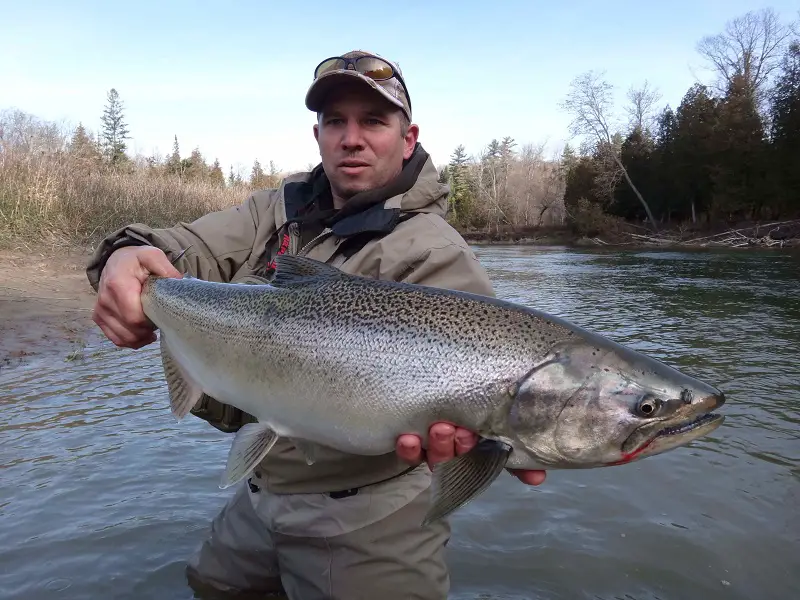 Jigging for salmon with floats is not much different than how I float fish for salmon with any bait, with one exception.
When float fishing, it is easy to cut the bait hook off, tie on a small jig or micro jigs like the Wordens Maxi Jig Steelhead jig, the jiggy bugger, Hawken Woolly Bugger Jig, or a Tungsten Micro Wooly Bugger Jig Fly, and then just fish that jig like it was a spawn sac or a bead.
The other way that I float fish with jigs for salmon is to jiggle or pull the float as it floats down the river.
To jiggle the float, I will hold the rod tip high and jiggle it, which if the line is tight, will jiggle the float, and that will jiggle your jig and give it really cool life-like movement. I have seen salmon crush a jiggled jig so hard that it almost rips the rod out of my client's hands.
In fact, it can be so good and they hit so hard that I won't use this method with beginners because I don't want them to lose their rod or mine.
The other method is to pull back the float and release about every 5 or 10 feet. This elevates the jig and then drops it which causes an up-and-down jigging-type motion. This can also entice salmon to grab the jig.
Sometimes the salmon are not actually eating, but they will smash a jig out of instinct, or aggression, or because it's in their territory. Either way, whatever their reason for biting, jigging for salmon under a float can be very effective. See Float Fishing For Salmon for more info.
Twitching Jigs For Salmon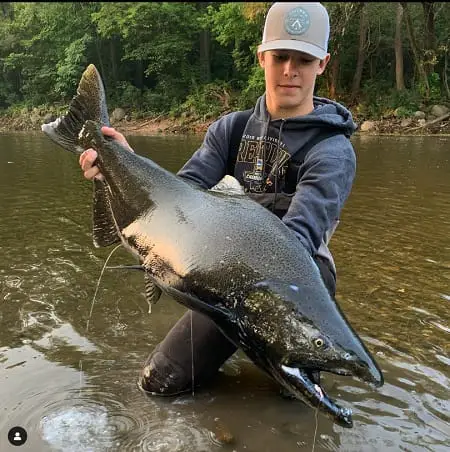 Twitching Jigs for salmon is a method I'm seeing more and more guides and anglers using for a couple of reasons.
First, it is very effective, and second, the salmon hit hard which is very exciting.
To do this method of twitching jigs for salmon, you cast across the river on a downward angle, and lift and drop your rod tip 3 to for feet to create a "W" type swimming pattern.
Of course, there is a little more to it than that, and I discuss this very effective method and the best twitching jigs in much more detail on my page, Guide Methods For Twitching Jigs For Salmon.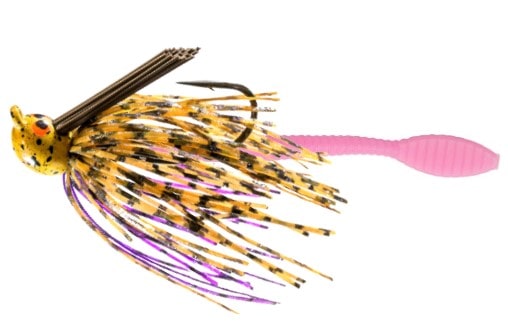 Some of the best twitching jigs for salmon are the ones that have, strong, sharp wide gap hooks, are made of marabou, rabbit fur, bucktail, or silicon, and they should be 3 to 5 inches long.
I also like twitching jigs that have a thicker profile.
Best Twitching Jigs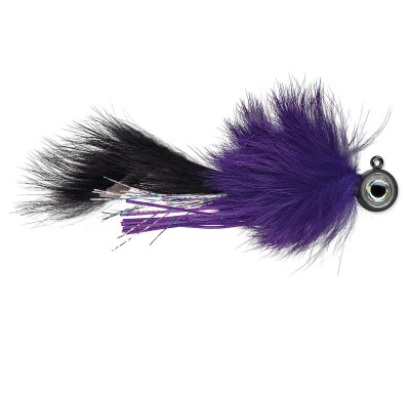 VMC Twitching Jig
There is a lot to like about this twitching jig which is why it's my favorite.
Big Eyes
Sharp wide gap hook
Rabbit hair and rabbit strip for body thickness, length, and life-like movement.
Tinsel fibers, flashabou, and living silicone accents
Lots of great colors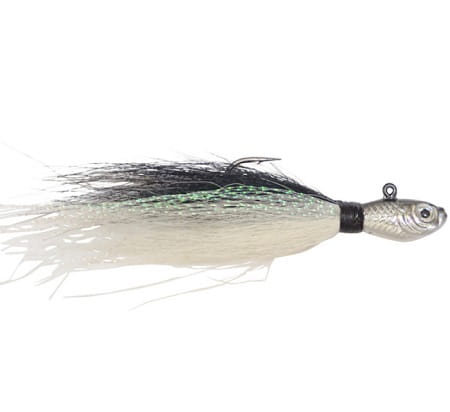 SPRO Bucktail Jig
Another great jig that is one of my favorite twitching jigs for both river and shore.
made from bucktail for action, body, and length
Sharp hook with a decent gap
Lots of great colors and sizes
Added flash
Swim head and eye for unique swim action.
Durable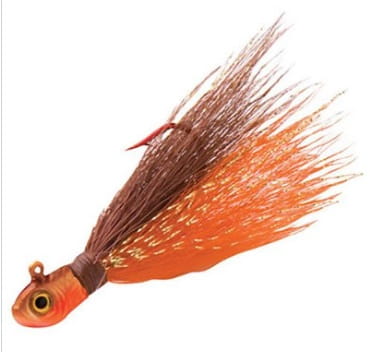 Northland Buck-A-Roo Jig
A twitching jig that is good for steelhead, trout, and salmon fishing.
Mustad Ultra-Point hooks
Good thickness and length
Bucktail with flash for added attraction
Lots of colors and sizes to choose from
Large swim head with eyes
Tip it with a twister tail or paddle tail
Bottom Bouncing And Drift Fishing Jigs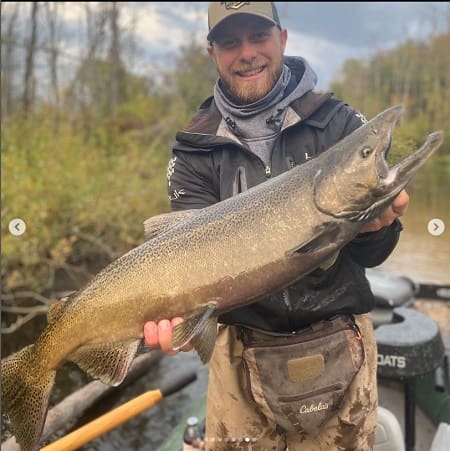 Both bottom bouncing and drift fishing are very similar except for a different setup.
With this method, you cast your jig out and allow it to dead drift (without a float) naturally down the river while trying to maintain light tension on the line so you can detect a strike.
One advantage to using jigs over baits with this method is that you can jump or bounce the jig periodically throughout the drift. At times, I will do this every 3 to 5 feet, and other times I will jump the jig every 10 feet or so.
You don't need to jump or bounce the jig but often, as the jig dead drifts down the river and occasionally taps the bottom and I detect that tap, I will bounce the jig using a mini hook-set. Sometimes it's a fish, and sometimes it is just the bottom.
I use bottom bouncing in smaller sections of the river, in riffles, and in pocket water, and I use drift fishing in big flows, with heavier currents or where long casts are required.
For more: see Drift Fishing For Salmon and Bottom Bouncing.
Adding Jig Tails

Adding plastic jig tails are good on both float fishing jigs and twitching jigs but I mostly use them when twitching.
I like the paddle tail minnows the most when jigging for salmon, but the twister tail jig tails are also very effective.
These types of jig tails add extra bulk to the jig, and they add more length, and often a lot more movement.
They can also add more color or a contrast of colors, such as adding a pink paddle tail minnow to a black-haired jig with a chartreuse head.
Yep, that color actually works well for me.
Gear For Jigging For Salmon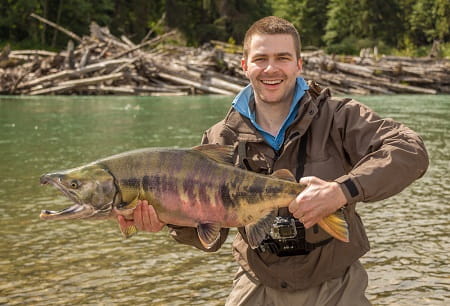 When jigging for salmon, you want to be sure that the rod and reel that you use works well for both the size of the salmon and the jig fishing method you are using.
For jig fishing with a float, use a typical float fishing rod in the 12 to a 14-foot length that is strong enough for salmon fishing. See 11 Best Salmon Rods For River Fishing.
If you are jigging for salmon using the twitching methods, you don't want to be using a standard bass or walleye rod since it's probably going to break on large salmon.
On the other hand, you don't want to be using an extra heavy rod as thick as a pool queue either because this will take a toll on your wrists, arms, and shoulders after jigging for a few hours.
Ideally, when twitching jigs for salmon, I recommend a 7'6″ to 8-foot medium or medium heavy rod that is fast action with a fast sensitive rod tip.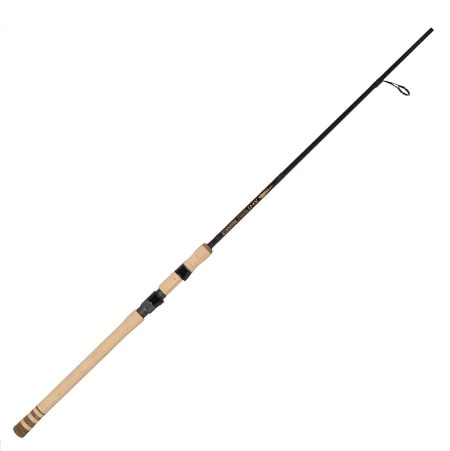 Good Rods for jigging for salmon are the Okuma SST New Generation Spinning Rod: 7'6 Medium Heavy -MODEL: SST-S-763MHA, or the 8-foot Medium Heavy – MODEL: SST-S-802MHA – Check Price
Or check out the St. Croix Premier Spinning Rods: The 7'6 Medium power is a great choice for jig and lure fishing for salmon. Check Price.
The best rod that I have used, and my favorite jigging rod for salmon and steelhead is the G. Loomis IMX Twitch Spinning Rod. This rod is actually designed for jigging and twitching jigs for salmon in rivers. CHECK PRICE
Reels For Jigging For Salmon
Although some guys like to use big spinning reels for salmon, when it comes to twitching jigs, I don't like to use big reels. A reel size of 35 or 40 is plenty big for jigging. See Best Reel For Salmon.
Baitcasting reels are also a good option for salmon as long as it's a good quality reel, with good gears and a drag capable of handling large salmon.
Whatever type of reel you use, make sure it will hold a lot of line because I've seen big coho and chinook spool guys easily.
Jig Heads For Jigging For Salmon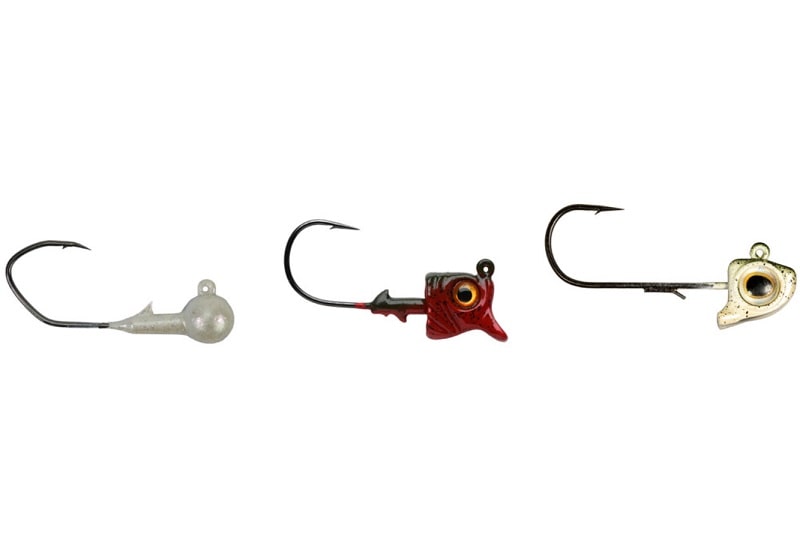 If you make your own jigs, or you just want a bare head to add a plastic tail too, just about all jig head types will work for salmon. Most guides use either the round-shaped head or the swim jig, or the minnow-type head that you see in the above image.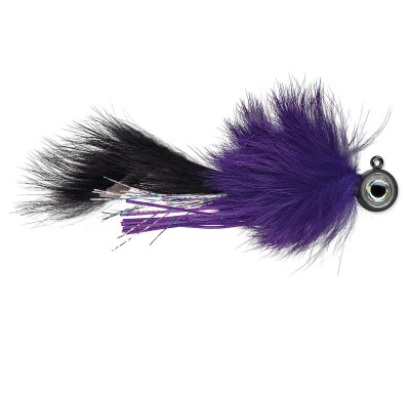 One thing I do like in jig heads, because I think it entices more bites, are jig heads with eyes like the ones in the picture above. Although not critical, I do think I catch more salmon on jig heads with BIG eyes.
It's also important to NOT buy cheap jig heads. Often the cheap jig heads use cheap hooks that are prone to bending and breaking, especially on big powerful salmon.
Instead, look for a jig head that used a high-quality hook from a reputable company like Gamakatsu, Owner, or VMC.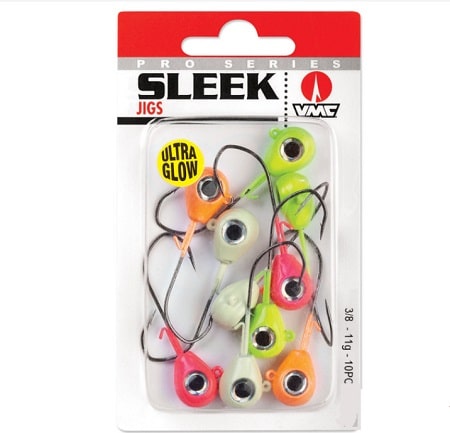 I also recommend trying to find jig heads that use a good quality epoxy finish, or ones that use a double finish, or often the best jig heads use a UV finish.
These hard heads will last longer, especially if you are banging a lot of rocks which is often the case when twitching jigs for salmon.
Jig heads like the VMC Glow Sleek Jig are good for jigging for salmon, and glow jig heads are good in low-light conditions.
What Size Jig Heads Are Best For Salmon?
The size of the jig head that I and other guides use will depend on the depth and velocity of the current.
When float fishing with jigs, the sizes 1/32oz, 1/16oz, 1/8oz, and 1/4 ounce are usually best.
1/4 once jigs are about as heavy as I go, and I would use this size in fast flows under a float. When jig fishing under a float, I will often use split shots on the line the same way that I set up the leader for baits. See my salmon jig leader setups below.
When twitching jigs for salmon, I will use heavier jig heads from 1/4oz, 1/2oz, and 3/4oz to 1 ounce in the heaviest and deepest flows. 1/2-ounce jigs are my go-to in medium-depth and medium-speed currents.
With either method, smaller jig heads might be best in smaller rivers or smaller spots, or slow water, and I use heavier jig heads on bigger rivers and bigger spots.
Best Length Of Jigs For Salmon
I've touched on this a bit already, so let me summarize this for you.
When float fishing with jigs, I prefer jigs from 1 inch to 3.5 inches in length, with 2.5 inches being around my go-to length.
When twitching jigs for salmon, I like loner jig from 2.5″ to 5 inches, with 3.5″ to 4″ inches being my go-to length.
If the jigs you buy are not that long, just add a twister tail or paddle tail minnow to the hook to add length.
Best Color Jigs For Salmon
The color of the jigs that I use will depend on a few variables, and I have some good advice that I give to my clients.
In clear low water, I like to start with more natural colors like olive, black, tan, and sometimes white. Black with purple or blue can also be a good option.
I start with these colors because sometimes salmon can spook easily in low clear rivers, so chucking a big bright orange, chartreuse, or hot pink at them could spook them.
After throwing natural colors at them, if that doesn't work, I love using chartreuse and pinks, or combinations of the two for salmon. Adding a little purple or red to any color combination can also work well.
In dirty or higher faster flows or when the fish are aggressive, my go-to colors are chartreuse, white, and pink, or combinations of the three. Again adding red or purple is not a bad idea. I also find dark colrs can work well in this type of water as well.
GUIDE TIP: I tell my clients that I have found that in the lower river when the salmon first come in, whites, and silvers, or a combination can be deadly effective. This is because the salmon have been out in the big water feeding heavily on baitfish of similar colors. This is also when large 5-inch jigs can be effective.
Once the salmon get way up the rivers and into the low shallow water, I will revert back to the darker neutral colors.
Salmon Jig Setup
These are the 3 main setups that I used when jigging for salmon.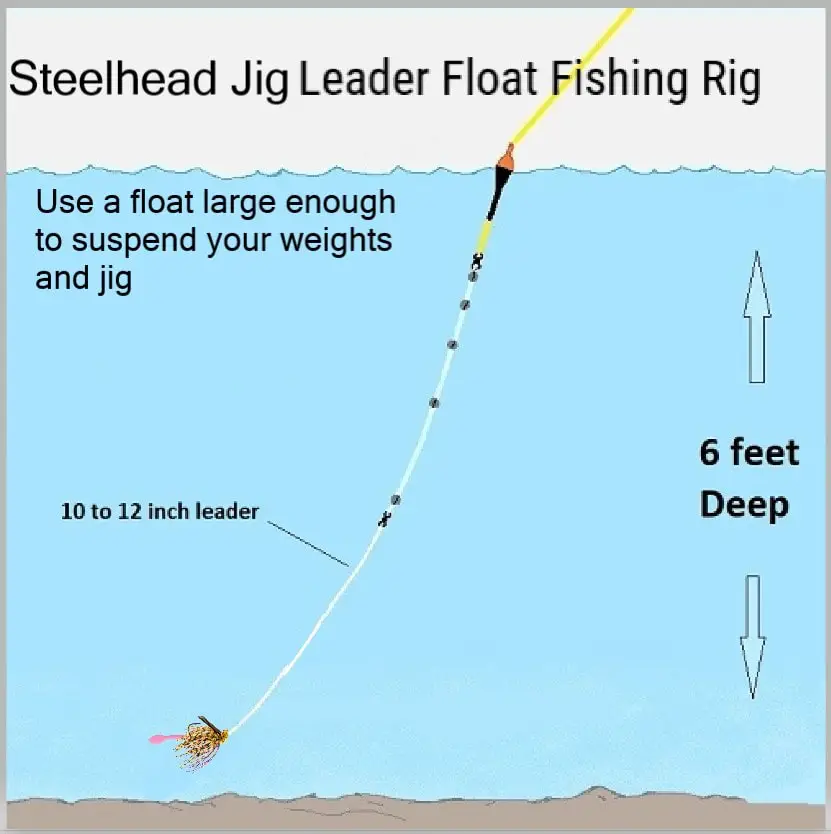 Float Fishing Salmon Jig Setup
This is the typical setup that I use when float fishing for salmon and steelhead, and I use it for float fishing with jigs too.
I use the same setup so I can easily switch from jigs to baits when needed.
Just be sure that you use a light enough jig head, or a big enough float so all that extra weight from the jig doesn't sink your float.
The above salmon jig setup works well for dead drifting the jig, but it can also work when pulling or twitching your float to impart action to the jig under the float.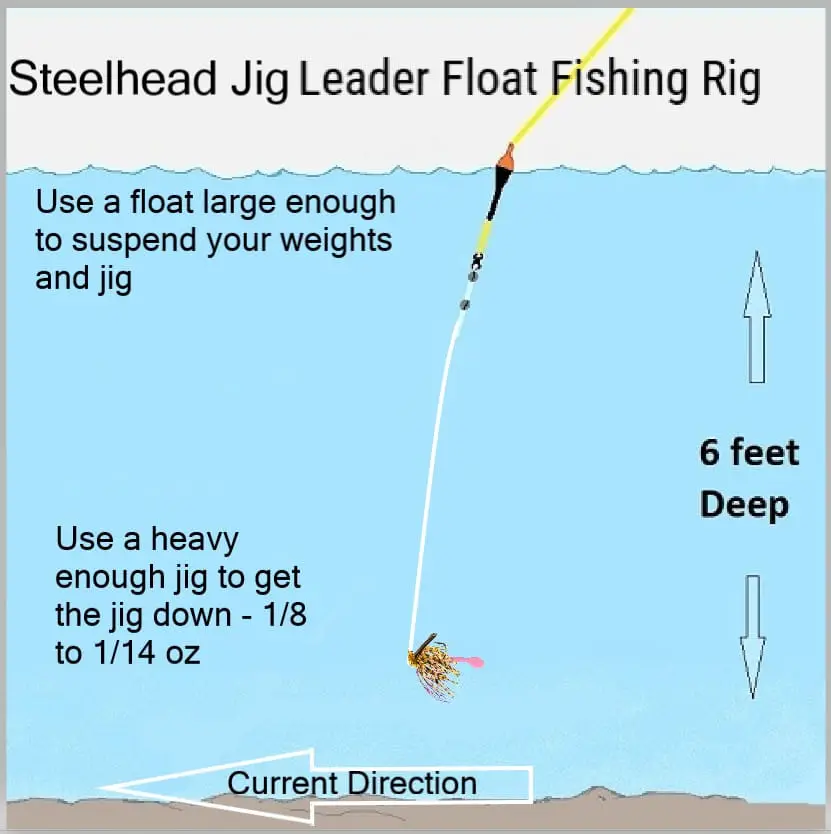 Salmon Jig Rig For Floats
Similar to the above salmon jig setup, I don't add any weights to the lower leader so I can use heavier jigs.
I also like this method better when jiggling my float or using the pull-and-drop method to impart action to the jig. I find with out all the added split shots on the line the jig moves easier and more.
You can also use this salmon jig rig in shallower water, and it works very well in pocket water, or behind boulders or other obstructions too.
Twitching Jig Setup For Salmon
When twitching jigs for salmon with mono or braided lines, I will usually use a fluorocarbon leader. If I'm using fluorocarbon mainline that is not too think I will tie the line directly to the jig.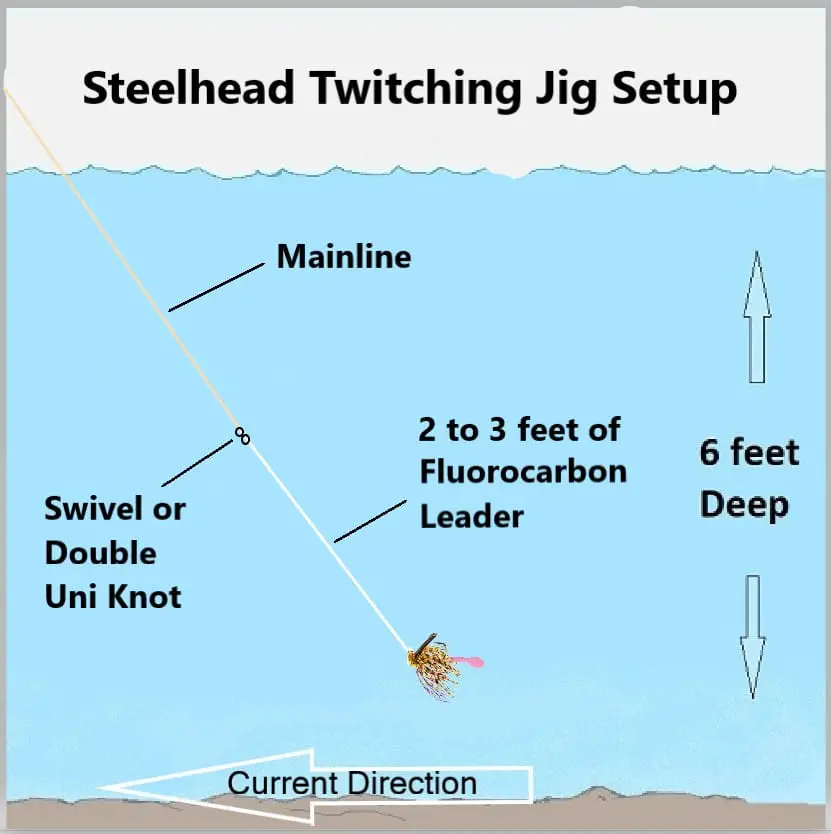 Using a fluorocarbon leader of 1 to 3 feet is a good idea because the fluorocarbon leader is nearly invisible to the salmon.
Fluorocarbon also has good abrasion resistance and is less likely to get cut on the rocks.
I add fluorocarbon using a double Uni Knot, or and micro swivel.
A 16 to 20-pound mainline with a 14 to 16-pound leader is usually enough for most salmon.
If you are just getting into salmon fishing or want to improve and learn more about the methods, best baits, and best gear that guides use, check out How To Catch Salmon in A river: Guide Tactics And Tips.
Jigging For Salmon Q&A
That wraps up this article on jigging for salmon. If you have any questions, comments, tips, or advice on jig fishing for salmon, or favorite jigs, let us know in the comments section below.
Tight Lines,
Graham