Fly Fishing Ohio Steelhead: Advice And Tips From Guides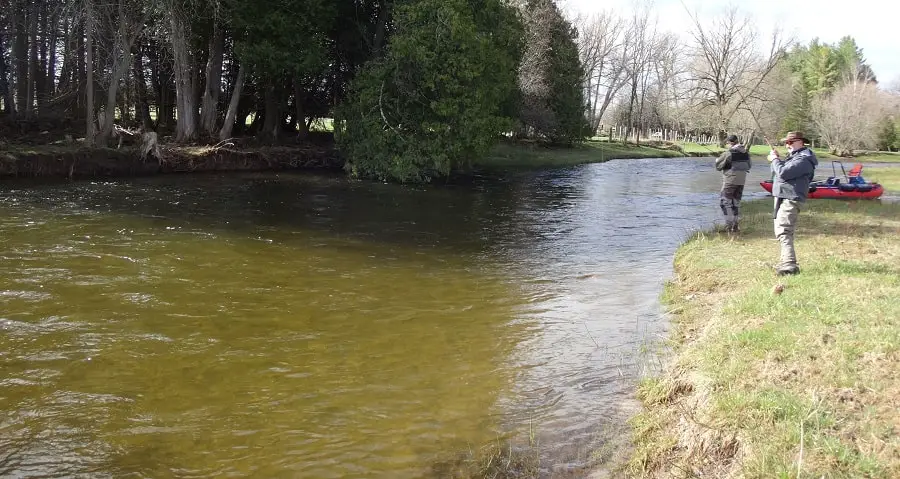 There is a reason why the majority of Ohio steelhead guides specialize in Fly Fishing Ohio Steelhead. In fact, most Ohio river guides don't even offer or use other methods. As a guide myself, even I prefer to fly fish Ohio steelhead over other methods. This is simply because fly fishing for Ohio Steelhead is one of the most productive ways to catch steelhead.
The rivers of Ohio are perfectly suited for fly fishing Ohio Steelhead. The rivers are generally shallow with plenty of pools, riffles, and pocket water which can all be fished effectively with fly fishing methods. On top of that, steelhead love flies.
This article discusses everything about fly fishing Ohio steelhead with tips, methods, and tactics all coming from river guides.
Fly Fishing Ohio Steelhead: Stocking & Management
Ohio is one state in the United States that knows how to run a world class steelhead fishery. At one time, steelhead didn't even exist in Ohio, but now, Ohio is known as one of the best places in the world to fish for steelhead.
The Ohio steelhead fishery was created and is maintained by the ODNR through extensive stocking programs, with reports of initial stockings of over 500,000 steelhead a year.
In fact, I've heard anglers tell me catching 100 steelhead a day is normal. Now it's not always going to be like that, and anglers are known to exaggerate, but, the steelhead fishing in Ohio during peak times can be very hard to beat anywhere else in the world.
Now, only select rivers, such as the Grand River, the Chagrin River, Conneaut Creek, Rocky River, and Vermilion River, enjoy annual stockings and they make the best rivers for fly fishing Ohio steelhead.
For more information on these Ohio Rivers, check out my page on Best Ohio Steelhead Rivers.
Natural Production and Wild Fish
Since the rivers in Ohio are not conducive to naturally reproducing steelhead, the ODNR stocks approximately 450,000 6- to 9-inch Little Manistee River strain steelhead annually.
These steelhead in their juvenile stage will migrate to the ocean and make their way back after two summers of growth for spawning. A 2 to 3 year old fish can be 2 to 4 pounds, a third-year steelhead can be 6 to 7 pounds, and a 4th-year steelhead can be 7 to 10 pounds.
There are reports of steelhead over 15 pounds.
Best Times To Fly Fish Ohio Steelhead
Fly anglers take advantage of this annual migratory behavior to hunt for them when they enter the rivers.
This upriver migration kickstarts from early September to late May; however, the peak times begin Mid-to-late October to Mid December in Fall and then again from Mid March until early May in Spring.
Amongst the numerous ways to catch this hard-fighting fish species, one of the best ways is by fly fishing using methods adapted and perfected by anglers and guides that work well on the Ohio steelhead rivers.
fly anglers will find that the methods and setups that are used in Ohio are slightly different than what anglers will use on the larger rivers on the west coast.
This fishing method, although challenging at times, can be learned by every angler. It does not require a big budget or fancy rods, but it does require enough knowledge to know what to use, when to use it, and how to adapt to the changing conditions.
Also, knowing when and why the steelhead enter the river in large numbers helps a lot.
Ohio Rains And Water Levels.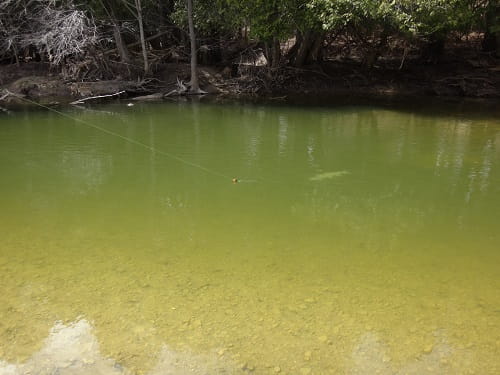 One of the key factors of when the steelhead will enter the rivers, aside from the time of year, is water levels.
Ohio rivers can get very low in the summer and in the winter, and the steelhead will often delay their runs until the rivers rise significantly.
This means big rains in September and October will start the fall steelhead runs, and more runs will continue into December after each rain.In the spring, the snowmelt and warming river water temperatures as well as spring rains can trigger large runs fo steelhead.
But with big rains and snow melt comes high, and dirty water, and with dirty water, the steelhead can not see your flies. This means that anglers will need to wait 1 to 5 days before the rivers clear enough to fish.
The good thing with Ohio is that there are creeks that are very small to very large ranging from under 20 feet wide to rivers over 70 feet wide, and they rise and clear at different times.
So while your favorite larger river, like the Grand River, might be high and muddy and will take 5 days to become fishable, a smaller creek or river nearby might be clear within 24 hours after a rain.
You can use our Ohio rivers page for flows, drop times, and to help you learn the rivers and decide when to try the rivers.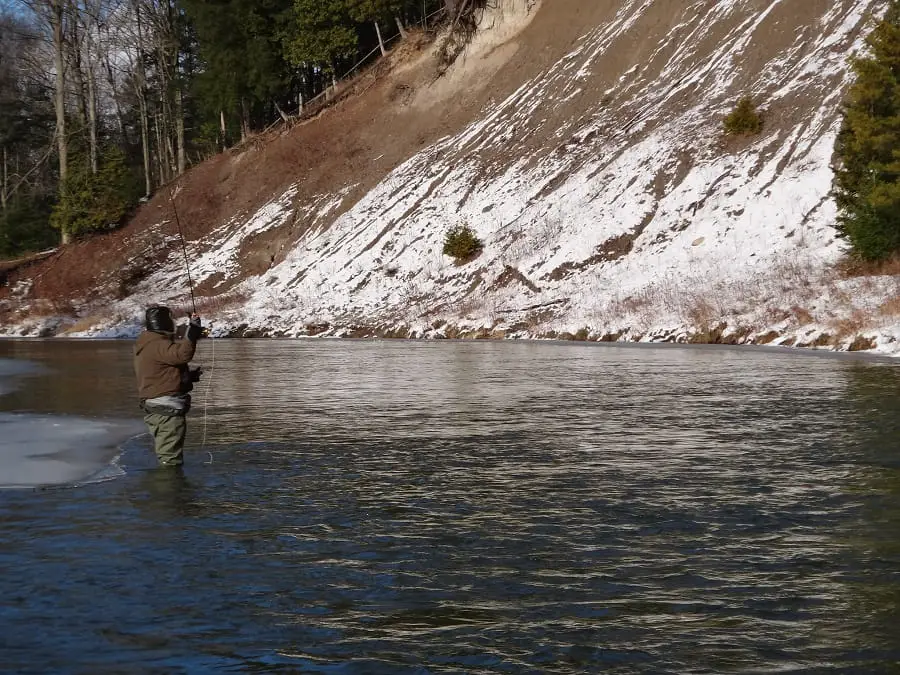 See: Steelhead Run Ohio: Guide Tips For Timing The Runs.
It's also equally important to know how to fish the rivers during fall, winter, and spring.
This also includes what flies to use and when to be on the water, as well as how to stay warm and comfortable.
See these articles:
Types of Fly Fishing Ohio Steelhead
Fly fishing for Ohio steelhead can be done using various methods like nymph fishing, euro-style nymphing, Spey fishing, and streamer fishing.
Knowing which method to use, having an effective setup, as well as using the right flies is important for the success of any steelhead fly fishing trip.
Indicator Nymphing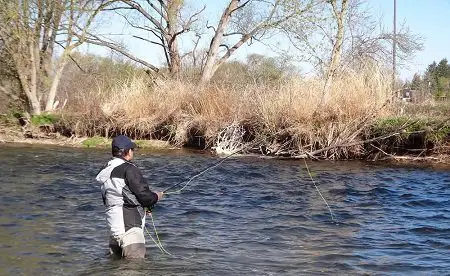 Nymphing for steelhead is a very effective way for fly fishing Ohio steelhead (likely the most productive).
This fly fishing method involves suspending your fly below the surface, in a way that naturally imitates the food source of steelhead. This can be done using what is called an indicator.
Indicator Nymphing as a fly fishing method is most effective for fly fishing sections of the river that are 3 feet to 12 feet deep, with the best water betwing 4 to 6 feet deep.
There are a lot of strike indicators on the market that will not just help you detect a bite from a fish, but improve your presentation and help you catch more fish. Using the right type of indicator is important even for a guy like me that has been indicator fishing for over 30 years.
Personally, I recommend indicators such as RAVEN FS Indicator Floats, THILL Indicators, and New Zealand Wool Strike Indicators. However, I have an in-depth page on what the best indicators are for different types of river conditions. Check out my page on What Are The Best Indicators For Fly Fishing? Guides Advice.
Remember, for most fly anglers, indicator nymphing if the most productive method, but ONLY if you do it correctly. If you are new to indicator fishing or want to know how the guide do it, check out my page Nymphing For Steelhead.
Best Flies Fly Fishing Ohio Steelhead
We are lucky to have Gareth Thomas as one of our contributing Ohio river guides.
Gareth runs Alley Grabs Guide Service In Ohio and says the best flies for fly fishing Ohio steelhead are natural colored fly patterns when the rivers are clear, and bright colors when the river are off-colored.
Some of Gareth's favorites include yellow, white, and peach colors egg patterns, stonefly and mayfly nymphs, as well as white Zonker minnows.
Most standard steelhead nymphs can work well for this fly fishing style, including worm patterns, flashy egg patterns, and woolly buggers.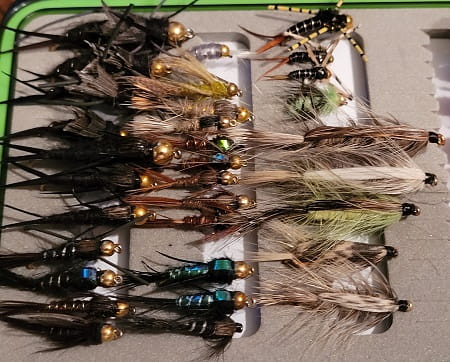 Other great flies for fly fishing Ohio Steelhead include Hare's Ear, Caddis Larva, The Copper John, The San Juan Worm etc.
For more on flies for great lakes steelhead, See The 13 Best Steelhead Flies
Euro Nymphing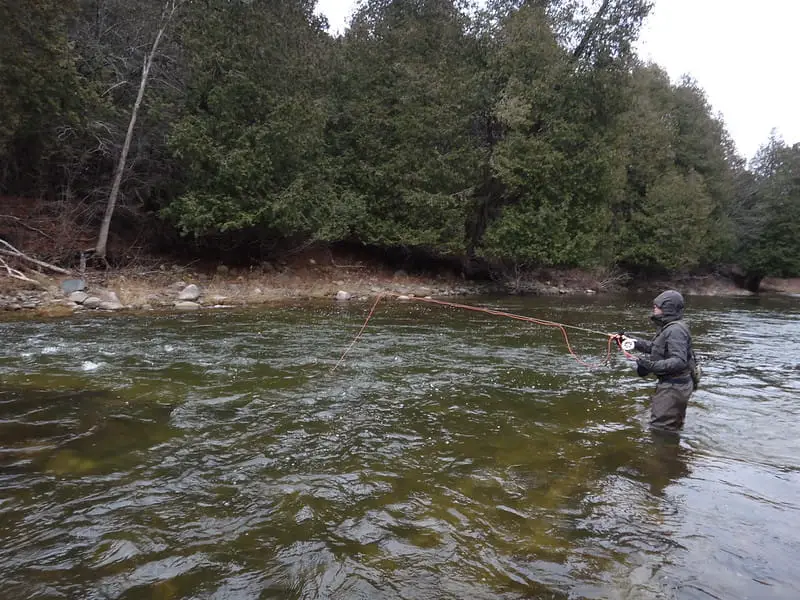 Euro nymphing, also known as Modern Nymphing, is a relatively new way of fly fishing for steelhead in Ohio and around the great lakes region.
In my area, I believe I was the first guide to offer and use Euro Nymphing methods for steelhead.
I started perfecting this method somewhere around 2006 which is before most anglers had even heard of it.
Euro nymphing originated from European competition anglers for trout, and if you were a competition angler and didn't use these Euro Nymphing methods you just could not compete.
These European anglers are still to this day known to be the best fly anglers in the world, or at least incredibly hard to beat.
The great thing is that most Ohio steelhead rivers are perfect for Euro nymphing and fly fishing Ohio steelhead can be exceptionally good if you know how to use this method well.
Using this method for steelhead requires some minor adjustments to the traditional nymphing in order to compensate for the larger steelhead size and the larger tributary size.
Euro Nymphing excels in pocket water and shallower water under 5 feet deep. In place of an indicator, strike detection is via a "sighter", which is a colored piece of line 3 to 6 feet up the leader. 
Euro nymphing enables a slow and natural presentation of your flies, particularly at the speed of the bottom current, thus giving a more natural drift which allows the steelhead to detect the flies better.
Euro nymphing also allows for a better strike detection, thanks to having a tight line through the entire drift.
Euro nymphing rig typically consists of a longer, lighter rod and a very long reel, and leader, a sighter, and weighted flies and no split shot.
The weighted flies allow you to quickly get your flies into the strike zone and keep them there.
Again, flies are weighted according to the water conditions. Get more information on my page on Euro Nymphing For Steelhead: Methods And Tips Of The Guides.
Best Flies For Euro Nymphing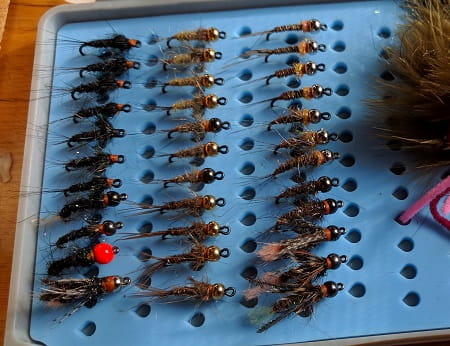 There are a number of nymphs that will do the trick for this style of fishing. Some of my favorites include Tungsten Bead Head Prince Nymph, the Frenchie, Tungsten Jig Fly, Polish Pheasant Tail Nymph, and the Hot Tag Pheasant Tail Nymph.
Most good nymphs used for trout will also work for steelhead. For more euro nymphing flies for steelhead that I like and use, check out The Fly Fiend nymphs.
Streamer Fishing For Steelhead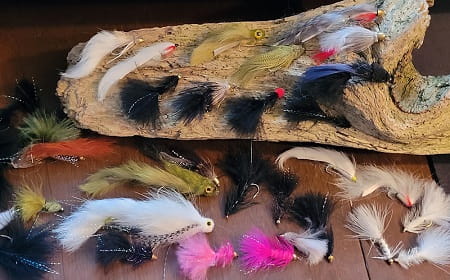 Streamer fishing for steelhead is another very effective and fun way to fish for steelhead in Ohio Rivers because the rivers are easy for casting and are not too deep.
This method of fly fishing uses a submerged fly known as a streamer. Streamers are built to imitate large baitfish or small fish that usually fall prey to large fish such as minnows, sculpin, and underwater morcels.
Since streamer fishing involves casting and retrieving to imitate swimming baitfish, it is a great way of covering a large amount of water in a smaller time frame and can be effective for catching big steelhead. 
It is important to be meticulous about picking the right streamer color based on the river conditions. This will depend on the color of the water or the amount of sunlight available.
As a rule of thumb, you should use lighter streamers for sunnier days, and use black or purple streamers for darker days.
While the dark background will outline the streamer's silhouette, the lighter background will reflect the rays of the sun.
Best Flies for Streamer Fishing
A hot guide streamer fly is the white Zonker fly, however the Zonker, in Olive, or black can be very effective.
When it comes down to selecting the appropriate flies, there are a number of options available. Top streamer options include Wooley Bugger, Flash Fry, Sculpzilla, Mini Loop Sculpin, and the Wooley Sculpin.
I use streamer fishing methods adapted to fishing for steelhead. See: Streamer Fishing For Steelhead.
Spey Fly Fishing For Ohio Steelhead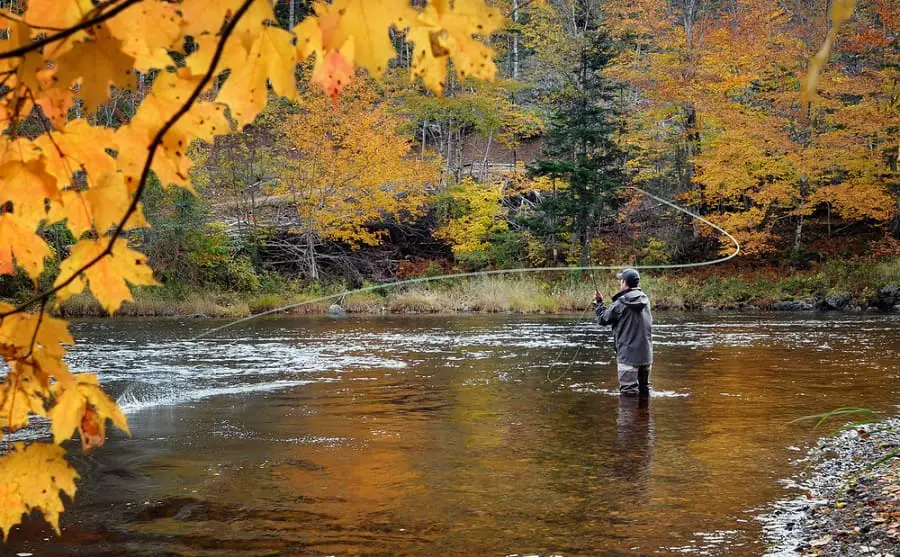 Spey fishing is one of the best ways to get started in fly fishing Ohio steelhead.
Spey fishing for steelhead is also known as swinging flies, and involves you simply casting your Spey fly across the river using a Spey line and Spey rod, and allowing it to swing across the river.
This fly fishing method is effective when fishing large rivers for steelhead. 
Spey fishing is best fished with a double-handed fly rod, often referred to as a Spey rod. This Spey technique allows for more powerful and long-distance casts with little to no backcast room required.
Spey casting also employs fairly short and heavy lines known as Skagit lines, and are designed to cast big flies in big sections of rivers. These Skagit lines are heavy and make it possible for anglers to easily throw heavy sinking tips a long way.
Both Scandi lines and Skagit lines are suitable for Ohio rivers.
For more detailed information on how to do this well, as well as methods for spring, fall, and winter steehead Spey fishing, and the best rods and reels, see: Spey Fishing For Steelhead: Best Setup And Tactics For Great Lakes
Best Flies for Spey Fishing
The right flies are essential for having a good experience while spey fishing. Ultimately, flies for steelhead spey fishing should be effective at imitating baitfish and designed to trigger the aggressive predator instinct of steelhead.
Top Spey flies options include Sparkle Soft Hackle, Gold-Ribbed Hare's Ear Wet, Tungston head Soft Hackle Pheasant Tail, Bead Head Soft Hackle Caddis Pupa, and Hornberg Wet.
Keep in mind that different times fo the year will have different hot flies, and as an expert on Spey fishing in Ohio, Gareth knows which flies are best. Check out hs series on Spey fishing for his favorite techniques and flies throughout the season.
Fly Fishing Ohio Steelhead Q&A
That concludes our article on Fly fishing Ohio Steelhead. If you have any questions, tips, or advice on fly fishing steelhead in Ohio let us know in the comments section below.
Tight Lines,
Graham