Centerpin Combo – 3 Best Centerpin Rod And Reel Combos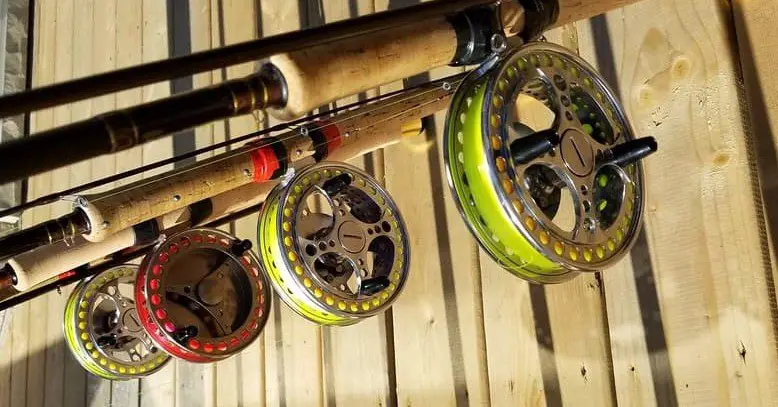 It's not uncommon for new anglers to be interested in purchasing a Centerpin combo because they believe getting a combo is easier and cheaper. I have done a lot of research to see if there is a good Centerpin combo available and this is what I found.
The best Centerpin combo for beginners is the Lamiglas Redline HS CenterSpin Float rod combined with a Raven Matrix Centerpin reel. This is a medium-priced combo that will last you for many years and will work on any river. There are Centerpin combos that are less expensive or more expensive.
As a Centerpin fishing guide, I have used more Centerpin rods and reels than most anglers, so all my recommendations are based on what I have used and what I have learned over 30 years of fishing with Centerpin rods and reels.
Packaged Centerpin Combo
If you are looking for a packaged Centerpin combo where the Centerpin rod and reel are sold together, I'm going to be honest and tell you that I haven't seen a packaged Centerpin combo that I like enough to recommend or use but there are some options.
Anglers that know me well know that I won't recommend a product that I wouldn't use myself or that I wouldn't recommend to a family member.
If you think buying a Centerpin Combo is better because you will get a better price you might be right, but a better price is only good if the products are actually good, but unfortunately, most Centerpin combos that I have seen are not good for one reason or another.
The reason I am not a fan of most Centerpin Combos is simply that the combos that I have seen are cheap and target anglers that don't know enough to know that the combo is probably low-quality and that it will likely cause you problems.
The other reason I don't like most Centerpin combos is because of the fixed reel seat and where they put the reel on the rod handle. Where the reel should be on the handle for the best performance and comfort is something new anglers won't know.
After 31 years of Centerpin fishing and 20 years of teaching anglers how to fish with Centerpin reels, I have found that there are good and bad spots to place your reel for both performance and comfort.
Unfortunately, the rod companies that offer rod combos that I have seen most often have their reel seats in an area that is in a spot that is midway to attract the most anglers. That doesn't mean that's the best spot and often it's not.
You would think the rod companies would know where to put the reel, but some anglers like the reel at the top of the handle, like me, and other anglers like the reel at the bottom of the handle, and then some like the reel in the middle of the handle.
So instead of the rod builders needing to build 3 different rods with three different handles, they just put the reel in the middle. In my experience, the handle in the middle of the handle is OK, but it's not the best spot.
In my opinion, the best rod is one with sliding rings so you can adjust the spot that you put the reel on the handle based on comfort, function, and even balance because some Centerpin reels are heavier than others and you could balance the rod out better in a higher or lower spot on the handle.
I discuss where to put your Centerpin Reel on the rod for maximum comfort and performance on my page How To Hold A Centerpin Reel: 4 Ways That Work Well.
Therefore, if you really want the best Centerpin Combo, it's best to build it yourself using my recommendations below.
Pros And Cons Of 13 Foot Float Rods Vs. 11 Foot Rods
In most situations, I prefer a 13-foot float rod for most rivers, when fishing for steelhead, and salmon. A longer rod of 13 feet, 13.5″, or 14 feet and over, will provide better line control, allow for longer drifts while keeping the main line off the water longer, and they can even be better at protecting lighter leaders.
I also like fishing fish on the longer rod.
The pros to using a shorter rod would be when fishing small streams or areas with really heavy cover. In some cases, the shorter rod will be better on river boats with 2 or 3 anglers close together, however, my clients rarely had issues with 13-foot rods on my 15-foot boat.
Shorter rods are also lighter and I do prefer them when fishing for trout.
Some anglers will prefer their 10, 11, or 12-foot rods, others will prefer a longer 13 or 14-foot rod. In my area, I would guess the majority of Centerpin anglers are using 13-foot rods even on smaller creeks that are 20 feet wide or less.
Best All-Around Centerpin Combo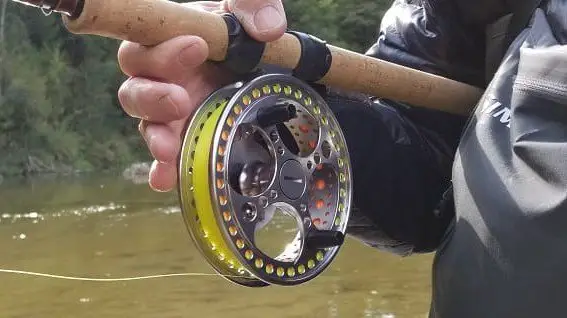 The best Centerpin combo is one that is not too expensive and is one that will work on all rivers, and one that you won't outgrow and need to upgrade. It will also be of good quality so it won't cause problems or affects your ability to learn and fish.
The honest truth is that there are some really crappy Centerpin reels and rods out there that will cause you problems or just won't work well. You want a combo that will last you for over ten years and one with sliding rings on the handle so you can put the reel in a spot that works best for you.
If you are fishing larger rivers, go with the 10-pound Raven line. The great thing is that it is easy to make this Combo because you can get everything in one place at FishUSA.com.
Other decent economy float rods:
Combine these with an Aventa Centerpin reel or an Okuma Sheffield S-1002 Centerpin Reel and you've got a nice combo.
You can see my best Centerpin leader setup and everything you need to make the leader on my page 2 Float Fishing Leader Setups From A Pro River Guide.
The Best Centerpin Combo For Beginners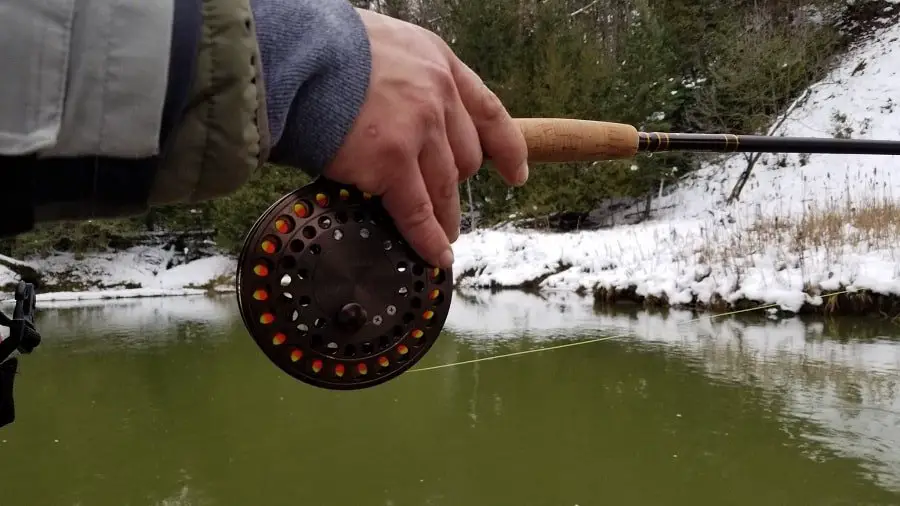 The best Centerpin Combo For Beginners is the 13'4 foot Okuma SST Float Rod Combined with the Okuma Aventa Centerpin Reel. Add the raven 8-pound mainline and a good float and leader and you are good to go.
I have used this exact rod and reel combo many times when guiding and it is the best economy Centerpin Combo.
I have also sold this combo in my old tackle store and never had any issues or complaints.
For the price, this is the best Centerpin rod and reel combo and the cheapest combo I would recommend because I have not had good experiences with rods and reels that were cheaper than this.
You can get that Combo through those links at FishUSA.com.
This combo has a good rod and reel, it won't be as good as a higher-end Centerpin combo, but good enough to work well.
If you are a beginner at Centerpin fishing, make sure you read my article Centerpin Fishing For Beginners: 20 Steps From A Top Guide where I discuss everything you need to know about Centerpin fishing as well as my four fundamentals of Centerpin fishing which will help you catch ten times more fish.
Why Avoid Cheap Centerpin Combos?
I have had clients come out with me to learn how to Centerpin fish, and they bring out cheap rod combos that they bought somewhere. Often, they end up having many problems with their cheap gear that affects their ability to learn and fish, and they end up just using my gear.
Cheap gear makes it harder for me as a guide to teach with, and it's harder for the angler to learn on.
These guys that use these cheap rods and reels also end up needing to go buy a better rod and reel that actually works. Don't be that guy.
Cheaper rods will often be flimsier and heavier which can cause problems with your hook sets which can often mean lost fish. A flimsy soft rod can also be a problem when fighting big fish.
Heavy rods can fatigue your arms after a long day on the water. I also find cheap rods break easier.
With cheaper Centerpin reels, I have found many of them are clunky, and the gap in the spool is so big that the line gets caught in behind the reel and into the greasy bearing. I have also found that the cheaper Centerpin reel will have cheap components that can break.
Cheap Centerpin reels also have low-quality bearings that could rust, seize up, or don't work very well. They are rarely smooth and smooth bearings are important when Centerpin fishing.
Best High-End Centerpin Combo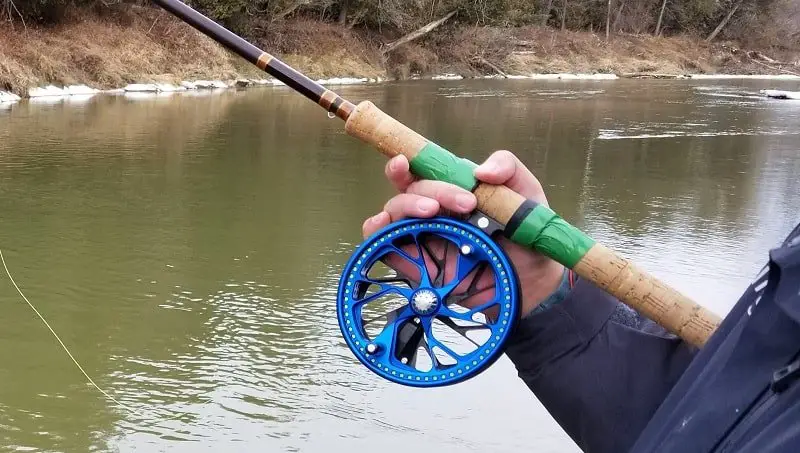 If you want the best gear from the start and don't want to upgrade in the future, then the best high-end Centerpin Combo is the 13-foot Loomis GLX Centerpin Rod combined with the very popular Kingpin Zeppelin Centerpin Reel, or the thousand-dollar Kingpin Zeppelin Aero Centerpin Reel, or the top-of-the-line Kingpin Zodiac Centerpin Reel. Combine that with the Raven 8-pound line, and you have the best setup on the river.
The rod is one of the best and lightest Centerpin rods available, and the reel is one of the kingpin reels are the nicest and smoothest reels I have ever used. Together they make a fantastic Centerpin rod and reel combo.
I have used and guided with these GLX and Kingpin combos many times, and it is an excellent high-end Centerpin combo setup that would make any Centerpin angler very happy.
Of course, there are also custom rods and other rod brands, and everyone will have their favorite, but these rods and reels are what I've used, tested, and recommend.
Great Lakes Or West Coast Centerpin Combos
All of the above Centerpin rod and reel combos are for anglers that fish average-sized great lakes rivers or large inland trout rivers.
If you fish in very large great lakes rivers like the Niagara River or you fish the very large rivers found on the West Coast, then these combos might not be the best Centerpin rod and reel combos for you.
The reels are OK for bigger rivers but the rods will need to be upgraded to stronger rods for heavier lines and bigger fish in faster flows.
I have not seen a packaged Centerpin combo suitable for west coast rivers so you will need to build your own combo.
To do this right, start with my rod sizing chart and my rod recommendations on my page 7 Best Centerpin Rods Of 2021, and for great Centerpin Reels check out my page 23 Best Float Fishing Reels Of 2021: Buyers Guide.
Sometimes I get asked if you can use a fly reel or baitcasting reel to float fish and the answer is yes, but in my opinion. The best reel for float fishing is always the centerpin reel. See my article Centerpin VS Fly Reel and Other Float Reels.
Got A Question About Centerpin Combo's
If you have a question or comment or even some tips about the best Centerpin Combo let me and the readers know in the comment section below.
Tight Lines
Graham