Winter Steelhead Fly Fishing: 9 Tips From The Experts
Winter steelhead fly fishing is something that I do a lot as a guide and angler that loves to catch steelhead with a fly rod. These are my tips and tactics for more winter steelhead on the fly.
Winter steelhead fly fishing can be challenging with cold hands, cold feet, and frozen rod guides, but fly fishing for steelhead in the winter can also be very effective and rewarding if you know the right methods and the right flies.
There are ways to make steelhead fly fishing in the winter more bearable and more productive. I have been testing flies for 37 years to find out which ones are the best during the winter which I will share with you here.
I will discuss the best setup for winter steelhead fly fishing, and how I keep from freezing even if I guide 30 days straight in below freezing temperatures.
Winter Steelhead Fly Fishing: Keeping Warm And Dry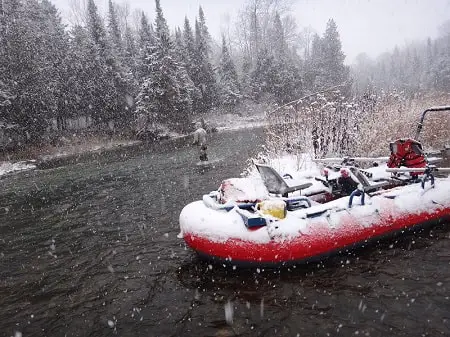 One of the keys to fly fishing for steelhead in the winter is knowing how to stay warm and dry.
Being cold with frozen fingers and frozen feet just sucks and it can take away from your concentration and can even keep you off the water.
You have probably heard people recommend layering to keep warm and yes, this works but only if you see the right types of layers and the right gear.
I use 2 or 3 pairs of layers on my legs and upper body. I also use certain types of gloves that have been tested and are suitable for fly fishing. There are also types of waders that are warmer than others and I have found one type that is great in the winter.
There are other things you can do to keep your hands, feet, and body warm when fishing in the winter and I discuss everything I use, how I layer, and other tips on my page Fishing In The Winter – Stay Warm With These 10 Tips
Guide Tip: Stay extra warm by layering with the right technical gear and the right outer gear.
Understanding Winter Steelhead Means More Fish Caught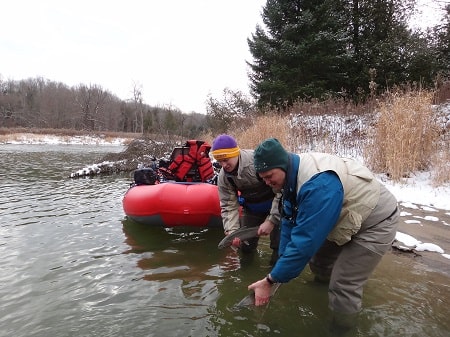 Winter steelhead fly fishing can be tough at the best of times, but understanding their patterns can greatly increase your chances of hooking fish.
As a guide that has spent days and weeks straight fishing for winter steelhead, I have found ways of increasing the amount of steelhead my client and I catch.
I know where the steelhead hold, I know what they eat, I know what temperatures or what temperature shifts, and what the weather will do to them.
I tell stories of my clients hooking more than 50 steelhead a day in the dead of winter, but this is rare for most anglers because they don't know how to adapt to the cold conditions, they don't understand how water temps affect the steelhead, or where steelhead hold during the coldest months.
I discuss all of these things on my page Winter Steelhead Fishing: Tips And Tactics Of Expert Guides
Guide Tip: If you try to fish steelhead the same way as you would in the fall or spring months you will struggle. Understanding how winter steelhead feed and hold will help you catch more fish.
Fly Rods For Winter Fly Fishing For Steelhead
You can use just about any fly rod for steelhead during the winter months and I don't change the rod I use for winter fishing. I use the same 10-foot, 7-weight fly rods for steelhead all season.
I like this size fly rod when fishing for steelhead on most great lakes steelhead rivers.
See Here for my recommended steelhead rods page.
Guide Tip: Using the right rods for steelhead fishing will make it easier to cast, mend, present your fly, as well as help you fight and land more steelhead.
Fly Reels For Fly Fishing For Steelhead In The Winter
The reel is equally as important as the rod that you use when winter steelhead fly fishing except that I always recommend a fly reel that has a good smooth enclosed disc drag reel.
The enclosed reels are less likely to freeze and lock up on you if the reel gets wet in below-freezing temperatures.
I use the same fly reels for steelhead all season and I don't have a special reel for winter fly fishing.
Click the link to see the best steelhead fly reels that I like, use, and recommend to my clients.
Guide Tip: Having a good reel with an enclosed drag system that is smooth will help you catch more steelhead
Winter Fly Fishing Lines
Most general-purpose fly lines will work for winter fly fishing for steelhead and I know this for a fact because I have used hundreds of my client's fly rods or have watched closely as they fished to see how their lines, reels, and rods perform in the coldest temperatures.
However, there are lines specifically designed for fly fishing for steelhead that can work better and will make fishing certain fly fishing methods much easier. Often these lines are made with cold air and cold water temperatures in mind which means they will stay supple in cold weather.
I have had clients come out with summer lines or lines made for the tropics and when fishing in ice-cold water they stayed stiff and coiled and caused all kinds of problems, so much so that I had to hand them one of my rods and the difference in the two lines is night and day.
I discuss the best lines for steelhead fishing on other pages because if you are a nymph angler you will use one line, but if you like to cast streamers or swing flies with a 2 handed rod you will need another line.
Guide Tip: Using a line made for steelhead will help you cast, mend and present your fly and you will have fewer problems when the temperatures get below freezing.
Nymphing For Steelhead
On most great lakes steelhead rivers, nymphing is the most effective way to fly fish for steelhead, and in the winter when the steelhead are sluggish and not as willing to chase a streamer or a swung fly, nymphing is the best choice.
I swing flies, I streamer fish, and I nymph for steelhead and I know all of these methods well enough to tell my clients that I honestly believe that a good nymph angler will catch 5 to 1 to a good swing or streamer angler. It might even be 10 to 1 during the winter months.
If you aren't sure exactly what nymph fishing for steelhead is all about, or you want to get better at nymph fishing for steelhead, or you want to see my leader set up or what rods, reels, and lines I recommend, you should check out my page Nymphing For Steelhead: The 3 Most Effective Methods
Guide Tip: Knowing what flies work best during the winter and then using a 2 fly steelhead fly setup is a great way to catch more steelhead. You can see this on my steelhead nymphing page.
Streamer Fishing For Steelhead
I enjoy streamer fishing for steelhead but I normally reserve streamer fishing for early fall and spring fishing. The reason for this is that steelhead in the winter can be sluggish, less active, and not willing to chase a streamer across the pool, especially one that darts and twitches quickly.
However, casting streamers and using a slower swing type of retrieve or a gentle twitch retrieve can work at times.
Using smaller flies that get deep is also important during the colder months.
Check out my page on Streamer Fishing for Steelhead for more information.
Guide Tip: When streamer fishing for steelhead in the winter, it's best to slow your retrieve down, use smaller thinner flies that get deeper, and use flies that use materials that have movement like Marabou.
Spey Fishing For Steelhead
Spey fishing for steelhead is growing across the great lakes region, and it's much more common to see anglers with 2 handed fly rods making long casts and then swinging streamer flies across the river for steelhead.
This is one of my favorite ways to fly fish for steelhead simply because it's fun and challenging.
When I say challenging, I mean don't Spey fish or swing flies for steelhead if your goal is to catch a lot of fish, because that is not what Spey fishing is about. A good nymph angler will likely catch 5 fish before a good Spey angler will catch one.
Yes, I know that saying that will have a lot of die-hard Spey guys saying I'm wrong, but I have proven that over, and over again and I would even bet a lot of money on that.
The simple truth is that Spey fishing only targets the most aggressive fish, which most days might be 5 percent of the steelhead in the river, while nymphing will target aggressive and neutral fish, and in my opinion, that's closer to 50 percent of the fish on many days.
If Spey Fishing for steelhead is something that you are interested you should check out my page Spey Fishing For Steelhead: Best Setup For Great Lakes.
If winter Spey fishing is something you want to try, using the Spey fishing system that our Ohio Spey fishing guide and expert Gareth discusses in his article Winter Spey Fishing For Steelhead: Tips And Tactics Used By Guides will improve your catch rate.
Guide Tip: Smaller skinny Spey flies that get down will often be better when winter fly fishing for steelhead.
Winter Steelhead Flies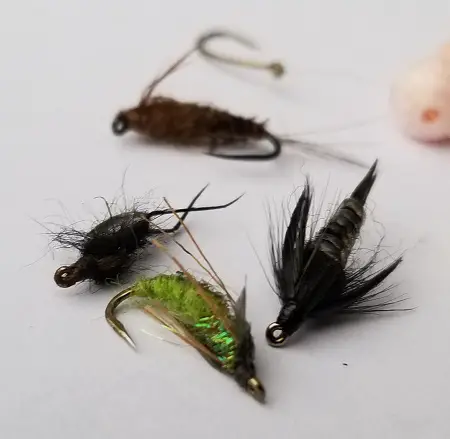 I find that flies like stoneflies, caddis larvae, and mayfly patterns like the Pheasant Tail Nymph can be excellent in the winter because often aquatic insects are the most abundant and easiest food source at this time of year.
Other very effective flies for me are worm patterns and egg patterns.
I will often combine the bright egg patterns with smaller dark patterns like a black stonefly nymph and that can be very effective at catching winter steelhead.
I discuss the best flies to use in the winter on my page Winter Steelhead Flies.
Guide Tip: Match the natural forage of the rivers and use two flies when possible.
How Water Temperatures Affect Winter Fly Fishing For Steelhead
Water temperatures are important and can be the difference between a river full of fish not eating and a river full of steelhead that are eating.
There is no magic temperature that I can tell you stay home when it's this temperature or go fish when it's that temperature.
I have experienced days in the middle of January when the water was 37F and we caught a ton of fish, and I have had days in November when the water temps were 45F and the fish were inactive because the water was inactive.
I discuss winter water temperatures and how they affect steelhead on my page Winter Fishing For Steelhead as well as the best times of day to fish and the best days to fish.
My simple rule for winter fishing for steelhead is that regardless of the current temperature, be it 37F or 49F, dropping water temperatures are often bad for fishing, but stable water temperature over hours can be good, and rising temperatures can be the best time to fish.
That is why when I fish when the water has dropped from 42F to 39F in a few hours the fishing is often very tough, but when I fish and the water has gone from 36F to 39F in a couple of hours the fishing can be fantastic. Either way, the water temps are 39F but one way it's good, and one way it's bad.
Slow It Down For More Steelhead
When the water gets very cold or under 45F the steelhead starts to become less active. This is when they are less likely to chase a moving fly, or when they won't move very far to grab some food.
This is when you need to slow down your presentation as much as possible and get your flies as close to them as you can. And slowing your flies down means getting great drifts and finding the bottom. To do this well I nymph a lot when fly fishing for winter steelhead.
Every year my guides and I teach hundreds of anglers how to fish and one of the things we teach is how to get a great presentation and how to slow your flies down. As I guide I have a few things that I consider Critical Fundamentals that you must do if you want to maximize catching fish.
When nymphing for steelhead in the winter, slowing your flies down to the speed of the bottom current is the number one thing that I can teach anglers to do well.
I teach this in my Nymphing classes and I have made a page for my nymphing students and my clients that is a full summary of my basic and advanced nymphing tactics and flies. It was once a private page just for paying clients but it is public if you go through this link, Fly Fishing With Nymphs.
Fishing slower also means finding spots within the river that have slower and deeper water.
Get It Deep For More Steelhead
Once you figure out how to slow your flies down, now you have to make sure that you get your flies as close to the bottom as possible without dragging them across the bottom.
When winter steelhead fly fishing you need to understand that the steelhead will be inches off the bottom with their fins and tail practically touching the rocks. This is where the current is the slowest and might even be slightly warmest.
If the steelhead is going to feed this is where they will feed as well.
The thing is that steelhead won't move very far off the bottom to grab food when the water is ice cold, so your flies need to be in their strike zone which could mean within 14 inches of their nose.
Fish The Middle And The Back
This brings me to where in the pool should you fish during the winter months and where do the fish hold when they are cold. I tell my clients on guide trips that I will catch fish in different parts of the pool at different times of the year.
During the coldest months, the steelhead will seek out the deepest and/or slowest water to hold in. They will often hold there all winter until spring comes and it's time for them to start their migration upriver to spawn.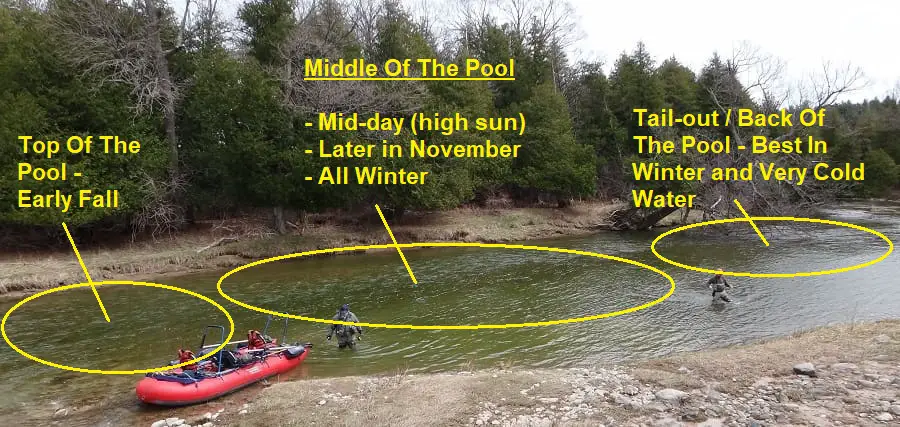 The middle of the pool and the tail out or also known as the back of the pool is the best place to fly fish for winter steelhead because this is where the bulk or all of the steelhead will be holding.
Fast shallow water and small pockets in low clear water are not good spots at this time of year so don't waste too much or any time there.
Got A Question About Winter Steelhead Fly Fishing
If you have a question, comment, or suggestion about winter fly fishing, let me know in the comments section below.
Tight Lines
Graham