Steelhead Jigs: The 11 Best Steelhead Jigs And How To Fish Them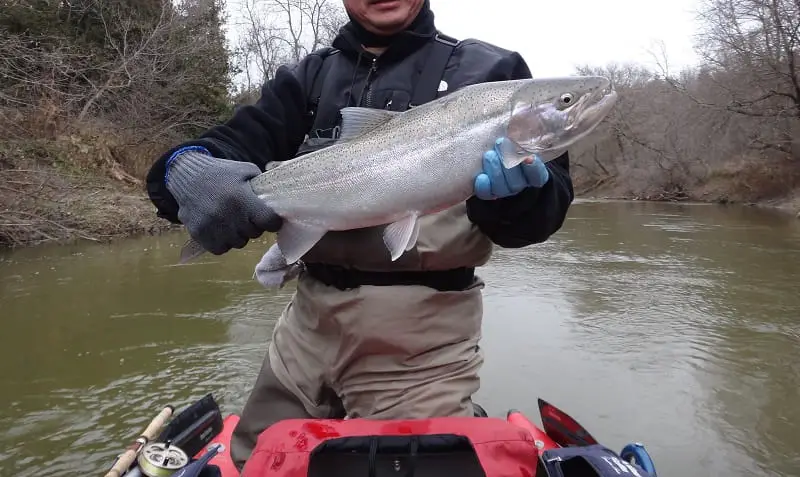 There are 2 types of jigs that anglers and river guides will use when jig fishing for steelhead. Steelhead jigs have been my secret bait on many guide trips and my clients often ask me which steelhead jigs I recommend the most.
Anglers can use marabou steelhead jigs under a float when fishing for steelhead and the best jigs for that are the Jiggy Bugger Steelhead Jigs or the Worm Jig. Anglers can also cast and retrieve swim jigs, and the best jigs for that are the KVD Swim Jigs and a simple paddle tail jig.
In this article, I will discuss the best steelhead jigs and my best tactics for jig fishing for steelhead.
This page contains affiliate links. If you buy something through one of these links we may make a small commission which is at no cost to you. Commissions allow us to continue to bring you great content. Thank you for your support. Affiliate Policy
Steelhead Fishing With Jigs
Steelhead fishing with jigs is something you don't hear about often because it is usually overshadowed by float fishing for steelhead, bottom bouncing for steelhead, and casting lures for steelhead.
The truth is that jig fishing for steelhead can be very effective and as long as you know which jigs are best with each method and what sizes and colors are best, jigs can be used in all 3 of those methods.
What color jigs are best for steelhead?

I have caught steelhead on just about every color of jig I can think of but my most effective colors are black, white, pink, chartreuse, and olive. Different colors will work better at different times based on light conditions and on the clarity of the water.
The best color jig for steelhead on some rivers or when I'm fishing greenish color water is pink or black. When the river is off-colored and dirty I will use Chartreuse or red. For clear river fishing with jigs, the best colors are olive, black, and white. I rotate my baits and that includes fishing with jigs for steelhead.
I change sizes and colors frequently until I find out which one works that day. A color that works well in the morning under low light conditions may not work well mid-day in high sun, so change it up to see what they want.
It's also important to change up your retrieve to find out if they want a more aggressive retrieve or a slow and subtle retrieve. This can also depend on the time of day or light conditions.
What Size Jig Is Best For Steelhead
The size of steelhead jigs that I use when I am float fishing is smaller and lighter than when I'm casting and jigging for steelhead. In fact, some steelhead jigs like Jiggy Bugger Steelhead Jigs hardly weigh anything at all and I will often use these jigs on my standard bait steelhead leader which already has weights on it.
The actual length when jig fishing for steelhead under a float will range from small Crappie sized jigs that are about 1 inch long to larger Marabou jigs up to 4 inches long. On average, a 2 to 3-inch steelhead jig is best when jig fishing for steelhead under a float, and a 3 to 4-inch steelhead jig works well when casting and jigging it.
The size of the jigs I use under a float is the 1/64 and 1/32 sizes the most.
When I use steelhead jigs for casting, I will often use a 1/8oz to 1/4oz jig for the added weight so they cast further and so they get down to the fish faster. I will use a larger jig for faster and deeper water and a smaller jig, even one down to 1/16oz or 1/32 in shallow and slow water.
Jig Fishing For Steelhead Under A Float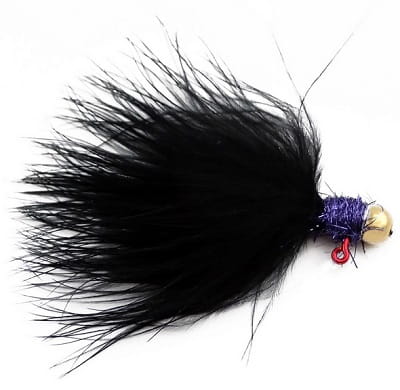 Float fishing for steelhead is often the most effective method and float fishing with jigs is the same as float fishing with any other bait with the exception of one tactic.
Float fishing requires a good presentation if you want to catch the maximum amount of fish.
I tell my clients to learn and practice the fundamentals of float fishing and they will catch a lot more steelhead. If you don't, you will forever struggle.
You can see my 5 fundamentals of good float fishing and my tactics and tips on my page How To Float Fish.
Aside from just getting a good dead drift under the float with a jig, some anglers will try a jigging or stop-and-go method.
Jig fishing for steelhead under a float with a jigging action takes some skill. The guys that do this well simply hold or pull back their float with the rod tip, which then lifts the jig, and then they release the tension on the line and the jig drops down. This is an up and down motion that can create life-like action on the jig.
When you do this, you can either hold your float for a second or two by stopping the line which will cause the jig to swing ahead and rise up and then when you release, the jig will drop again.
You can also pull the float back quickly with the rod tip, without making a splash on the surface, and then release it quickly to create a jumping action. Both of these methods create an up-and-down action.
I personally have found that dead drifting a jig under the float works best. I do this the same way I would with a spawn bag, or worm, or any other steelhead bait. See my best steelhead baits page for more on what baits I like to use and how I rig them.
When I dead drift my jig I try to keep the jig a foot or two off the bottom and I ensure that I trott my float to allow the current to pulsate the fibers of the marabou of the jig and to slow the bait down in the current.
If you are not sure about trotting and slowing your bait and why this is very important, see my page Controlling Your Speed For More Fish When Float Fishing.
My favorite jigs to use for fishing steelhead under a float are smaller marabou jigs and worm jigs. These are my 10 most effective steelhead jigs under a float: Click the links to view them at Bass Pro Shops or at FishUSA.com
The Nightmare Jig For Steelhead: A Hot Steelhead Jig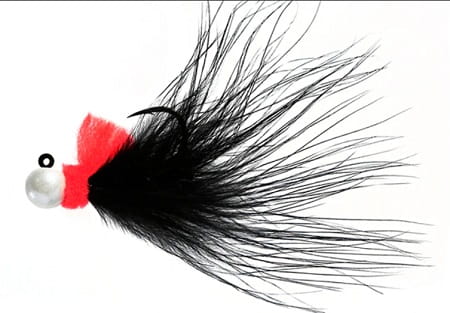 The Steelhead Nightmare Jig is a steelhead jig pattern that is very popular among steelhead anglers and for good reason, it works.
The original pattern is simply a white head, red chenille or yarn, and black marabou tail.
I have been tying this jig at home to test it out, and I have found that it is an effective bait to use under a float in very small sizes, but the Nightmare Jig for steelhead is a jig that is also meant to be cast out and jigged and retrieved on the swing.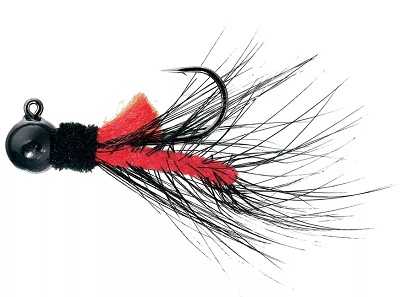 I have also experimented with this jig with black or red jig heads and also with silver and gold flash or tinsel all with good success.
Even extended red bodies and red in the tail can be effective.
If you don't tie your own steelhead jigs and you want to buy some of these, the best version you can buy is the AeroJig Marabou Nightmare Jig.
See my float fishing and my casting steelhead jig set up below.
Casting And Twitching Jigs For Steelhead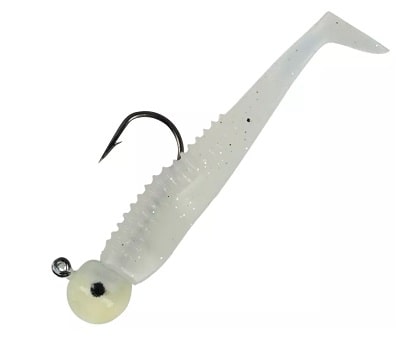 The other method that I use when fishing with jigs for steelhead is to cast them like a lure and use a lift and drop jigging method. Some know this as twitching jigs,
How I do this is, I cast straight across the river and wait until I think my jig has hit the bottom and then reel up the slack and lift the tip of my rod 2 to 3 feet and then slowly lower the tip as I slowly reel in some slack, and then keep repeating until the jig is directly below me.
This method jumps the jig in an up and down motion as it swings its way across the river.
Dropping your rod tip too fast is a beginner mistake and if you drop too fast, you will put slack in the line and will not be able to detect the strike. The key is always to have gentle tension as the jig drops back down to the bottom.
many river guides use this method or twitching jigs because it works. For more on this, check out Twitching Jigs For Steelhead
When I cast and twitch jigs, I like to use swim jigs and jigs similar to what the bass and walleye guys use.
Best Twitching Jigs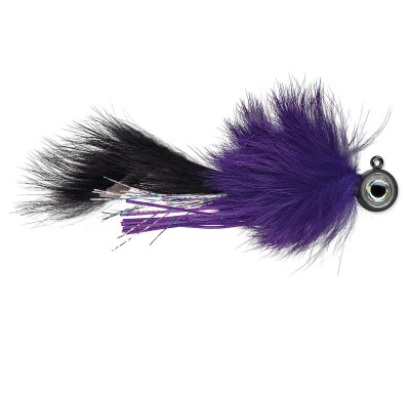 VMC Twitching Jig
There is a lot to like about this twitching jig which is why it's my favorite.
Big Eyes
Sharp wide gap hook
Rabbit hair and rabbit strip for body thickness, length, and life-like movement.
Tinsel fibers, flashabou, and living silicone accents
Lots of great colors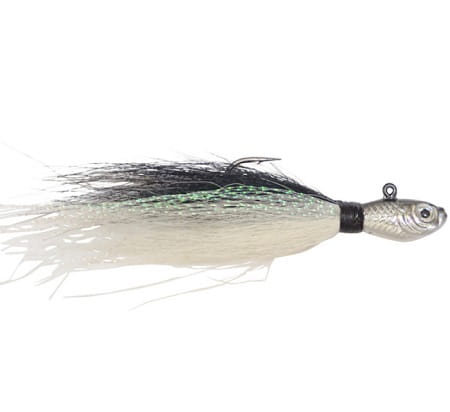 SPRO Bucktail Jig
Another great jig that is one of my favorite twitching jigs for both river and shore.
made from bucktail for action, body, and length
Sharp hook with a decent gap
Lots of great colors and sizes
Added flash
Swim head and eye for unique swim action.
Durable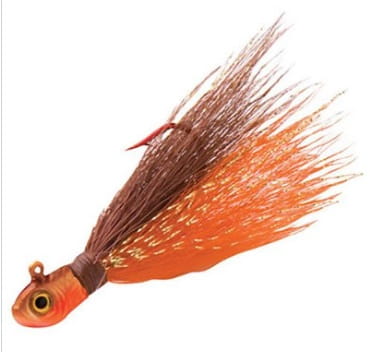 Northland Buck-A-Roo Jig
A twitching jig that is good for steelhead, trout, and salmon fishing.
Mustad Ultra-Point hooks
Good thickness and length
Bucktail with flash for added attraction
Lots of colors and sizes to choose from
Large swim head with eyes
Tip it with a twister tail or paddle tail
Other great casting steelhead and twitching jigs for steelhead:
See my casting steelhead jig setup below.
Steelhead Jig Heads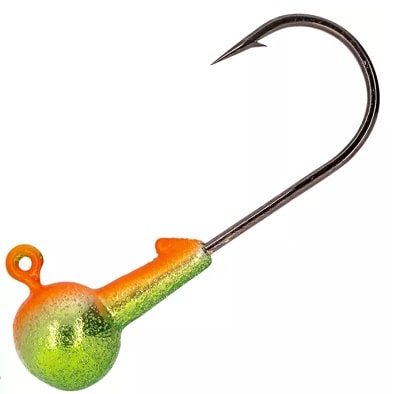 When jig fishing for steelhead, you want to be sure that you are using a good steelhead jig head in the right size and the right colors.
You also want a hook with a wide gap for better hooking and holding.
For most rivers, when casting jigs with plastic grubs or twister tails, I prefer steelhead jig heads in sizes 1/8oz to 1/4oz, and some of the best jig heads for that are the Hawken AeroJig Jig Heads.
However, most any standard painted jig heads should do.
The size of the jig head will depend on the depth and velocity of the current. In slower shallower water or just slower water, I will often go with a lighter 1/4 jig head, but in faster water and faster and deeper water, a heavier head is often needed to get the jig down and working properly.
A couple of steelhead jigheads that I have been using the last few years that have been hot for me and are quickly becoming my favorites are the Eye Heads and the Chrome Heads. I'll discuss these and the colors I like below.
What Color Jig Heads Are Best For Steelhead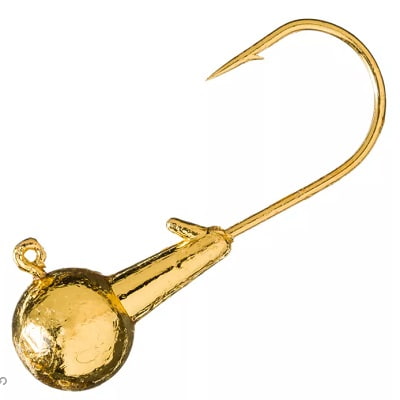 The color of the steelhead jig heads will depend on a few things which I will discuss shortly.
The most common steelhead jig head colors are white, black, and pink, and these colors can be combined with the same color bodies, like and black head and a black body or you could mix the head and body colors like a white head on a black body or a pink head on a white body.
In clear water conditions and if I think the fish are nervous and might be line shy I will often start with a more natural head and body color. Something that's not too intrusive like a black head and a black body, or an olive or brown body. I have done well with black and olive combinations.
If the fish don't eat the natural colors, I will start rotating colors and sizes to see what gets their attention. This is when a Pink head on a white body might work well.
When the water is green, off-colored, or even dirty, I will often use brighter more noticeable colors from the start simply because they stand out and get the steelhead's attention. I will use steelhead jig heads in chartreuse, pink and reds in colored or stained waters, and will mix them with colored bodies, like a chartreuse head on a chartreuse or pink body.
In faster water, I will also often use brighter colors to grab the attention of the fish; however black on black or more natural colors can still work very well in this type of water.
Eye Jig Heads For Steelhead

Lately, I have been experimenting with chrome jig heads and eye-jig-heads and they have been excellent and are on my go-to list.
I really like the Z-Man Redfish Eye Jighead tipped with a twister tail, paddle tail grub, or steelhead worm. I will sometimes add a silicon skirt like the StarFlash Silicone Skirts to them to give them some more life-like buggy action. I get my Z-Man Redfish Eye Jigheads and skirts at Bass Pro Shop.
Metallic Steelhead Jig Heads
---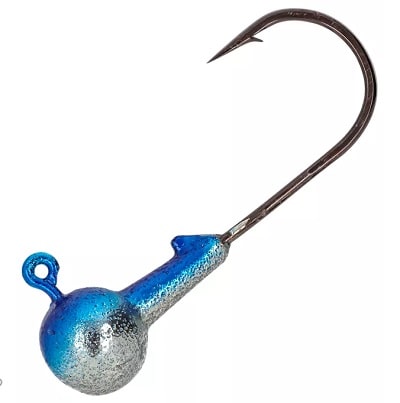 I have also done will with metallic jig heads like the Gold, or Silver blue, or Chartreuse green Cabela's Metallic Round Jigheads.
These metallic jig heads give a little extra flash that attracts the steelhead. The white-blue jighead with a white body has been hot for fresh run steelhead.
I'll sometimes run the 1/16 size under a float.
Steelhead Jig Patterns
If you are buying your steelhead jig patterns and not making them you will be limited to what is for sale but don't worry because I've done really well with all the jig heads I mentioned above. In fact, I rarely tie my own jigs so I buy mine too.
Even though you are limited to the steelhead jig patterns, you can always spice things up to your liking.
Many steelhead jig patterns will be sold in one solid color, and others will have one color on the head and one color on the body. You can always add color to them by adding a colored twister tail, grub tail, or worm to add more size and color.
Most of the time, I find that steelhead jig patterns that are all one color will work better than multi-colored jigs.
I also prefer steelhead jig patterns that use marabou in the tail. The marabou gives the jig lots of action and movement like a creature with moving legs as the current passes over it. Oftentimes, no added grub or twister tail is needed because the marabou is more than enough.
The Steelhead Jig Setup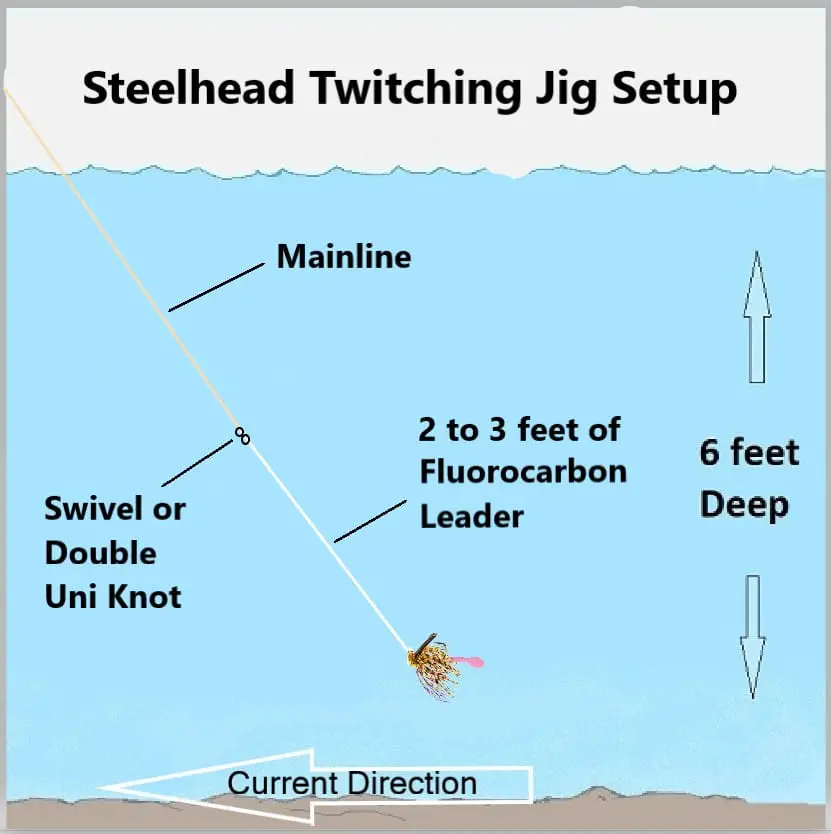 The setup you use for jigs is important but that's a whole other article in itself.
But don't worry, I've added a second article with pictures and diagrams on how I set up and fish steelhead jigs.
You can see all of that on my page Steelhead Jig Setups
Steelhead Jigs FAQ – Just Ask
If you have any questions about steelhead jigs or jig fishing for steelhead, or even if you have some tips, best colors, or advice to share, let me and others know in the comments section below.
Tight Lines,
Graham