Salmon Fishing In Minnesota: A Complete Guide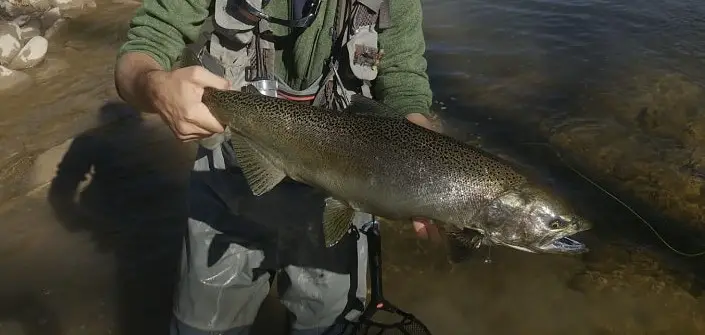 Salmon fishing in Minnesota provides anglers with three salmon species and the option to fish salmon from shore out in Lake Superior by boat or in many of the local rivers that drain into Lake Superior.
As someone who's spent two decades guiding for salmon around the Great Lakes, I will share my tips and insights for successful salmon fishing in Minnesota.
Salmon Fishing Seasons in Minnesota
The prospect of catching salmon spans all 12 months in Minnesota, although certain periods are better than others.
Throughout the year, salmon roam the waters and shoreline of Lake Superior, offering boat anglers, shore anglers, and ice fishermen a chance to catch salmon.
Salmon draw closer to the shore during specific times, finding their way into harbors, inlets, river mouths, and marinas. This shift in behavior is often due to baitfish locations, water temperatures, and spawning cycles.
Anglers fishing for salmon in Minnesota water can catch multiple salmon weighing over 5 pounds if they know when and where these fish tend to be at different times of the year and if they know the best methods.
Salmon Fishing in Minnesota Rivers
While Minnesota may have a lot of little streams, there are a dozen good sized salmon rivers to consider.
At times, with good flows and the right conditions, any streams flowing into Lake Superior could get some salmon wandering into them.
Many of the north shoreline rivers are limited in distance by rapids and waterfalls that the salmon can't get past. For some streams, anglers are limited to fishing the mouth and lower river only.
Top Salmon Rivers in Minnesota
Salmon Fishing In Minnesota consists of river fishing the many fast flowing streams. About 60 rivers and streams in Minnesota could potentially have salmon in them. But, only about 20 rivers will get substantial runs of salmon that can provide good angling in late summer and fall.
The best rivers for good steelhead fishing in Minnesota are:
Knife River
Brule River
Sucker River
Baptism River
Poplar River
Salmon Fishing Opportunities In Minnesota
Minnesota provides a range of options for salmon fishing, catering to both DIY anglers and anglers who are interested in guided fishing trips to local rivers or charters out on Lake Superior. Let's delve into these various methods:
Open Lake Fishing: Utilizing boats and employing trolling techniques, anglers can venture into the open waters of Lake Superior to target salmon. This approach covers expansive areas and yields remarkable results.
Near-Shore Lake Fishing: This method focuses on piers and shorelines, making it accessible to a broad spectrum of anglers. Some individuals also choose to troll or cast near the shore from their boats.
River Fishing: When salmon enter Minnesota rivers for spawning, river fishing becomes a great option for catching many salmon. This type of fishing offers engaging opportunities for anglers of different skill levels.
Salmon Species in Minnesota Waters
In Minnesota, anglers set their sights on three primary salmon species, the Chinook salmon, the Coho salmon, and the Pink salmon.
Salmon in Minnesota are unique in that the very cold water of Lake Superior, and possibly less available food, contributes to Minnesota salmon's much smaller sizes. It's common for salmon of lake superior to spawn 1 or 2 years early which also limits their full size.
While a fully mature chinook salmon in other great lakes might average around 25 pounds and up to 40 pounds, an average Chinook salmon from Lake Superior will be 4 to 7 pounds with some over 10 pounds.
Chinook Salmon: Also referred to as kings, these sizable fish are among the first to venture into the rivers. They share waters with rainbow trout and Great Lakes brown trout, providing an exciting challenge. The prime months for Chinook salmon in rivers are September and October. The average size is 4 pounds. See How To Catch King Salmon.
Coho Salmon: Known as silver salmon, coho are recognized for their vigorous fights and eye-catching strikes. These fish follow the Chinook salmon, making October an ideal time to target them. Coho salmon appear in both larger rivers and smaller streams, diversifying fishing experiences. The average size of a Minnesota Coho is 1.5 to 3 pounds.
Pink Salmon: Thanks to stocking programs, Pink salmon stands out as a sought-after migratory fish within Minnesota's North Shore streams. Pinks exhibit an appealing trait – they are relatively easy to locate and boast an impressive fighting spirit despite their size. Pink salmon typically measure around 12 to 16 inches in length and carry a weight of a few pounds. The record-breaking pink salmon caught in Minnesota's Cascade River back in 1989 weighed 4.5 pounds and stretching nearly two feet in length.
Occasionally, Atlantic Salmon are found in Minnesota waters, while steelhead, migratory brook trout, and lake trout can also be caught around harbors, rivers, shorelines, and out on the lake.
Strategies for Lake Fishing in Minnesota
For anglers pursuing salmon in Lake Superior waters, several strategies are at your disposal:
Trolling: Trolling takes center stage for open lake fishing, proving especially effective for salmon. Shinny spoons, cut baits, crankbaits, and plugs all find success, with specific lure choices varying with the season.
Shore Fishing: Shore fishing stands as another productive approach. Methods such as plunking or casting lures come into play.
Guided Trips: Collaborating with fishing guides and charter boats amplifies your fishing success while imparting local wisdom. These guides often offer services like cleaning and packaging your salmon, enhancing your overall experience.
For those keen on lake or shore fishing, Salmon Fishing in Lake Superior provides detailed insights into strategies and preferred baits.
Regardless of your chosen method, ensure you have one of our recommended salmon nets.
Effective Trolling Techniques For Minnesota Salmon
Trolling remains a favored technique for salmon fishing in Minnesota on Lake Superior. Anglers commonly rely on shiny spoons, cut baits, crankbaits, and plugs, particularly during spring and late summer when salmon congregate around river mouths.
To optimize your trolling success, focus closer to the shore in the months spanning April through June and September to November.
In the warmer months of July and August, salmon thrive further out in deep water, sometimes beyond 60 feet. This necessitates the use of downriggers to achieve fruitful trolling outcomes.
Consistently, the most productive salmon fishing action in the summer months occurs at depths ranging from 80 to over 100 feet along the lakefront. While Chinook and Coho salmon take center stage, pinks, steelhead and lake trout also make appearances.
For effective salmon fishing, try employing spoons on downriggers and free sliders. Additionally, setups featuring dodgers/flies and divers, particularly on wire lines, yield excellent results.
Long lines, such as 7-10 color lead core lines or 150-300 feet of copper line, also bear positive outcomes.
Shore Fishing Tactics For Minnesota Salmon
Shore fishing presents an excellent alternative for salmon anglers without access to boats. The shore fishing approach shines during spring and fall when salmon venture closer to the water's surface and closer to shore and river mouths.
Understanding salmon's seasonal movements is pivotal for successful shore fishing. Local anglers and guides are valuable sources for pinpointing prime locations. Piers and river mouths rank high among sought-after shore fishing spots in Minnesota.
As fall approaches, salmon often gather near river mouths and may even venture into lower river sections under dim or low-light conditions.
Targeting them between April and July is optimal for coho salmon, while chinook salmon fishing peaks from late July through September. Harbors and inlets also prove favorable, drawing salmon in for baitfish, and fish near their spawning river.
Notable Salmon Fishing Hotspots
Salmon fishermen have several options when it comes to fishing spots in Minnesota. Some of the most popular locations include:
Piers: Fish the piers to get more distance out in the lake.
River mouths: Salmon will often congregate around river mouths before the spawn but also at other times of the year since river mouths hold baitfish for them to eat. Fish the outflow current. Shorelines on both sides of the river can also be good for casting and trolling.
Rivers: Salmon can be caught in rivers from July to November. Fish below the first impassible falls.
Points, Parks, Breakwalls, Lighhouses: These are areas that will often support baitfish and salmon and are easy access for anglers. Look on google maps for parks close to spawning rivers.
Some anglers will also choose to venture to the neighboring state of Wisconsin. See Salmon Fishing In Wisconsin: A Comprehensive Guide.
Understanding Salmon Behavior and Seasonal Patterns
Gaining insight into salmon behavior and seasonal patterns is vital for planning a rewarding fishing trip:
Winter: Coho salmon gravitate toward warm-water discharges and harbor mouths during winter, seeking out areas with warmer water temperatures. You may find chinook salmon in the same area.
Spring: As spring unfolds, some coho, pinks, and chinook salmon migrate to the southern part of Lake Superior near Deluth, attracted by its warmer waters. Between mid-April and mid-May, they embark on offshore migrations along the lake's coasts lines.
Summer: Throughout the summer months, both coho and chinook salmon favor water temperatures below 60 degrees Fahrenheit, coupled with an abundance of baitfish. Their nomadic nature leads them to depths ranging from 60 to over 300 feet.
Fall: Mature pinks, chinook, and coho salmon return to their natal tributaries for spawning in late August through October. Meanwhile, smaller, immature fish remain in the lake, occupying deeper offshore areas.
Effective Shore Fishing Techniques
Shore anglers can employ a range of techniques for successful salmon fishing:
Float Fishing: Suspending bait beneath a float provides a controlled drift that maintains your bait in the optimal strike zone for extended periods.
Centerpin Fishing: This technique, utilizing a Centerpin reel, allows precise bait presentation under a float, particularly useful for targeting steelhead and salmon.
Fly Fishing: Nymphs, streamers, and spey fishing are favored fly fishing methods for salmon. Indicator fishing is a popular approach as well.
Casting Lures: Spinning reels enable anglers to cast lures from the shore, offering a versatile and effective method for salmon fishing.
Drift Fishing and Bottom Bouncing: These approaches involve casting bait and allowing it to drift along the riverbed with the current. Drift fishing suits larger, deeper river sections, while bottom bouncing is apt for shallower waters.
Plunking: This relaxed method entails casting bait to a specific area and allowing it to remain stationary. Plunking thrives in cooler weather conditions and yields successful catches of salmon, steelhead, and trout.
Preferred Baits and Flies for Minnesota Salmon Fishing
Several standout options exist for bait and flies when pursuing salmon in Minnesota waters:
Salmon Roe Bags: Mesh bags containing salmon eggs, often referred to as spawn bags or roe bags, in bright colors, serve as versatile and effective bait. They emulate natural food and are often the most effective salmon bait.
Wooly Bugger: This adaptable fly, particularly in black, is a favorite among fly fishing enthusiasts targeting salmon. Try pink, white, and black.
Egg-Sucking Leech: Leech patterns, including the egg-sucking leech, are known for their effectiveness in inducing strikes from salmon. Pink and chartreuse heads are best.
Glo Bug and Egg Patterns: These flies imitate salmon eggs and prove enticing to salmon.
Streamers: Streamer flies that resemble baitfish are successful for fly anglers pursuing salmon in Minnesota waters.
Brighter patterns or patterns with some pink, chartreuse, and orange tend to work best.
Fishing Regulations and Licensing
Responsible angling entails adherence to Minnesota's fishing regulations and securing the appropriate licenses.
Online access to Minnesota fishing regulations is readily available, and licenses can be obtained online or in person. Salmon and trout tags may be required.
Your Salmon Fishing In Minnesota Queries
Engagement from our readers is highly encouraged. Feel free to share your questions, insights, or tips related to salmon fishing in Minnesota in the comments section below.
Best of luck out there on the water!
Graham