Best Pennsylvania Steelhead Rivers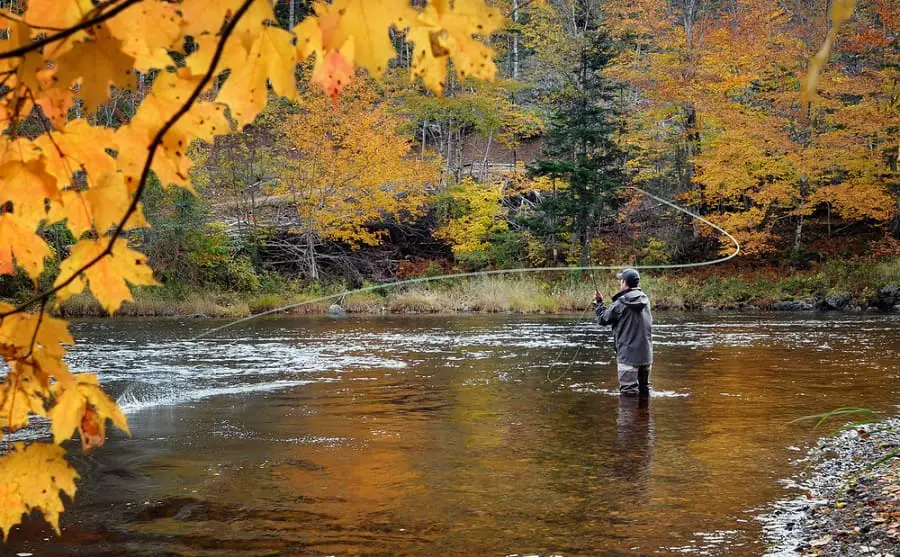 There are 13 Pennsylvania Steelhead Rivers that anglers should consider and we will discuss the best steelhead streams, how and when to fish them, access spots, and maps.
The best Pennsylvania steelhead rivers are one that have good runs of steelhead and good access. Some of the more popular rivers are Elk Creek, 20 Mile Creek, Walnut Creek, and an Sixteen-mile creek, but they can be crowded so knowing another options is beneficial.
It's also a good idea to know different locations from the mouth to the headwaters so you can stay on the fish daily.
This article is part of a series on Great Lakes Steelhead Fishing and Pennsylvania Steelhead Fishing.
Pennsylvania Steelhead Rivers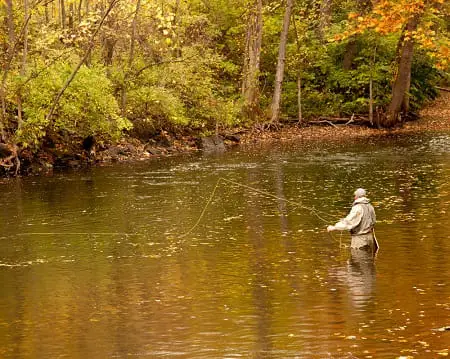 Pennsylvania is one state that has some of the best steelhead fishing opportunities in North America and all are near Erie PA.
This is all thanks to the number of public waterways and great Pennsylvania steelhead rivers throughout the state. 
This area is known as Steelhead Alley.
Pennsylvania is such a relatively large state, but it only has a small section of shoreline along Lake Erie where all the steelhead rivers are found. There is lots of great steelhead fishing within 20 minutes on either side of the town of Erie PA. Check Out Tips For Steelhead Fishing Erie PA
In upstate Pennsylvania, you're never far from a great steelhead river.
Also due to extensive steelhead stocking programs, it is no surprise to have hundreds of anglers come from far and wide to descend on these Lake Erie tributaries for the annual steelhead spawning runs.
These runs will start in late September if the conditions are right, will peak in late october and November. Good fishing can be had during December and the winter months or at least until the river freeze up.
Spring, often starting in late February can be fantastic fishing for spring run steelhead.
Top 5 Pennsylvania Steelhead Rivers
In my opinion, the best river is not necessarily the river with the most steelhead!
Often, the smaller and less busy rivers will have fewer fish but because there are fewer anglers, those steelhead might be a lot easier to catch, and fishing them is more fun because you are not shoulder to shoulder with other anglers.
Everyone is going to have a favorite or an opinion on the best river. It's best you get out and try these great PA steelhead rivers for yourself.
Elk Creek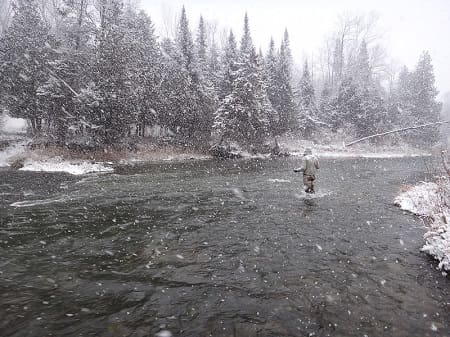 Elk creek is a large-sized steelhead river and in fact one of the largest located in Northwestern Pennsylvania in Erie country.
It is also one of the most popular Pennsylvania steelhead rivers stocked with steelhead annually.
Elk Creek is mostly made up of a shale bottom.
The Elk Creek is one PA steelhead river with the most fishing pressure thanks to the large runs of large steelhead it receives, many averaging around 5 to 7 pounds.
The best time to fish Elk Creek is after a good heavy rain as the water levels begin dropping back down. During this time, the steelhead are settled into holding spots and are looking to feed.
Some of the popular steelhead fishing spots in Elk Creek include the Conrail Tubes, the Legion Hole, and the mouth of Elk Creek. Other productive areas include the Streuchen Flats and Foley's End.
Elk Creek has a number of good access points such as the steel bridge of Elk Park Road at the mouth of the creek.
There is also an "Elk Creek Access Area" sign you will find along the intersection between North Creek Road and Route 5.
A few other access spots include Routes 79 (just below McKean), 20 (just west of Girard), 98, and 90.
Elk creek can be good in the fall, winter, and spring. All the typical steelhead baits, steelhead lures, and steelhead flies will work.
Walnut Creek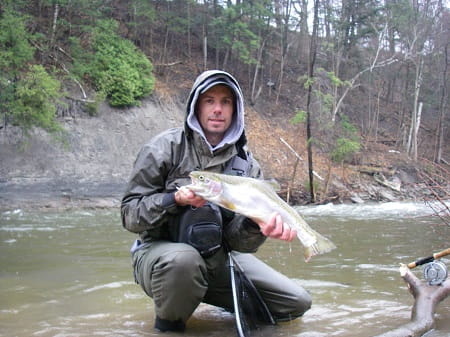 Walnut Creek is second on the list of the largest Pennsylvania steelhead rivers in Erie.
This tributary river runs for about eight miles off of Lake Erie in Northwestern Pennsylvania. The bottom is largely characterized by shale.
The Walnut Creek enjoys both a mixture of wild and stocked steelhead and it's no surprise that it has a very good run of steelhead. Even though steelhead are present from early October through to April, the best time to fish is usually in November and again in March and early April.
Typically, the location of Pennsylvania steelhead in Walnut Creek is determined by water levels.
The steelhead usually concentrate at the outskirt of the inlet in the lake in early fall and in February waiting for rains to raise water levels.
One of the most popular spots for steelhead fishing Walnut Creek is near the access by the Manchester Hole.
You can always be sure to find this section very busy with anglers during peak times of steelhead runs. Walking five to ten minutes up or down the river of access spots can get you away from some of the crowd.
The main access point to Walnut Creek amongst several others is Walnut Creek Marina, which can be very busy when steelhead run is at its peak.
You can also find access points available at most of the bridges crossing the creek.
Walnut creek, can be a good river for streamer fishing, float fishing, and lure fishing. Anglers might also want to try bottom bouncing methods in the pocket water and shallower runs.
Check out:
There are also some big migratory brown trout caught in Lake Erie tributaries. Check out Lake Run Brown Trout Fishing.
Twenty Mile Creek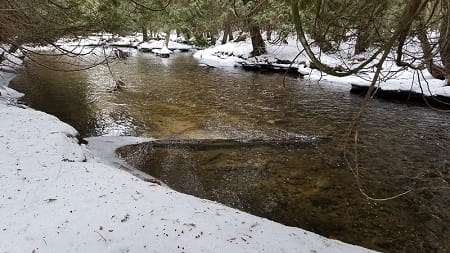 Twenty Mile Creek is a medium-sized PA steelhead river but the largest among the eastern creeks in Pennsylvania and one of the most popular of the so-called "miles creeks" in the state.
"Miles Creeks" include 16 Mile Creek, 12 Mile Creek, 7 Mile Creek, 6 Mile Creek, and 4 Mile Creeks, but of all these creeks, the 20 Mile Creek is my favorite to fish and is a favorite of many other steelhead anglers due to its size, and the size of the steelhead runs that it receives.
Twenty Mile Creek is named for its distance from the Erie area south of Route 5 and is one of the Pennsylvania Steelhead rivers stocked annually with steelhead by the Pennsylvania Fish Commission.
The Twenty Mile Creek begins in New York but has its last four miles drain through upper northwestern Pennsylvania. The Twenty Mile Creek is between 20 to 30 feet in width and is characterized by a mixture of gravel, boulders, broken shale, and slate.
Twenty Mile Creek generally enjoys a generous run of steelhead, however, these steelhead seam to be a bit smaller than average with many in the 3 to 5 pound range.
As with most other creeks in the region, the most popular and productive time for steelhead fishing at Twenty Miles Creek is November and March particularly as the water levels rise.
Fishing access to the Twenty Mile Creek is limited because it is mostly on private property, where you'll have to seek permission from the owners of the property.
However, you will find a public access path down this river along route 5. You are also provided a parking spot near the bridge.
All methods and all baits will work on twenty-mile creek steelhead.
Sixteen-mile Creek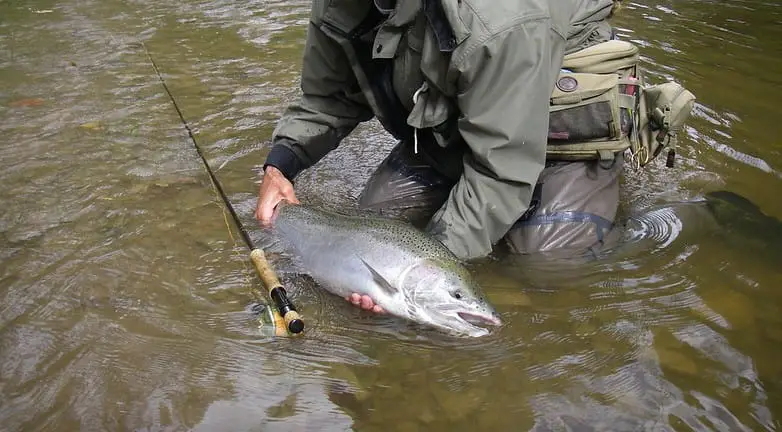 The Sixteen Mile Creek is another large-sized creek in Pennsylvania that guarantees some great steelhead fishing. As can be seen from its name, Sixteen Mile Creek runs sixteen miles from the Erie area south of Route 5.
It is the second-largest of the creeks family of Pennsylvania Steelhead Rivers, east of Erie, and empties into Lake Erie just north of the town of North East, Pennsylvania.
The Sixteen Mile Creek is always fishable and very quick to clear after a storm. Also, it receives a warm discharge from the wastewater treatment plant upstream, which keeps it relatively free of ice during the winter. This translates into a good fishing experience during the winter season, especially when other Pennsylvania Steelhead streams are all iced over.
The Sixteen-mile Creek is best fished when the water levels are high enough and the prevailing weather conditions are right.
One of the primary public access points to Sixteen-mile Creek is the Halli Reid Park; it also offers plenty of parking spots.
For access to areas downstream, there is a parking area near the sewer plant on North Mill Street.
All steelhead fishing methods and baits will work on 16-mile creek PA.
Crooked Creek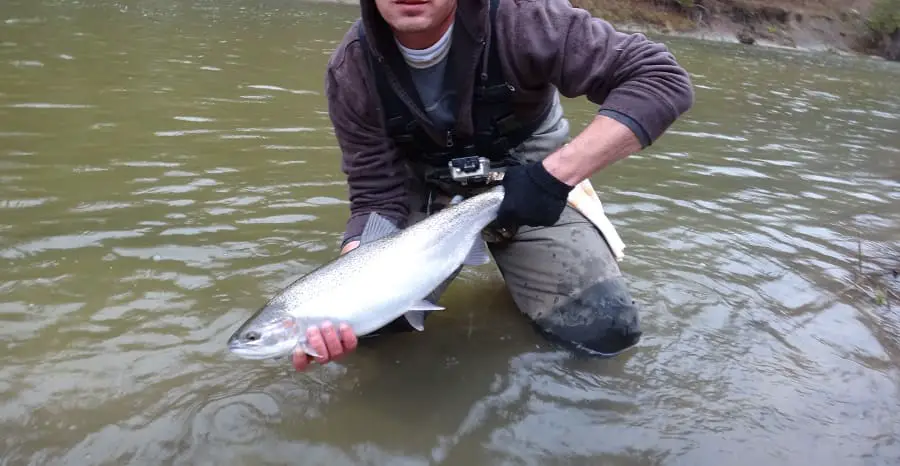 Crooked Creek is one of the largest creeks in western Steelhead Alley and is located east of Holliday Road.
Crooked Creek intersects Lake Erie north of Camp Fitch.
There are plenty of fishable sections in Crooked Creek with reasonable water levels and flows. Typical of any Lake Erie tributary, the Crooked Creek offers an amazing steelhead fishing experience to anglers. 
One note-worthy characteristic of the Crooked Creek is that it is quick to discolor after a heavy rain event and takes a long time before it clears. This is to be expected of creeks and rivers that flow through farmlands.
The Crooked Creek is a perfect place for peaceful and quiet steelhead fishing as it does not receive as much pressure as the likes of Walnut Creek and Elk Creek.
One of the locations for prime steelhead fishing the Crooked Creek is near its mouth, even though there is limited access there.
Towards the end of the fall, early spring and during the winter months are usually the period for the best steelhead fishing experience in Crooked Creek.
The Crooked Creek can be publicly accessed from Virginia's Beach Campground. Other possible public access points can be found at locations such as Route 20 Bridge, the Glosky Road Bridge, Ables Road Bridge, the Springfield Road Bridge, and Conrail Tracks.
Other PA Steelhead Rivers to look forward to including:
Conneaut Creek
Raccoon Creek
Turkey Creek
Fourmile Creek
Sevenmile Creek, and 
Twelvemile Creek
Best Time of Year to Fish the Pennsylvania Steelhead Rivers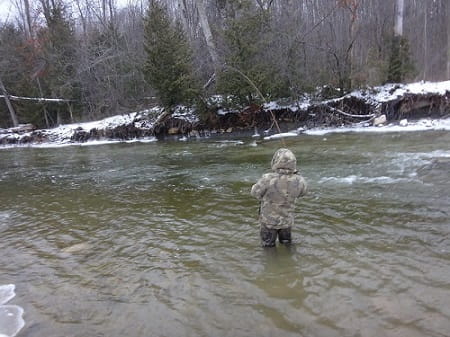 Pennsylvania is one state that has quite a strong steelhead fishing heritage. This means that it is possible to fish for steelheads all year round.
Essentially, steelhead fishing revolves around spawning, and this generally takes place between late fall to early spring.
Fall Fishin For PA Steelhead
The fall months begin from October through December and are a great time to fish the cool PA Steelhead Rivers.
During this time, the steelhead are generally very aggressive since they are not ready to spawn yet, and as such, they are often easy to catch. I personally think fall steelhead fishing is the best since these fall steelhead are strong and healthy after feeding all summer in the lake.
The amount of fish in the rivers during this season is largely dependent on the amount of rainfall experienced.
If you are looking forward to Pennsylvania Steelhead Rivers during the fall, you should take a look at my page Fall Steelhead Fishing: Proven Guide Tips And Tactics, where I discuss the best tactics and baits I and other river guide use to land more steelhead.
See Also:
Winter Fishing PA Steelhead
Winter months, on the other hand, are generally not opportune times to fish the PA Steelhead Rivers because of the cold water conditions.
However, some rivers run slightly warmer even in the winter providing steelhead activity and better fishing.
Generally, the beginning of winter not being that cold allows for a good steelhead fishing if the river flows are up and more fish come in, plus there are steelhead already in the rivers that are well distributed and on their way up the streams to spawning areas.
At this time, you will find a lot more steelhead spread out with many farther up the river holding in deeper pools.
Winter fishing can be good if you know how to fish for steelhead in the winter. The key is slow and deep, but there are other factors that will improve your winter steelhead fishing.
For everything you need to know about fishing for steelhead during the winter season, you can check out my page Winter Steelhead Fishing: Tips And Tactics Of Expert Guides.
NEW!! Winter Steelhead Fishing IN PA
See: Winter Fishing Tactics To Stay Warm and Dry
Spring Steelhead
The spring months are productive months for fishing the PA Steelhead Rivers.
Similar to the fall, steelhead are less difficult to catch during these spring months, especially as they are fresh in from the lake and moving up to the spawning grounds. This is because spring-run steelhead are usually charged and very active.
To be successful at spring steelhead fishing there are certain methods and tactics you need to be aware of and you can look them up on my page Spring Steelhead Fishing: Tips And Tactics From The Guides.
Spawn, beads, and egg flies can be the hottest baits at this time.
Check Out:
Summer
The summer months, which kick-starts from June through September, is the most challenging period of steelhead fishing in Pennsylvania Steelhead Rivers since it is very unlikely that any steelhead will be in the rivers at this time.
This is a great time to fish the piers and river mouths or go out into Lake Erie to fish.
Pennsylvania Steelhead Rivers Streamflow Conditions
Sometimes, the right timing might just be the difference between a productive and unproductive steelhead experience. There are a number of key factors every angler should lookout when scheduling a trip to fish the steelhead run. These factors include streamflow, temperature, and even wind.
To successfully fish for steelhead in the Pennsylvania Steelhead Rivers, you need to learn how to monitor different river levels, and when the run peaks in a particular river.
For information on the river conditions and data on real-time streamflow, you'll want to check the USGS official site. This resource helps you to know what is happening without actually being at the stream. For instance, you will get to know the current depth and cubic feet of the flow of any particular river.
The resource can also help you predict when steelhead will come into the rivers, particularly watching sharp upward spikes in the flow rates (cubic feet per second).
Pennsylvania Steelhead Rivers Rules and Regulations
The Pennsylvania Steelhead Rivers no doubt presents an abundance of steelhead fishing opportunities for anglers living in the area or those visiting. However, there are rules that have been set by the state through the Pennsylvania Fish and Boat Commission regarding the activity around these rivers. The aim of these rules is to protect the population of steelhead and generally to conserve marine life.
The rules and regulations inform you of the requirements for fishing the PA Steelhead Rivers; how, when, and where steelhead fishing is allowed, and the number and size of steelhead that you are allowed can catch, amongst others.If you are planning a trip to any of the Pennsylvania Steelhead Rivers, it is important that you visit the official Pennsylvania fishing site, so you can learn more on how to get started.