5 Best Jigs For Salmon Fishing: What The Guides Use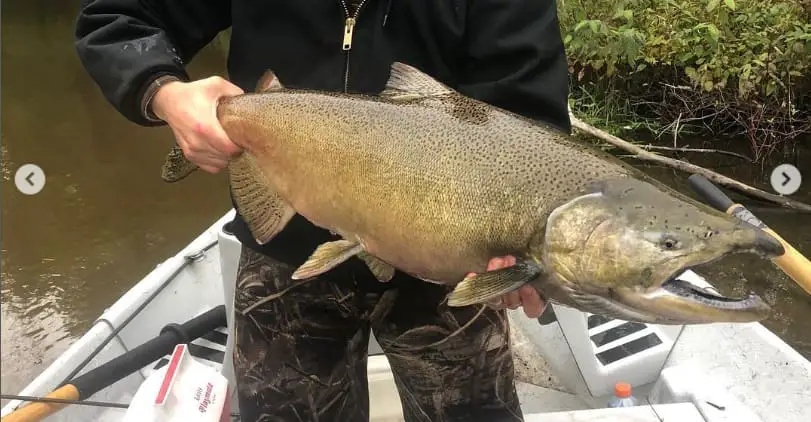 The two types of jigs for salmon that our guides use are jigs that we drift under a float and jigs that we cast and retrieve. After testing many of the best jigs under real fishing conditions and on guide trips, we have narrowed it down to the 11 best jigs for salmon.
The best jigs for salmon must have good quality sharp and strong hooks that won't bend or break. Salmon jigs will have a thicker body made from rabbit fur, marabou feathers, or silicon. Salmon jigs in a number of colors for all conditions is a good idea and you must ensure the jig has a strong hook.
The jigs I recommend will work on all species of salmon if uses with good jigging techniques.
To learn how to fish jigs, check out Jig Fishing For Salmon: Guide Methods Proven To Work.
Jigs For Salmon: All Salmon Species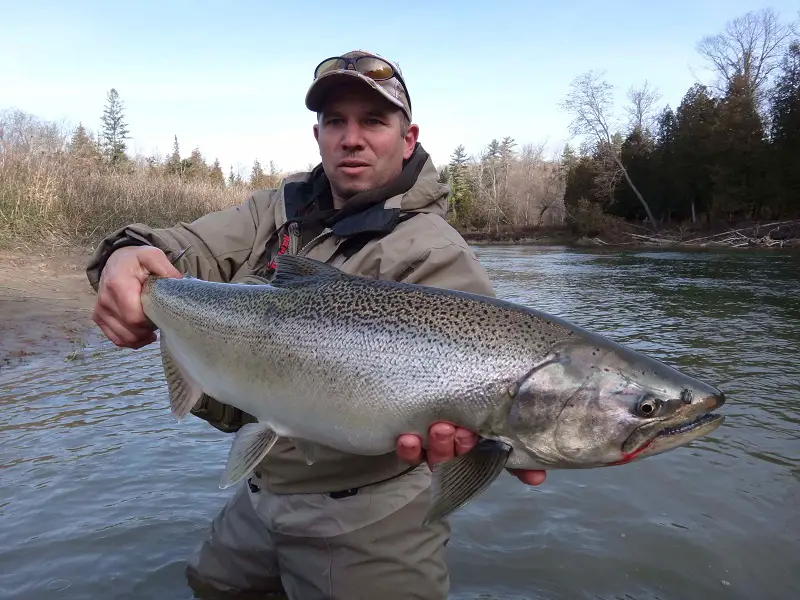 Jig fishing for salmon often goes unnoticed due to the popularity of float fishing, bottom bouncing, and casting lures. However, jigs can be very ineffective if you use the optimal sizes and colors.
Some salmon species prefer smaller jigs while others prefer larger jigs. Even colors can change for different species or based on the river conditions.
Best Jigs For Chinook Salmon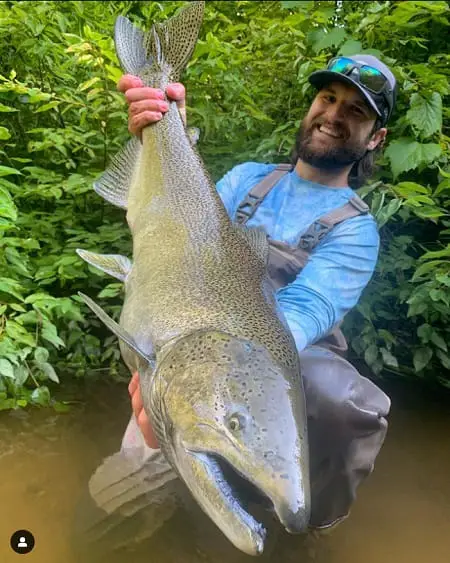 The art of jig fishing for Chinook salmon has increased in favor recently. Its effectiveness for catching fall-run Chinook is grounded in my experience spanning two decades. There are two types of jigs to consider, float fishing jigs, and twitching jigs.
When float fishing, it is crucial to this method that the jig use is a 2 to 3-inch jig weighing 1/4 ounce or less and a jig made from Marabou or Rabbit fur which both provide life0like movement which will attract the big kings to bite.
The twitching jig on the other hand is characterized by its rapid sinking and twitching action created by the angler, which in turn often triggers an involuntary strike from the salmon.
Contrary to typical float-fishing jigs, twitching jigs weigh about 3/8 oz to 1 ounce which is more suitable for backwaters, sloughs, and deep slow holes. but I generally stick with the heavier jigs for waters with the current.
My most effective Twitching-specific jigs are the VMC Twitching Jig and SPRO Bucktail Jigs. These jigs may have initially been meant for bass and walleye, but are suitable for Chinook, thanks to their lifelike movement that the Chinook finds irresistible.
Bucktail jigs, in particular, maintain their body shape and size when jigging and twitching, and that larger profile can trigger agressive stikes from these big Chinook.
The jig color selection also plays a significant role in jig choice for big king salmon. Often, Chinook salmon in rivers prefer the brighter colors like white, pink, orange, and chartreuse or combinations of these. At times, subdued hues of black, purple, blue, or combinations thereof are better
Twitching jigs typically have 2X hooks for twice the standard wire strength and my preferred overall length is about 4 to 5 inches.
Jig Fishing For Coho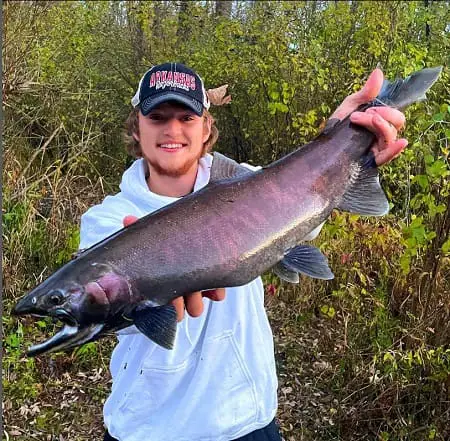 Float fishing Jigs For Coho Salmon: The right jig is key when aiming for Coho salmon under a float.
I've observed that using jigs designed for float-fishing can lead to some success. A smaller 2 to 3-inch jig of 1/4 ounce or less is ideal.
Twitching Jigs For Coho Salmon: The unique characteristic of the twitching jig is its fast-sinking nature, which provokes an impulse strike from the salmon. Unlike the typical float-fishing jigs weighing up to 1/4 oz., twitching jigs are usually 3/8 oz. for backwaters, sloughs, and deep slow holes, and can go up to 1/2 oz. for holding water with current.
The hooks on twitching jigs are typically 2X for double the normal wire strength. The best jig length for big coho salmon is 3 to 4 inches.
When jig fishing for salmon, you want to be in the strike zone and my best success is when the jig is 1 to 3 feet over their heads. The best jig foir coho salmon are the VMC Twitching Jig and the SPRO Bucktail Jigs are designed for this type of fishing.
The rabbit strip tail and body on the VMC jig pulse and create life-like movement that the Coho finds hard to resist.
However, when fishing Spro bucktail jigs, the bucktail stays cohesive and allows the jig to "dance" effectively, making it an excellent choice for Coho fishing.
Choosing the right color for your jig is also important. Subdued colors like black, purple, and blue or their combinations are generally preferred. However, a small touch of bright colors like cerise, pink, orange, red, or chartreuse can attract attention from salmon.
At times, I have found the aggressive fresh run Coho like the brighter colors like white, pink, orange, and chartreuse or combinations of these.
Additionally, it comes with a scent collar for bait oils or scents and accommodates a small rubber worm for added contrast.
Best Jigs For Chum And Pink Salmon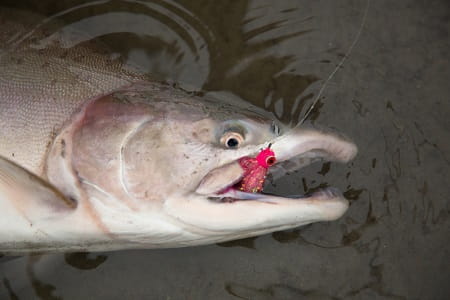 When jig fishing for Chum and Pink salmon, I like to use smaller jigs, about 2-3 inches and weighing less than a 1/4 ounce, which are best for float-fishing.
In contrast, twitching jigs are preferred for their rapid sinking properties that incite the salmon's instinctive striking behavior. These jigs usually weigh around 3/8 oz. for calmer waters and may be as heavy as 1/2 oz. for faster currents.
2X Double the standard wire strength is ideal for twitching jig hooks, with 3-4 inch lengths working best for larger salmon. Optimal angling results are obtained when jigs are positioned 1-3 feet above the salmon.
The best jigs for chum salmon are the VMC Twitching and SPRO Bucktail jig which are also great jigs for pink salmon.
Color selection plays a significant role as well. Bright hues such as cerise, pink, orange, red, or chartreuse can draw attention. Freshly migrated salmon occasionally prefer these brighter colors but darker shades like black, purple, and blue or their combinations can also be good.
Salmon's Preferred Jig Colors
A multitude of jig colors can yield success when jig fishing for salmon. Most jig manufacturers offer a vast array of colors.
Based on my experience, I've found success using a variety of colors, with black, white, pink, chartreuse, orange, and even olive proving the most effective. Different colors perform best under varying light conditions and depending on the clarity of the water.
In green-tinted or cloudy waters, I've often found that pink or black jigs are most effective. When fishing in muddy, off-colored water, chartreuse or red are my go-to colors.
For clear water, olive, black, and white prove the most successful. It's also beneficial to modify your retrieval technique depending on light conditions and the time of day.
My Preferred Jigs for Float Fishing
Some of my favorite jigs for float fishing include smaller marabou jigs and worm jigs. A few standout options include:
Jiggy Bugger Salmon Jigs – This jig is a reliable choice when fishing under a float, but they can be difficult to source.
Hawken Woolly Bugger Jig – A consistently successful jig.
Hawken Beau-Mac Marabou Salmon Jig – A versatile jig effective for both salmon and steelhead fishing.
Casting and Twitching Jigs for Salmon
When casting and twitching jigs for salmon, I employ a lift-and-drop jig pattern or a twitching and ripping type of retrieve. Therefore I need jigs that can work well with this method. My most effective twitching jigs are the VMC Twitching Jig and the SPRO Bucktail Jig.
Top 3 Best Jigs For Salmon
Guides Choice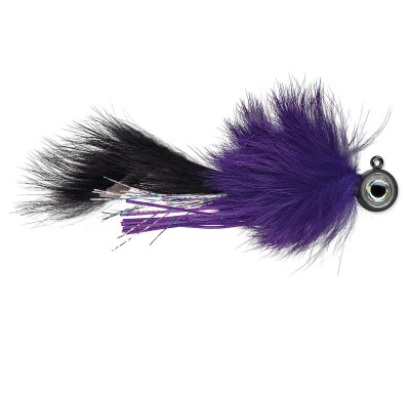 VMC Twitching Jig
This is my favorite jig for jigging and twitching for salmon and steelhead.
Life-like movement from the rabbit fur collar and rabbit strip tail.
Extra-large 3D holograph eyes on a round head.
Flashabou and tinsel for flash and attraction.
X-long, strong hi-carbon steel needlepoint hook.
2nd Choice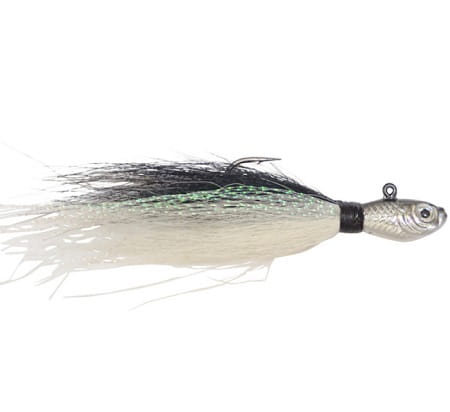 SPRO Bucktail Jig
The SPRO Bucktail jig is a great jig for casting and twitching jigs for salmon.
Strong and sharp Gamakatsu hook.
Swim head for more natural glide action.
The bucktail/tinsel body stays more parallel when jigged.
Many great color options.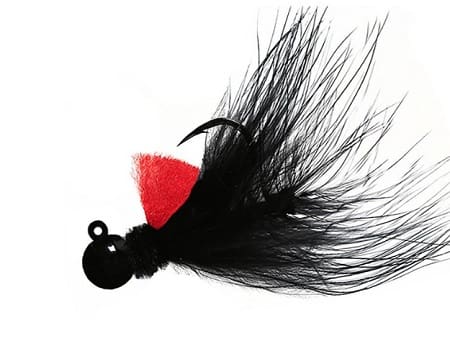 Hawken Marabou AeroJig
The Hawken Marabou Series AeroJigs: ultimate salmon and steelhead lures. Customized 1/0 wire Gamakatsu hooks for strength. Powder-painted heads with scent-free finish. Premium-dyed feathers tied with UV colors. Handcrafted, inspected, and irresistibly effective.
Bottom Bouncing With Salmon Jigs
Another technique you can try is bottom bouncing jigs for salmon. This involves casting your jig upstream and allowing it to bounce along the bottom as it drifts downstream. Keep a close eye on your line because salmon strikes can often be subtle when using this technique.
I recommend using a strong hook and soft body jig for this method. The soft body will help the jig bounce along the bottom without getting snagged, and the strong hook will ensure that you don't lose your catch.
All the jigs above in 2 to 4 inches will work for this bottom bouncing method.
Best Jigs For Salmon Fishing In Rivers Q&A
In conclusion, jig fishing for salmon can be highly productive when done correctly and when using the best jigs for salmon fishing. However, jigging for salmon requires a bit of practice and experience to perfect.
If you have some tips or favorite jigs for salmon, or even some great colors that work for you, let us know in the comments section below.
Tight Lines,
Graham