Fly Fishing Knots For Beginners: Top 4 That Fly Guides Use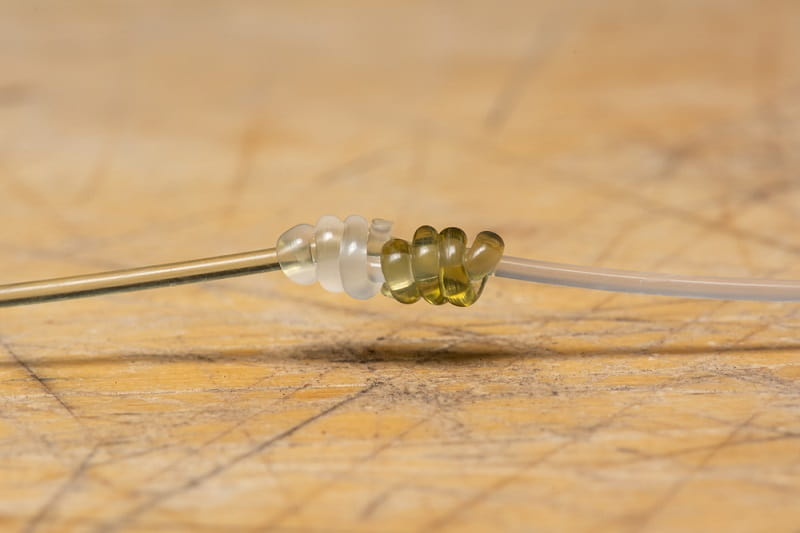 Fly fishing knots for beginners doesn't need to be complicated or confusing, and as a fishing guide that teaches fly fishing, I have tried a lot of different knots. But, there are really only two knots that you will need to fly fish.
The only two knots new fly anglers need to know are the Improved Clinch Knot which is great for trying a fly to the leader or tippet, and the Triple Surgeons Knot is great for tying two pieces of line together.
With that being said, I use these two knots from time to time, but I use two other knots more often and for reasons I will reveal below.
As you become more advanced, you may require four types of knots. I will also reveal a guide tip to make all your knots stronger.
Fly Fishing Knots For Beginners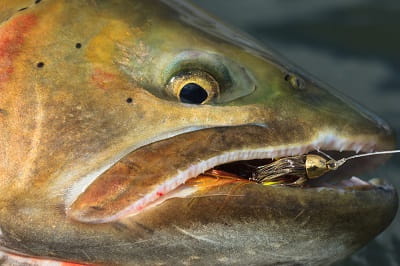 Learning to tie good knots is an important step to becoming a successful angler.
It is beneficial in enhancing your experience in the water and allowing you to catch more fish because the faster you can tie a strong knot, the more you fish and the fewer fish you will break off.
When you learn to tie fly fishing knots, you will be able to set up equipment faster when you are out in the water and change flies quickly.
During guide trips or lessons, I tell my clients that I hate teaching anglers how to tie knots on the river because I think knots are something you should learn and practice at home, not on the river where you should be focusing on learning how to fish.
If you don't know how to tie a couple of basic fly fishing knots, don't even bother going fishing yet.
Four Type Of Knots Used In Fly Fishing
There are four types of knots you may eventually need to know when fly fishing. The four types of knots used in fly fishing are:
Fly Knot – This is the knot you use to tie your fly on
Line-to-line Knot – A frequently used knot used for connecting two pieces of line together, like when tying your tippet to your leader
Fly Loop Knot – Connecting your fly with a loop knot can give your fly more action in the water. Streamer anglers and Spey anglers use this type of knot a lot.
Loop-to-Loop Knot – This loop knot is meant to attach two lines together in a loop-to-loop type connection. This knot is rarely used by most anglers.
Guide Tip: Tightening most knots can cause friction and this friction can weaken or even damage the line. You might see the line above the knot go a bit curly or not be perfectly straight. This usually indicates friction and possible damage. To strengthen all your knots and prevent friction damage, simply wet the knot with saliva or water before you tighten the knot fully.
Here are some of the best fly fishing knots for beginners.
1.     Improved Clinch Knot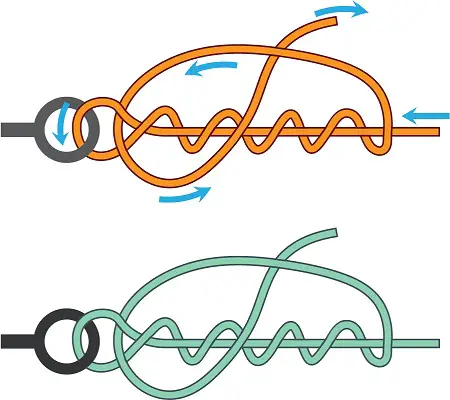 An easy but very effective knot for tying your fly to your leader or tippet.
It's very similar to the old or regular Clinch Knot, which is sometimes known as the "Fishermans Knot."
With the Improved Clinch Knot, it's only one extra pass through before you secure it. This extra pass gives the knot a lot more strength. That is based on the knot strength tests I have seen.
See Video: How To Tie The Improved Clinch Knot
2. Davy Knot And Double Davy Knot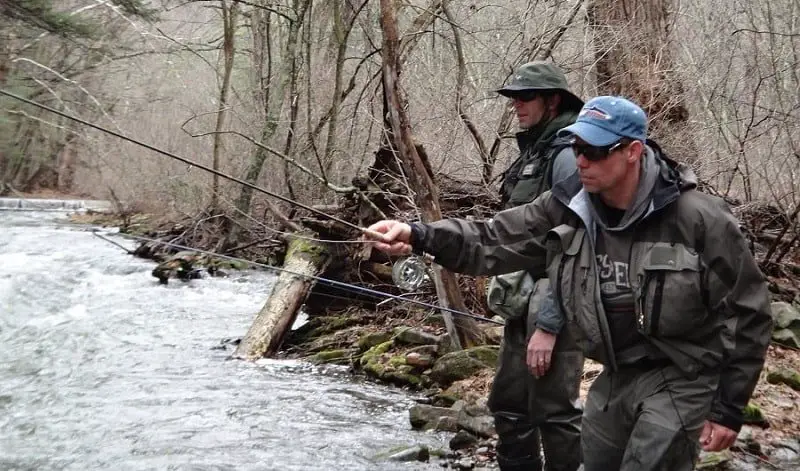 I was training with one of the top guides, instructor, and fly competition anglers in the USA, and he was using a knot that I'd never seen before. He called in the Davy Knot.
When I asked him why he uses it he said all the guys on Team USA fly fishing team use it because it's fast and easy to tie, which allows them to change flies quickly ( time is important in competitions).
He also said that he uses it because it has a very tiny knot size compared to larger knots like the improved clinch knot. This can be beneficial when using very small flies, and for hiding the line better from wary trout.
The SIngle Davy knot is not as strong as the double Davy knot but it's still a great knot for small to medium-sized trout fishing and small flies.
The Double Davy Knot is the knot I use 90% of the time now and I use it for trout, salmon steelhead, and bass.
See Video: How To Tie The Davy Knots
3.     Surgeons Knot: Double and Triple
The surgeon's knot is used to connect two pieces of leader material to each other and this is the knot I recommend to my fly fishing students.
It's super strong and easy to tie, but, I've seen it tied wrong, and it's a weak knot when it's not tied correctly.
There is also the Double Surgeons Knot which is where you pass the line through the loop two times instead of three times. It is also a good strong knot but not as strong as the Triple Surgeons Knot.
Watch: how to tie the Triple Surgeons Knot.
4. Uni Knot and Uni-to-Uni Knot (or Double Uni Knot)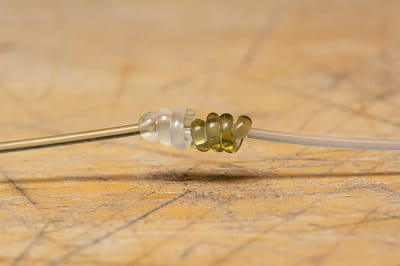 Anglers can use these fishing knots anywhere to make every type of connection.
It comes in handy if you lack extra time to learn and practice new knots.
You can use the single Uni Knot to attach your fly to your leader and the Uni-to-Uni knot for fly-line connections.
Also referred to as the Double Uni Knot, the Uni-to-Uni knot is strong and forms a streamlined knot that can run through the guides on your rod quite easier than the Triple Surgeons Knot.
For me, it takes a little longer than the Triple Surgeons knot because with the Double Uni Knot, it's like tying two knots, but I like the streamline knot, so I use it much more often, especially on sections of the leader that will be in the rod guide more often.
The other reason I like this knot better than similar line-to-line knots is that you can tie two different diameters of line together, and it will still be very strong.
Other knots do not work well when there is a large difference in diameter, such as tieing 12-pound line to 3-pound line.
Watch: Tying The Double Uni Knot
5.     Non-Slip Loop Knot
The Non-slip Loop Knot is also known as the terminal knot. It is used for tying your fly to the line. This is a popular knot for streamers, wet flies, Spey flies. I use it all the time when spey fishing.
Do not use it for dry flies as it might create an unnatural indent on the water surface. I have also found no advantage to this knot when nymph fishing and actually prefer the way nymphs sit in the water with non-loop knots.
The Non-Slip Loop Knot is one of the best fly fishing knots since it gives the fly enough room to shake and wiggle in the water.
It can therefore secure as much motion as possible to attract the fish.
Watch: How To Tie The Non-Slip Loop Knot
6.     Blood Knot
The Blood Knot is the first line-to-line knot I ever tied and I have used it for a long time.
This knot isn't difficult to learn, and it's an excellent way to join pieces of mono together as long as those lines are of similar diameter, i.e. 4-pound line to 6-pound line.
The Blood Knot has a smaller diameter than the Surgeon's Knot and is less likely to get caught in the rod guides.
I rarely use this knot anymore for two reasons. It is a weak knot when tying two pieces of line with large diameter differences, and because I find the Double Uni Knot to be stronger and I don't need to worry about line diameters.
7.     The Perfection Loop
At times, you will need to tie a loop knot similar to the loop at the end of the leader. This loop is good for loop-to-loop connections. I also use it to attach new dropper tags when using a Euro nymphing Leader.
Most new anglers would rarely, if ever, use a loop knot so it's not imperative that you learn this knot.
Watch the video: How To Tie The Perfection Loop Knot
Fly Fishing Knots For Beginners Q&A
There are probably hundreds of knots and many guys will have their favorites. When it comes to fly fishing knots for beginners, 2 knots are all you really need to know. As a guide who ties a lot of knots for clients, I only need 4 knots, yep, that's it!
Tight Lines
Graham