Best Bait For Rainbow Trout: 5 Most Effective Baits Used By Guides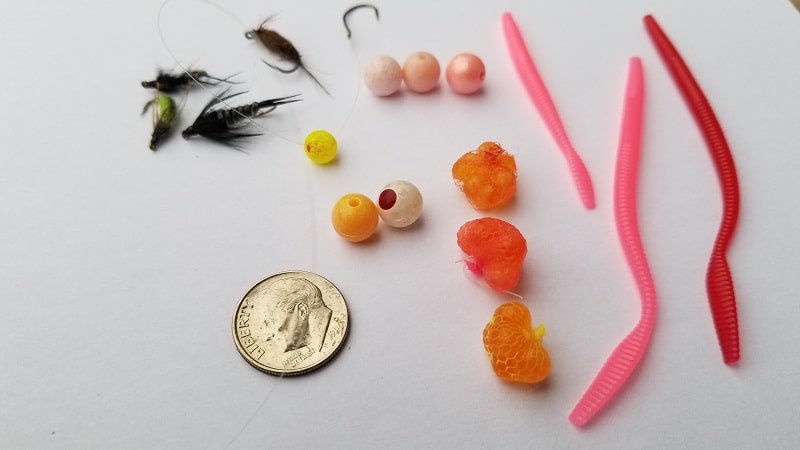 There are a lot of different types of bait for rainbow trout, but in this article, I'm going to only discuss the rainbow trout baits that river guides use to ensure their clients catch the most rainbows possible. This article tells you what I and other river guides consider the four best baits for rainbow trout.
The best baits for rainbow trout are small garden worms, egg-type baits, artificial flies, and plastics. The key is knowing how and when to use each of them and how to determine which bait the trout wants the day you are there. Using the correct size and color is also important.
It's also very important to use the proper trout rig setup and that you use the proper presentation.
I know firsthand as a guide that even if I put on the most effective bait, my clients will still struggle to catch trout if the setup is wrong or if they present the bait poorly. Therefore, I'll provide some tips and advice to help you make your baits even more effective.
Although this article is primarily about baits for rainbow trout when river fishing, these baits will also work well when fishing for rainbow trout in ponds, reservoirs, or in lakes. They are also great when fishing for stocked trout.
Best Bait For Rainbow Trout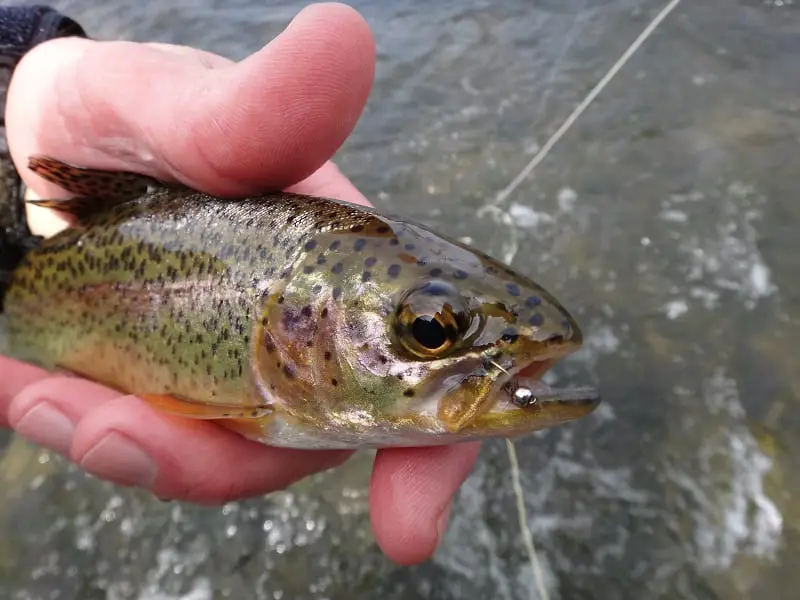 As a guide, the bait that I would choose to put on my hook or my client's hook would depend on the time of year, the natural food source at the time, and the river conditions.
You see, good guides think before they start fishing and we think differently than regular anglers. I know this is true because I watch guys fish all the time and I see the things they do wrong that prevent them from catching the maximum amount of fish that they should.
I see bad hooks, bad setups, and bad baits, as well as a few other things that prevent them from catching trout.
But it doesn't have to be that way and you are here learning about rainbow trout fishing, so let's get started so you can do it better. Rainbow trout fishing at night can also be good and some of these baits will work then to.
Fishing Bait For Rainbow Trout
I will get to the best baits shortly but let me tell you first that knowing what the best rainbow trout bait in the world is will not do you any good if you have a bad setup and fish it poorly.
Before you even grab your bait out of your vest or pack, make sure these 3 key thing things are perfect and understood first.
Methods For Bait Fishing
Choose the best method that works for the type of water you will be fishing. If it's all shallow pocket water that is 12″ to 30″ deep using the bottom bouncing method will catch you 10X more trout than other methods like float fishing.
If it's about six feet deep with a slow to moderate current then a bait under and float is a much better option. Float fishing for trout using my leader setup and methods is great in water 3 to 12 feet deep. So pick your method wisely and change if you need to. Going back and forth between float fishing for trout and bottom bouncing for trout is not that hard and it's worth doing if you want more and bigger trout.
Now if you are fishing still water like a local trout pond or lake, then the best method is likely going to be either float fishing or plunking.
Set-Up For Bait Fishing
So you have chosen your method of fishing wisely, that will only get you so far if you have a poor setup. Trout are line shy, hook shy, and people and noise shy, so getting any of these wrong and you won't catch as many trout as you could.
If you put the best bait for rainbow trout on a huge hook, or a hook with a line so thick you could tow a car with it, guess what, few if any fish bite that bait.
It's also important to stay quiet and don't spook them because even if your setup is perfect and you have a great bait on and you present it well, once they see you and they go lock-jaw, you will really struggle to get them to bite.
I discuss the best leader and line set-ups on the methods pages, the setup for float fishing, and my setup for bottom bouncing are all on those two pages linked above.
Presentation
Presentation is very important and if you want the best bait for rainbow trout to work as well as it can, then you need to present it well. There is a saying that I tell my clients because I believe it is 100% true. "A bad bait fished good is better than a good bait fished bad".
I teach anglers how to present their baits effectively so they catch more fish on the float fishing page and the bottom bouncing page.
If you have ever wondered how or why river fishing guides catch so many more fish than regular anglers, that is it, use a great bait, use the best method for the type of river, use the best setup for that method, and then present it well. That is the formula to catching fish like a river guide.
What Is The Best Bait For Rainbow Trout
Now let's get into what you came for, and that is what are the best baits for rainbow trout. I chose the best bait based on my observations when I arrive at the river so if I list worms as the best bait and you go out during a drought in August worms might not be very effective.
For this reason, I will discuss each bait, with some tips on how and when to fish it
Worms Are The Best Bait For Rainbow Trout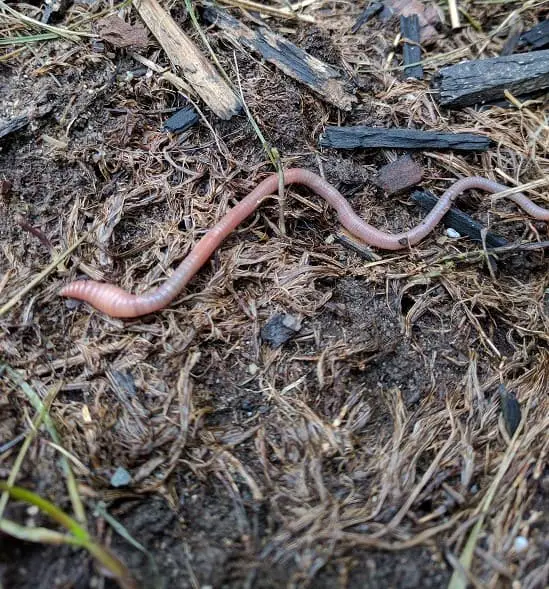 Arguably the worn is the best bait for rainbow trout.
However, I have found that in the spring when the ground is moist from all the spring rains and the worms are near or on the surface and are active, worms are hard to beat.
In July, August, and September when the surface of the ground is hard and bone dry, I rarely see worms crawling around and the trout don't see them either, and therefore worms are not as effective as other baits might be.
Although I say that worms are not great in the heat of the summer, they are still worth a try but don't show up to the river or lake with nothing but worms just in case they don't want to eat worms that day.
I have also found that those guys that take huge dew worms, break them in half and then ball them up on the hook will rarely catch any good size wild trout. Sure, you might fool some dumb stocked trout, but hooking a worm once or twice so that it looks natural will catch you 10X more trout.
I also find that putting a worm on a giant hook isn't as effective and that using a hook size relevant to the bait size is important. I catch plenty of 5 to 10-pound steelhead on size 10 hooks so there is no need for a size two hook.
I also prefer smaller 2 to 4-inch garden or red worms because they work better than 8-inch dew worms do.
Another thing you should seriously consider is plastic worms. I fish plastic worms 95 percent of the time and when fishing in the current I find they work equally as well as live worms except that they are more durable and rarely fall off and are much easier to pack into a vest or fishing pack.
My favorite brands of plastic worms are:
I discuss how to make a great rainbow trout bait like a worm much more effective on my page Fishing With Worms For Trout and Steelhead: 10 Guide Tips.
So would a worm be the first bait a river guide would use, I would say it is a
Egg Baits Are One Of The Best Baits For Rainbow Trout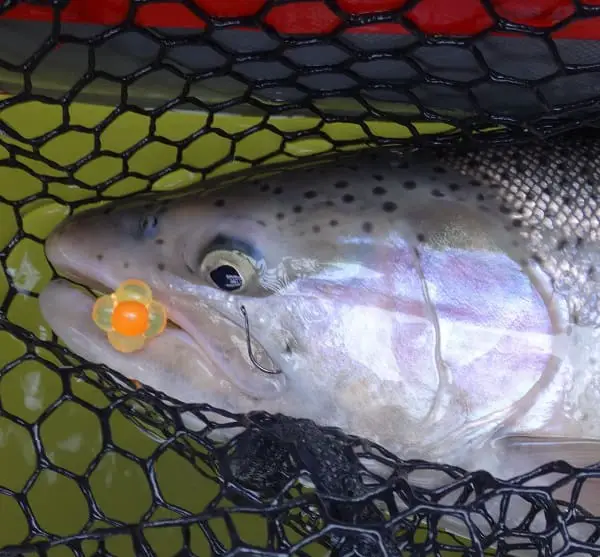 Egg baits like spawn sacs, single salmon eggs, beads, and plastic eggs like the one in the picture are all great baits for rainbow trout and they can be fished at any time of the year.
Same as with worms, you may find that eggs are great in the fall and spring when there are rainbow trout, other trout, suckers spawning and eggs are drifting in the current.
But, not many fish are spawning mid-summer so eggs may not be your best choice then, however, they are still worth a try, and I do find that in mid-summer, going small like a 6mm or 8mm trout bead often works better than a big spawn sack will. Safe you spawn sacs for dirty water and for spring and fall fishing.
There are things that river guides do to make their spawn and beads more effective. Find out more at Spawn Bags – Guide Secrets For More Trout And Steelhead and at Bead Fishing For Trout – Easy Guide Secrets.
Artificial Flies Are The Best Bait For Rainbow Trout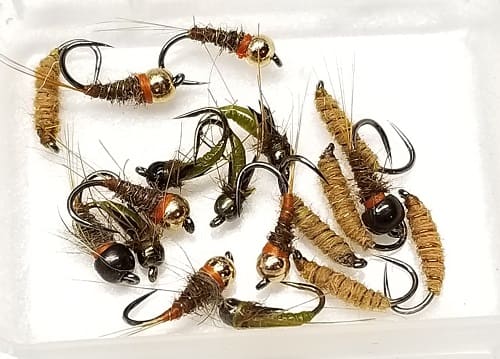 If I had to pick only one bait to fish 12 months of the year, artificial flies would probably be it. Flies are not just for fly fishing. You can fish flies with any method you could fish a worm or an egg pattern.
There are lots of insects in the rivers and lakes all year long and rainbow trout from the time they are born to their death will eat these insects.
Artificial flies imitate these aquatic insects, and other insects like grasshoppers, bees, beetle, or crickets that might fall in the water, which makes flies the best bait for rainbow trout.
Sure, there are times of the year when a large worm or an egg bait might work better, but you can also have worm flies and egg flies so you can match those baits with flies. Flies can also imitate minnows or other baitfish and even leeches.
Flies can also be fished on the surface when rainbow trout are feeding on drifting flies. Fishing on the surface can't be done effectively with other baits so if a trout is only feeding on the surface and you don't have flies, you're out of luck.
Pheasant Tail Nymph, The Frenchie / Hot Spot Pheasant Tail Jig Fly, and the Davie's Polish Pheasant Tail Nymph
I'll tell you 29 of my most effective flies for trout which include some unique patterns and ideas that work great for me and my clients.
If you are a spin fisherman check out my page How To Fish Flies With Spinning Gear: 2 Best Methods
Grub-Type Baits For Rainbow Trout
Not many anglers think of these as baits, but grubs, wax worms, mealworms, and maggots can be excellent baits for rainbow trout. You may not find them at your local fishing store but I have found them at the local pet store since people buy them for their pet reptiles.
You could also choose the plastic grubs which can usually be found at your local fishing store or online.
Fish them with small size 10 to 14 hooks with the methods I mentioned above. Grubs are often best during the heat of the summer.
Power Wigglers
Berkley PowerBait Power Wigglers are a great grub/maggot imitation.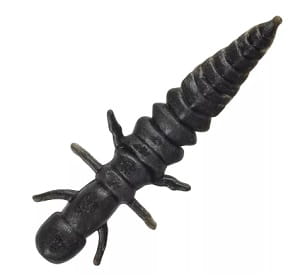 Lil Hellgrammites
Plastic Nymphs like this 2″ Lil Hellgrammites is a good trout bait.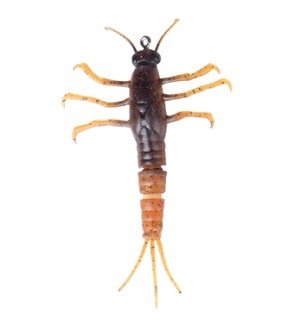 Savage Nymph
This 2-inch Savage Gear plastic nymph is a great trout bait.
Leeches And Crawfish As Bait For Trout
I have seen huge trout nosing into the rocks looking for crawfish and I have seen them smash a well-presented live or fake leech.
This is why I tell anglers that leeches and Crawfish are one of the best baits for rainbow trout. The other great thing about them is that they live in rivers and lakes so they are there year-round which means these are good baits for rainbow trout almost any time of the year.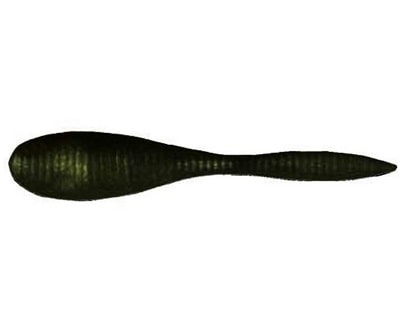 There are some good imitation crawfish and imitation leeches. One of my favorites is the Berkely Gulp Leech – Check Best Price Now
For Crawfish, I prefer 1 to 1.5 inch live or fake ones. If you use crawfish hook them once through the tail with a size 10 wide gap hook such as the Raven Specimen hook.
Minnows And Bait Fish
Minnows and other baitfish are probably the bait that I use the least but not because they are not a great bait for rainbow trout, it's because they are so hard to carry with me on the river, especially with all the other stuff I have with me.
If I do need to use minnows I will often use fake minnows. The best imitation minnows that I have used are the Berkley Gulp! Alive! Minnows. You can also jig these imitation minnows with great success.
The Best Bait For Rainbow Trout Q&A
That wraps up this article on the best bait for rainbow trout. I know other anglers will have a favorite bait that works great where they fish and if you do that is great.
If you have any questions, comments, or a favorite bait for rainbow trout that you would like to share, let me and the reader know in the comments section below.
Tight Lines,
Graham