5 Best Summer Trout Lures And How To Make Them Better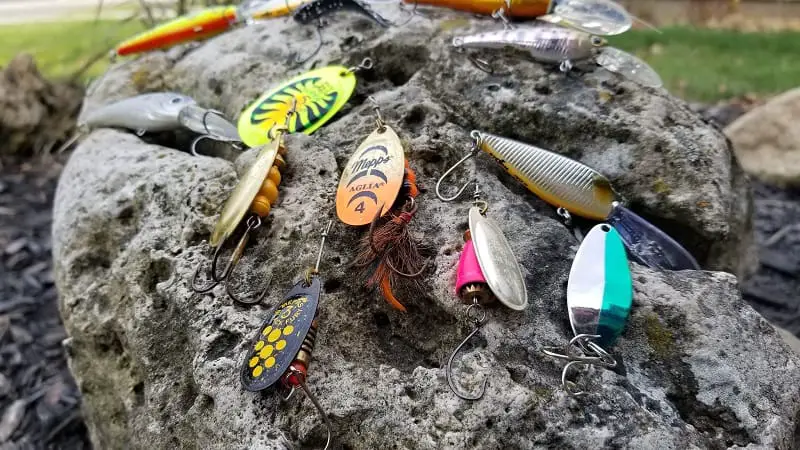 These are the 5 best summer trout lures for river fishing and tips and advice from myself and other guides on how to fish these trout lures better. We all know that river guides catch more trout even when they use the same lures as everyone else, but how? In this article, I will tell you what the guides do differently than the average angler to make their summer trout lures more effective.
The best summer trout lures for rivers are spinners, spoons, jigs, small crankbaits, and small plugs. Matching the sizes and colors to the forage in the river is the key to success when fishing lures in the summer.
Also knowing how to use the lures which include proper presentation, the best angles to use when casting, covering the water effectively, depth control, and even how to work the lure, will all increase your success.
This page contains affiliate links. If you buy something through one of these links we may make a small commission which is at no cost to you. Commissions allow us to continue to bring you great content. Thank you for your support. Affiliate Policy
Fishing Your Summer Trout Lures Effectively
With each summer trout lures I will offer some tips and advice on how I fish these lures, however, it will be a summary of how it is don't otherwise this page will be too long. Instead, I will cover each of these lures and how to fish them in more detail in my article Lure Fishing For Trout: How The Guides Do It.
There are seven things that I consider when fishing summer trout lures or any lure at any time and so should you if you want to catch fish like a river guide.
Size of the lure
Color of the lure
The direction of the retrieve
The depth
The speed
The action
Covering the water effectively
Spinners: The Best Summer Trout Lures For Rivers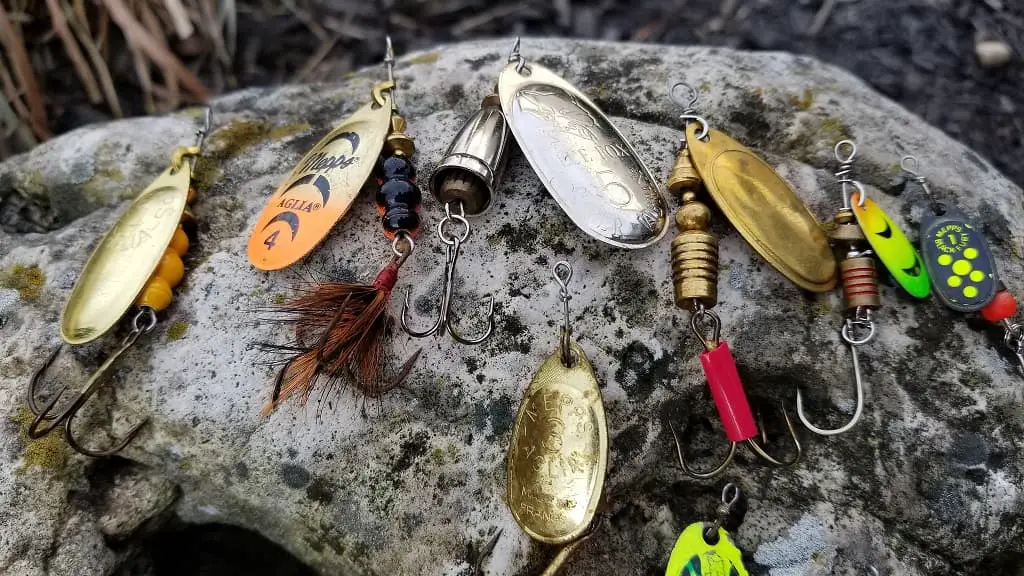 If I had to choose just one summer trout lure it would be what some would call an inline spinner or just a spinner. Spinners are long known to be effective lures for any time of the year but there are ways to make them more effective.
You can't go wrong with silver or gold blades. I believe it's the blade that attracts the trout the most so body color is almost irrelevant, however, some guys swear by body colors and you won't know until you try. I have also done well with black blades, orange blades, and yellow blades.
Sizes 1 and 2 are best for smaller trout and sizes 3 and 4 are better for trout over 18 inches. Not all spinners are listed by number, so go with the 4 smallest sizes.
The 5 best spinners for summer trout fishing are:
Trout Spinners
These are good options for anglers looking to purchase spinners for trout.
How To Fish Spinners

Spinners can be fished deep or shallow or somewhere in between and you can do this by allowing the spinner to sink immediately after it hits the water, or also by raising or lowering your rod tip to get the desired depth.
Unfortunately, most anglers think all they need to do to fish a spinner properly is to just cast and retrieve it, but this is wrong. Yes, you will catch fish that way but you will catch less fish than you could.
While this basic cast and retrieve method can work, it's rarely the most effective way to use a spinner or any lure for that matter. It is very important to learn how to use a spinner better and also to learn how to use a spinner in multiple ways so that you can adapt to the trout's activity level and feeding behavior.
What I mean by multiple ways is that river guides will adjust their speed, and depth, and change their retrieve depending on how aggressive the trout are and based on the river conditions.
When cast spinners, I choose to work my way from the top of the pool down casting at a 45-degree angle downriver and allowing the spinner's blades to spin with the current as I make a very slow retrieve.
Casting upriver in current is only recommended if the spot is very clear and the trout are nervous. The downside to casting upriver in current is that you will need to retrieve extra fast just to get the blades of the spinner spinning, which rarely works well.
So, unless there is very little current, it's better to cast across and downriver.
If it's deep let the spinner sink, if it's shallow start you're received immediately and lift and lower your rod tip to adjust the depth of the spinner.
Spoons Are Great Summer Trout Lures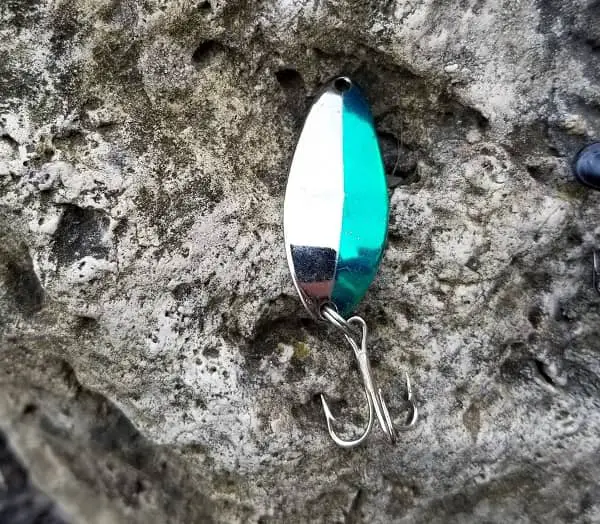 Not used by as many anglers as spinners, the spoon can be equally effective as a summer trout lures which is why you should have a few in your box and you should know how to use them.
Similar to spinners, silver and gold spoons are hard to beat but there are many other good colors, including fish pattern spoons like the rainbow trout pattern.
Silver, green, and blue mixes are great. One of my favorites for brown trout is yellow spoons.
Spoons that are from 1 inch to 3 inches are best for trout.
My Favorite Summer Trout Spoons Are:
Little Cleo: One of my favorite spoons when I need to cast far. My favorite color is silver, however, I have done very well with the Glow Green Anchovy.
Blue Fox Pixee Spoon: Use Similar colors as above, however, one of my hottest colors for big brown trout is the Gold Plated Orange color. Check Price
Krocodile Spoon: This is my favorite spoon for trout and I use it as a flutter spoon. All the same colors that work on other spoons work on this one but my favorite is the Gold Orange and Rainbow Trout.
Eppinger Dardevle: Another great lure that I use with the fluttering method I describe below. Lots of great colors and sizes to choose from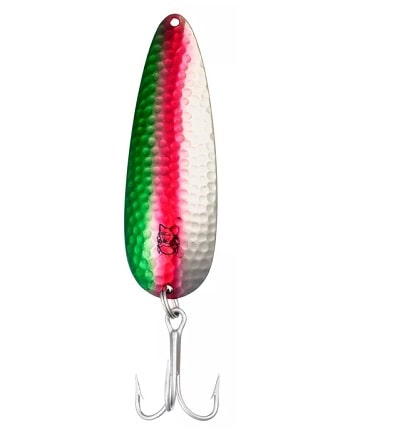 The Darevle is a great spoon for trout fishing in rivers and comes in many good colors
Best Colors:
Scale Chartreuse/Black Stripe
Nickle
Gold
Hammered Nickel-Green
Hammered Nickel-Blue
Shad (Alewife)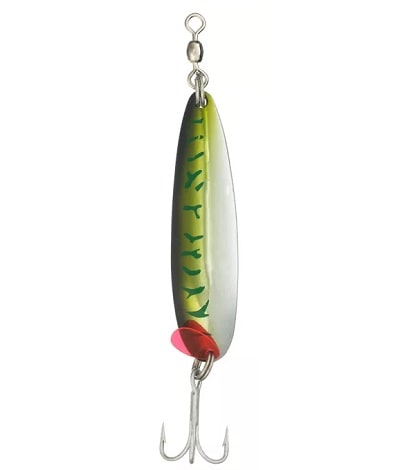 The Krocodile spoon is a great trout spoon for the flutter retrieve or straight retrieve.
Best Colors:
Chrome-Silver Prism
Rainbow
Chrome / Silver
Hammer Red
Green Prism
Chrome Green
Mackeral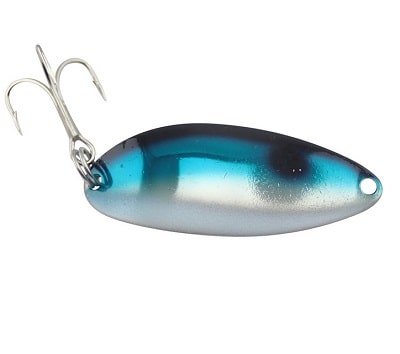 The Little Cleo is a very popular trout spoon that casts far if you need it to.
There are many colors that are great for trout.
Best Colors:
Green Anchovy
Blue Anchovy
Green Splatter
Blue Digger
Hammered Nickle
Hammered Nickle Green
Hammered Nickle Blue
How To Use A Spoon For Trout
I get into more details on my Lure Fishing For Trout page but the basic idea is to cast across and slightly downriver, all the spoon to sink, and once it hits the bottom lift the tip of the rod up about 3 feet at medium speed with a slow retrieve and then lower your tip to let it sink again.
This gives you a jig-like retrieve with the spoon lifting and dropping 2 to 3 feet. The spoon will flutter down and most hits will come as you start to lift and retrieve.
The second and easier retrieve is to just straight reel the lure in at a slow steady pace and allows the current to impart action.
With spoons, If you reel too fast you risk having the lure spin or having it pop out of the water and skim across the surface.
A well present spoon should have a nice enticing side-to-side wobble to it. For more on how to do this well and how to cover the water well check out my page on Lure Fishing For Trout.
Crankbaits For Summer Trout Lures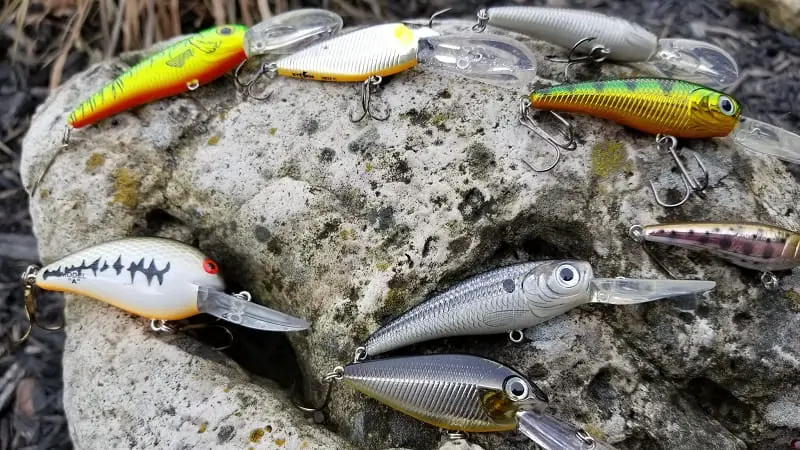 Hardbaits are one of the best summer trout lures. Hardbaits are also known as stickbaits, crankbaits, minnow baits, jerk baits, swimbaits, and some guys even call them plugs.
Crankbaits are one of the most effective summer trout lures when fishing for trout in deeper water, especially when fishing for big trout. The reason, big trout eat fish and crankbaits are great baitfish imitations and they work best in deeper water.
I use crankbaits in a few different styles for different conditions. I use the fat-style crankbaits with a deep diving lip in medium to deep water at slow to medium speeds.
I like the long-profile crankbaits with a shallower diving lip for faster shallower water.
I tend to use a medium to deep diving crankbait most often because I can control my depth by lifting or lowering my rod tip.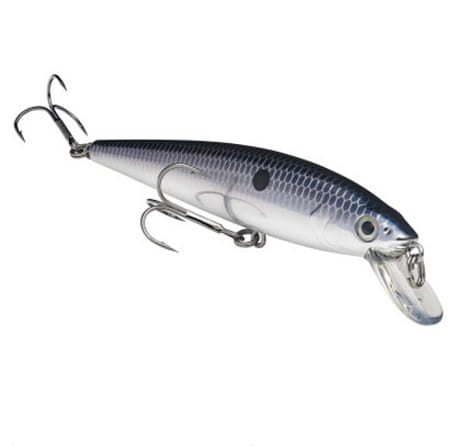 Strike King KVD 200 Jerkbait
A good crankbait that runs 4 to 7 feet and is in that perfect 4-inch length.
My Best Colors:
Carolina Chrome
Clown
Chartreuse Sexy Shad
Blue Digger
Sugar Daddy
Sexy Blue Back Herring
Pro Gold
Check Prices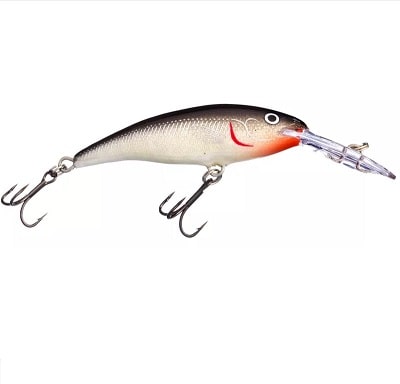 Rapala Tail Dancer
Get deeper with this Rapala that runs 9 to 15 feet. I like the 2 3/4 and the 3.5-inch sizes.
My Best Colors
Silver
Shad
Perch
Hot Chub
Blue
Check Prices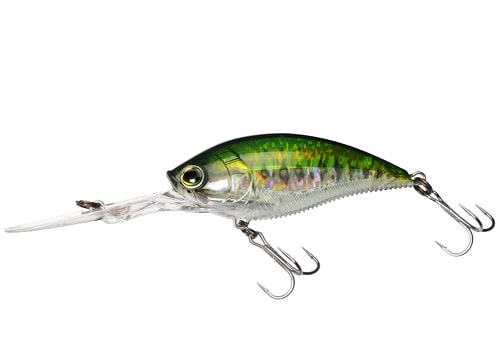 Yo-Zuri 3DB Deep Crank Floating Diver Lure
A short fat model crankbait from Yo-Zuri that runs 4 to 8 feet.
My Best Colors
Natural Blue Gill
Gizzard Shad
Green Shad
Prism Chartreuse Perch
Sexy Shad
Blue Back Chartreuse
Check Prices
Plugs Type Lures
Plugs are similar to crankbaits are great summer trout lures when used properly and under the right conditions.
Plugs tend to have a good enticing wobble and work well at a very slow speed.
The Kwikfish is a plug-type lure and is one of my favorite summer trout lures when the fish are not aggressive and are reluctant to hit other baits.
The Kwikfish and the Flatfish lures are almost identical and they both have a slow enticing wobble that will get the trout's attention. For trout, I like to use sizes from 2 inches to 4 inches.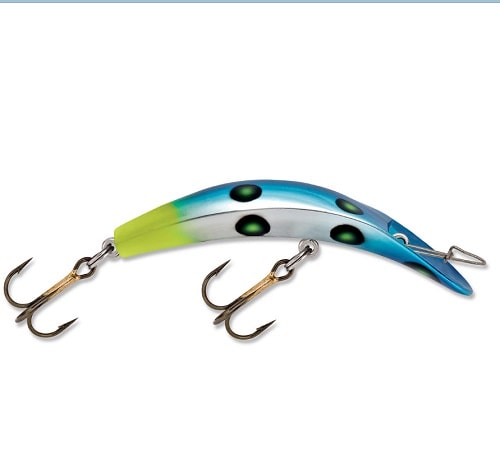 Kwikfish
My favorite plug for river fishing in slow to medium speed currents.
This plug is best casted across and allowed to swing across the pool with an extremely slow retrieve or no reeling at all.
The current will give this plenty of action.
Best Colors:
Black-Holo Glitter
Blazing Green UV
Bubba
Blazing Red UV
Fickle Pickle
Gold
Silver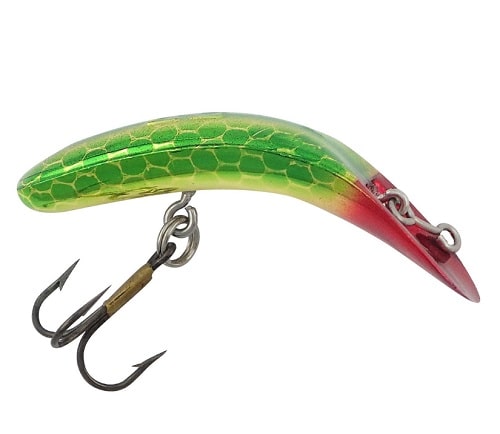 FlatFish
The Flatfish is almost identical to the Kwikfish and works fished the same way and in all the same colors.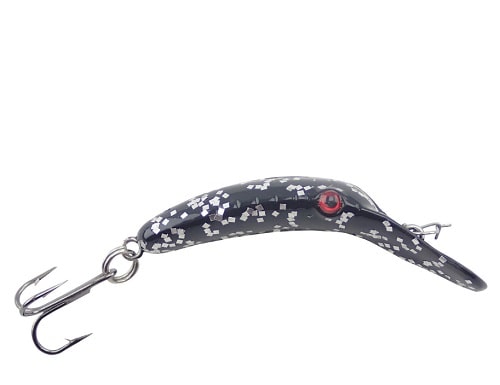 Yakima Bait Mag Lip
The Mag Lip is known as a trolling lure but this lure works well in slower current rivers with a very slow retrieve.
Often, just casting it across and letting it just swing across the river is the best way to use it.
Best Colors:
Balck Silver Flake
Keeper
Bleeding Fire Tiger
Canada Craw
Metallic Siver Orange Pirate
There are many more great colors to choose from
Jigs For Trout
Jigs can be an amazingly effective summer trout lure and they can be used in two ways. You can use jigs for trout under a float the same way you would fish a jig, or you can jig them the same way that bass and walleye anglers use them.
The jigging method is a lift-and-drop type method. To do this, I cast straight across the river and wait until I think my jig has hit the bottom and then reel up the slack and lift the tip of my rod 2 to 3 feet and then slowly lower the tip as I slowly reel in some slack, and then keep repeating until the jig is directly below me.
The key is to maintain enough tension on the line to be able to detect the bite. With too much slack in the line, you could miss a bite.
The jigs in the picture below can be used under a float or jigged. I like natural color jigs. Black, olive, white, and brown work great but I have also done well with yellows and oranges, or mixed colors.
Paddle tail jigs, swim jigs, and creature jigs in the one-inch to four-inch sizes are good for trout. Simply put the paddle tails on a decent jig head hook like the ones in the picture below.
These are good options for jig tails and swim jigs that I use when guiding for trout.
I have done well with 1/4oz jigs that are 2 to 4 inches long. I drag them slowly across the bottom for a foot or two then hop it off the bottom about a foot or two.

Summer Trout Lures Q&A
There are a lot of colors and sizes but these are the five most effective summer trout lures to try. On your body of water, you may find other lures or color size combinations that work better.
If you have any questions, comments, or suggestions, please let me and other readers know in the comments section below.
Tight Lines,
Graham