Steelhead Leader Setup For Nymphing: 3 Most Effective Leader Setups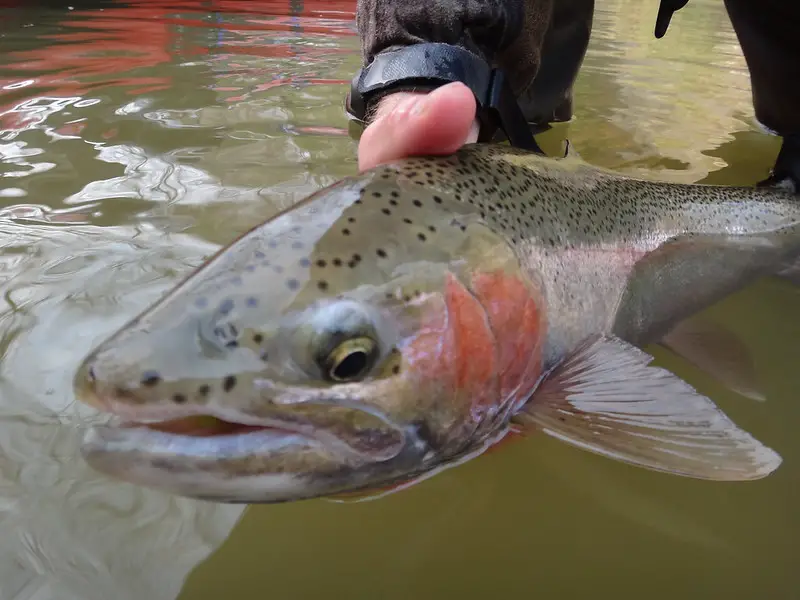 There are many steelhead leader setups that I have tried over the last 37 years but these are the only 3 steelhead leader setups that I use when guiding and the only 3 you will ever need.
The steelhead leader setup includes everything from the tip of the fly line to the bottom fly. Anglers that have a good leader setup and that know how to fish it properly will catch more steelhead.
Steelhead Leader Setup – What You Need
For the steelhead leader set up that I use for nymphing, you will need the following items.
Tapered leader – 0X to 3X
Indicator – See my Best Indicators Page
Tippets – 1X, 2X and 3X
Weights – AA, AB or BB Split Shots in lead or tin. See Best Split Shots page
Tippet Rings or Micro Swivels are optional. I mostly use Tripel Surgeon's Knot
Flies – See my page on the Best Steelhead Flies
Tippet Size For Steelhead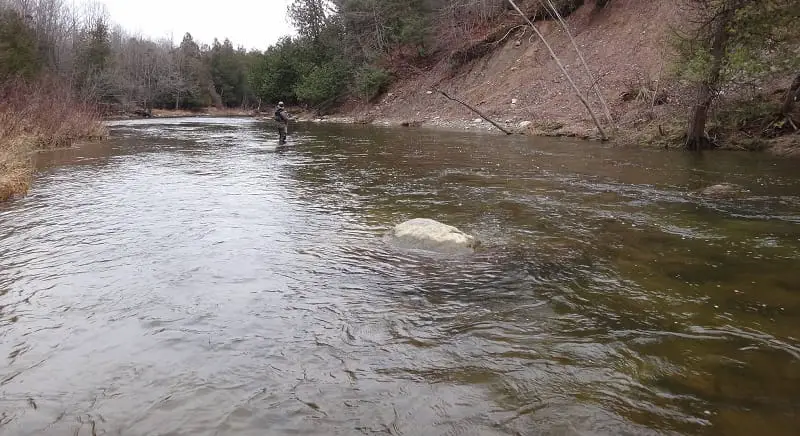 For most great lakes steelhead fishing on the small to medium-sized rivers that are 60 feet wide or less, the best tippet size for steelhead is a 3x tippet. For larger faster rivers, the best tippet size for steelhead is 2 x or even 1x if the water is not super clear.
Those are the sizes I use when nymphing and what I use on my steelhead nymph leader formulas. My go-to size on most great lakes steelhead river in clear water is 3X
Best Fluorocarbon Leader For Steelhead
As many anglers and guides will tell you, not all fluorocarbon is good for steelhead fishing. In fact, some brands are just crap and will break easier. The best Fluorocarbon leader for steelhead fishing is RIO Fluoroflex Strong Tippet.
If you are like me and you go through a lot of tippets or you want to buy in bulk and have enough tippet to last you a few years, which will also save you money then I highly suggest 6lb Sunline FC Super Sniper Fluorocarbon.
Best Leader For Steelhead – For 3 to 9 feet deep
This is my best steelhead leader for nymphing with indicators and I start this off with a 2 or 3x standard tapered leader of 7 to 9 feet. I can actually use almost any 9-foot leader bigger than 5x.
I take my tapered leader and cut it off at slightly thicker than the 1x or 2 x portion of my tippet. I then add my indicator to the main part of the leader and then I connect the 1x / 2x tippet and start building the rest of the leader from there. see below.
The Dropper Fly in the diagram is optional and may not be legal in some areas so check the fishing rules for the river that you want to fish.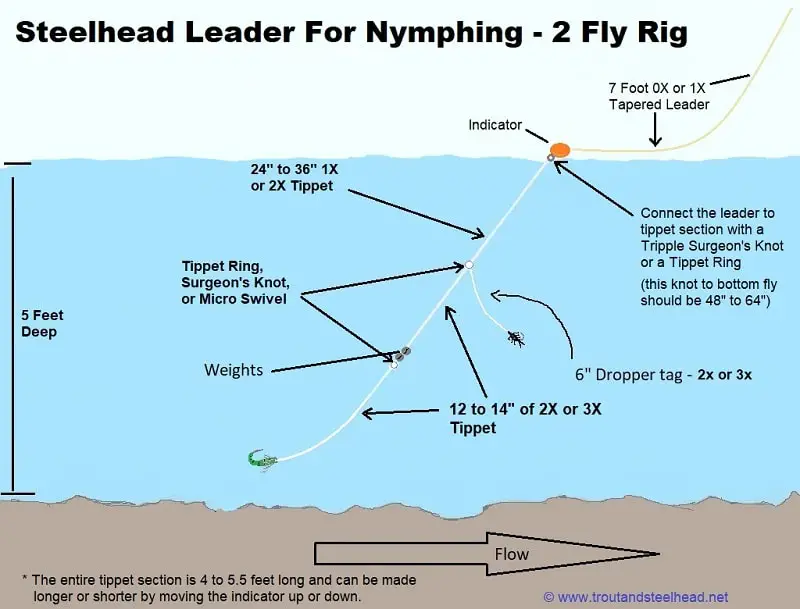 If I fish deeper than 9 feet, I will extend the 1X/2X tippet section that is directly connected to the tapered leader. I will extend it only as long as I need to go to get my fly 6 inches off the bottom.
Steelhead Nymph Leader Formula # 2
TO BE CONTINUED