Best Spey Flies For Great Lakes Steelhead And Salmon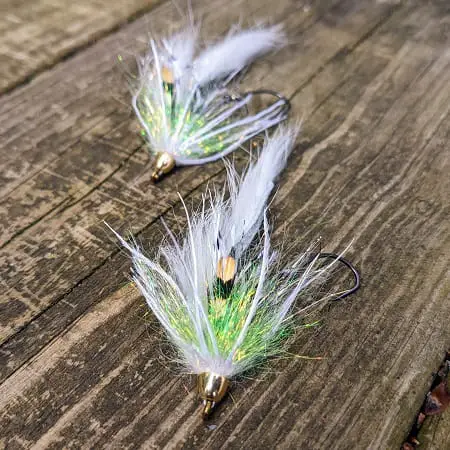 When it comes to the best Spey flies for Great Lakes steelhead and salmon this is the guide you need. The flies I recommend are used and tested by me during hundreds of guide trips, also tested and proven to work by my staff guides and other great lakes guides.
Spey Flies For Great Lakes Steelhead And Salmon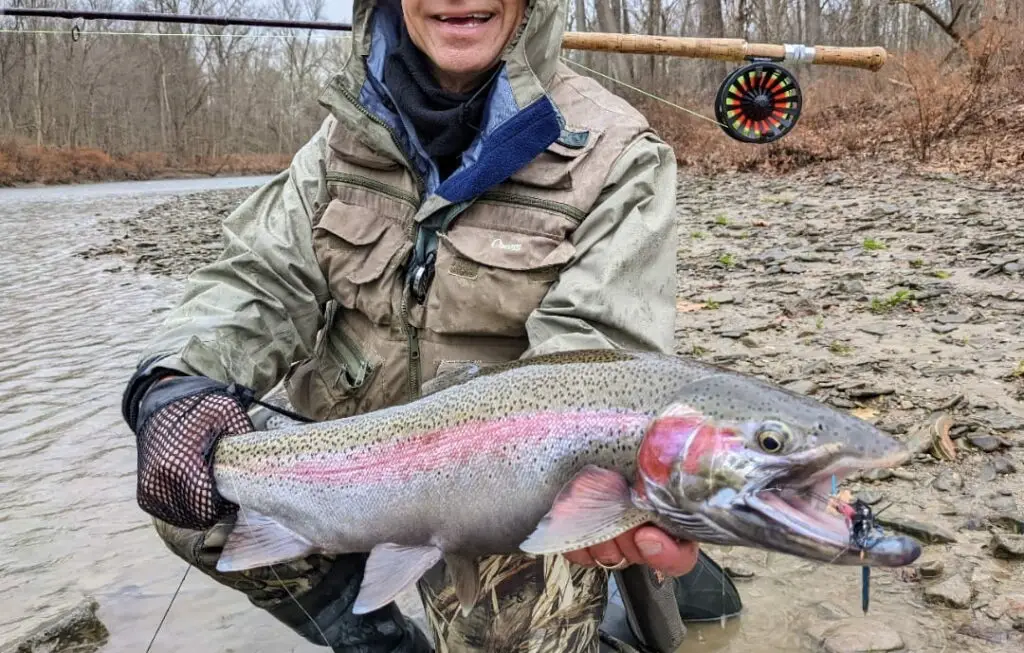 When it comes to the best flies for Spey Fishing Great Lakes Steelhead, I am hard-pressed to use anything that doesn't cast well and swim well.
I don't find traditional spey flies which may work well for Atlantic salmon, to be very effective for great lakes steelhead and salmon.
I and other guides will agree that larger bulkier flies with materials that provide almost life-like movement tend to be far more consistent. For this reason, most good steelhead and salmon flies are tied using marabou feathers, rabbit fur, herls, rubber legs, tinsel, and some synthetic materials.
I'm going to be straight up and tell you that as long as the fly has movement and bulk, it will probably work. I've been saying this for many years.
Funny thing, I was recently watching a video on youtube, Spey angler and fly trier Jerry French was talking about a fly called the Pork Rind which is used by famous North West Spey Guru Ed Ward.
The Pork Rind fly, (if you can call it a fly) is two chunks of rabbit strip, one on the actual leader, and one on the hook. The rabbit is not even tied to the hook. However, this fly works well.
This shows that movement and bulk and a shape that looks somewhat bait-fish-like is all it takes for most steelhead and salmon to bite.
For this reason, you may be surprised by some of the flies I recommend, but remember, these flies are tested and proven to work for great lakes steelhead and salmon.
Spey Fly Size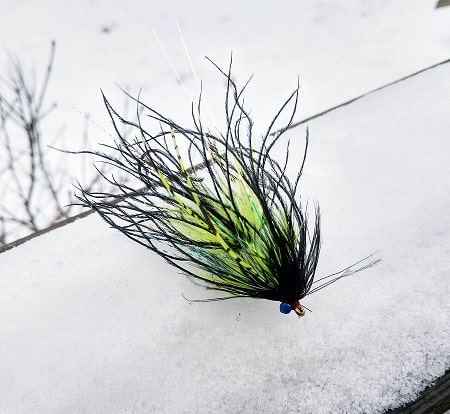 Thicker or bulkier flies sink slower, and thinner flies sink faster, so I have an assortment of big, medium, and smaller flies in my fly box.
My average-sized Steelhead Spey fly the great lakes rivers and streams is about 3 inches long for steelhead and 4 inches long for salmon.
Spey Fly Colors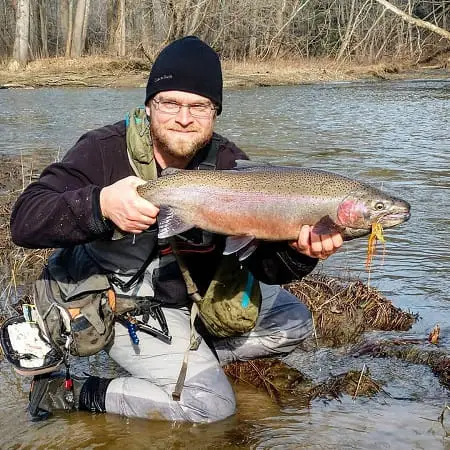 I also find that certain colors will work better on some rivers or in different water clarity than other colors. Having an assortment of fly colors is a great idea.
You might also find, like I do, that some colors will work better for steelhead than for salmon
Best Spey Colors For Steelhead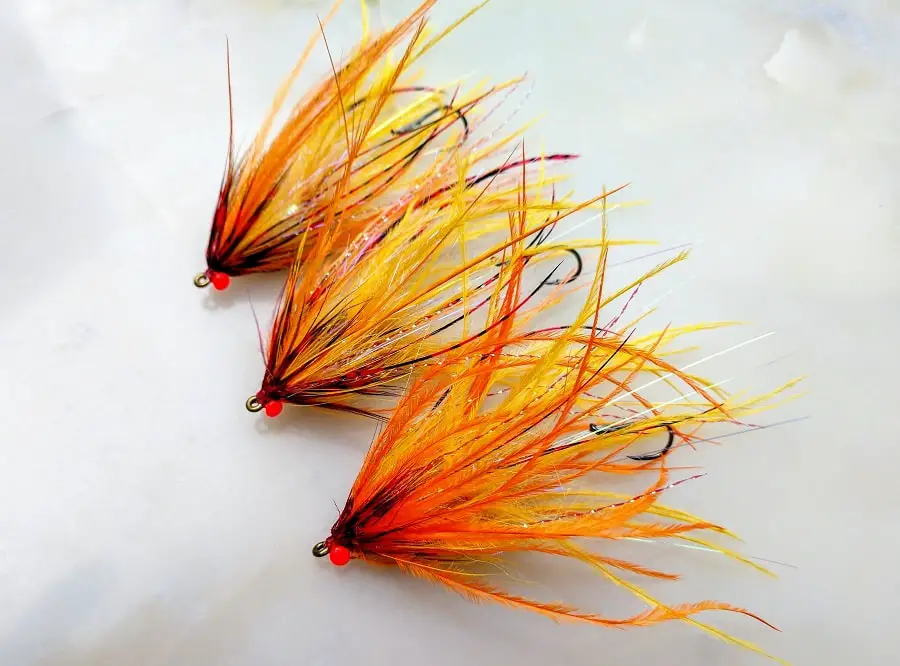 There are many anglers that swear by black Spey flies. Black and electric blue, black and purple, and black with orange or chartreuse highlights.
However, I don't know how many times I or my clients are the only ones on the river swinging white flies and catching the most steelhead. White spey flies work well, especially on the lower rivers. Think about it, the steelhead are out in the lake feeding on slivery white baitfish every day, so they are used to eating baitfish in this color.
I do find that once the steelhead are in the river for a while or if they are far upriver, black or darker colors tend to be more effective. However, light conditions, and steelhead activity can also dictate flies which is why I'll make an educated guess as to what they want and if that does not work I'll start rotating through different colors and different sizes.
Other colors that work well for steelhead are orange, olive, yellow, and pink.
Best Spey Colors For Salmon
I have found that salmon will hit all the same colors that steelhead will, however, big bulky chartreuse flies are hot for me. I also do well with pink and orange flies.
When the salmon are not interested in the bright colors, Back with purple can be very good.
Best Spey Flies For Fishing Great Lakes Steelhead And Salmon
Some of the most effective flies for great lakes steelhead are listed below:
The Hobo Spey: The Guide Fly
It was a local guide that recommended the hobo spey fly to me. It's kind of a simplistic version of an Intruder Spey fly, except it's a lot easier and faster to tie.
And, best of all, it works really well, which is why this is my got to Spey Fly for steelhead fishing around the great lakes.
Simple, easy to tie, and it works really well is the definition of what I can guide flies.
I tie the Hobo Spey in Olive, Black, White, Yellow, and multicolor.
The Intruder Spey Fly
This pattern was originally designed for west coast steelhead, and I think you will find this in all west coast guide fly boxes.
However, the Intruder, is also very effective on great lakes steelhead too.
This is a bigger, bulkier spey fly than some other Spey flies and it takes longer to tie, but there are a ton of anglers and guides that swear by this fly
I tie it in olive, Black, white, pink, yellow, and multicolor. For salmon, I'll also add chartreuse color to the mix
Woolly Bugger Spey Fly
The traditional Spey guys are going to hate me for recommending the simple basic Woolly bugger, but this fly is super easy to tie, and it freakin works.
In fact, at times, I've found it to be as effective as the beloved Intruder Spey fly.
I've even tested it many times with one of my clients swinging Intruders through the pool and one swinging Woolly buggers, and if not equally effective, often the Wooly Bugger will catch more fish. I think the reason this fly works so well is it sinks better than the bulkier flies.
Plus, I can tie 5 Woolly Buggers in the same amount of time I can tie one Intruder. T
To make my Woolly Buggers even more effective, I add extra bulk to the tail with more marabou, and I'll add tinsel or other flashy materials.
I tie my Woolly Buggers in Olive, Black, White, Yellow, Chartreuse, Orange, and multi-color.
Egg Sucking Leech
Yep, this is another very effective fly that will make the die-hard spey guys cringe. But, it's effective, and you can buy it just about anywhere, and if you lose it, no big deal because it's easy to tie, or easy to replace.
Most of the time this fly is black or olive with bright heads. I like chartreuse, pink, orange, and redheads.
Bunny Leech Fly
The Bunny Leech is a trout fly that has proven itself effective for trout since I was a kid. But, it also works really well as a spey fly for steelhead.
Unlike many other spey flies, it's the rabbit fur that pulses and creates the movement that really attracts the steelhead.
You can also tie this long with the use of magnum rabbit strips or keep it shorter.
I used this fly in Olive, Black, White, Yellow, and multicolor.
Senyo's Artificial Intelligence Steelhead Spey Fly
A proven swing pattern for Great Lakes Steelhead designed by famous great lakes guide Greg Senyo. Change colors for different water conditions but this can be tied in any color you want.
Steelhead Tube Flies
There are so many tube flies available that are great for steelhead, simple flies like the Senyo Scandi fly can be tied in many colors to suit the conditions.
Spey Flies For Great Lakes Steelhead Q&A
Let's keep the information coming! It is your passion and commitment as an angler that helps us improve as a community of devoted anglers.
If you have any questions or personal insights to offer about the best spey flies for great lakes steelhead and salmon, please feel free to leave a comment below. Let us continue to thrive and expand our knowledge through mutual learning so don't forget to share this with your friends.
Tight Lines,
Graham