Simms Guide Vest Review: Reviewed By A Guide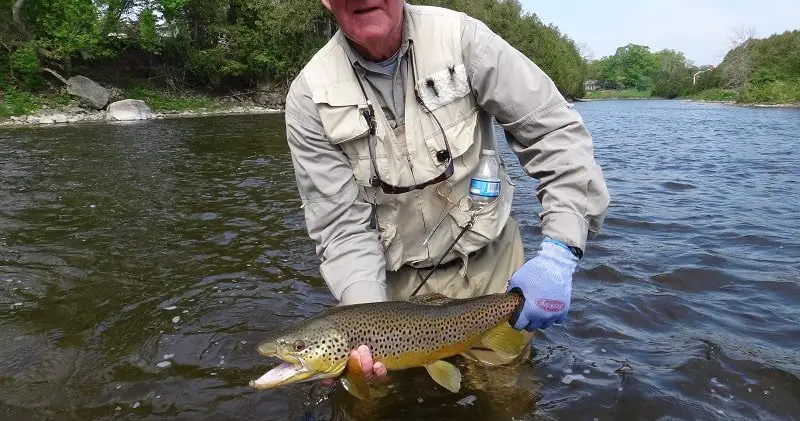 I've been lucky as a guide and a tackle store owner to have been able to test out many fishing vests so I thought I would do a Simms Guide Vest Review. I have been wearing Simms products for over 15 years and all I can say is that they are almost always the best high-quality products that you can buy, and the Simms Guide Vest is no different.
The Simms guide vest is one of the best fishing vests that you can buy due to the functionality of the vest, and the quality which I will cover in this review. The Simms guide vest was designed by experts for experts but you don't need to be a guide to wear one.
I will show you why this is the best fishing vest on the market and where you can get it and save about $20 dollars.
If this vest is not for you be sure to check out my page on the 21 best fishing vests which covers everything from the top performance fishing vests, flotation fishing vests, vest-backpack combos, to the best economy fishing vests.
This page contains affiliate links. If you buy something through one of these links we may make a small commission which is at no cost to you. Commissions allow us to continue to bring you great content. Thank you for your support. Affiliate Policy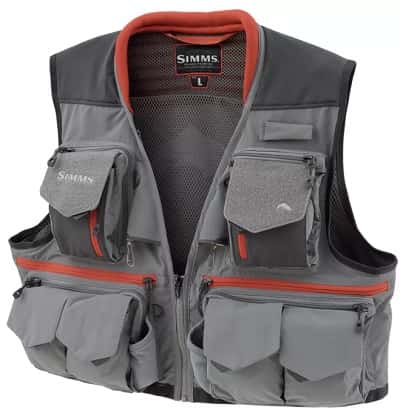 #1. Simms Guide Vest Review $179.99 – $199.99
The Simms Guide Vest is one of the top-rated fishing vests on the market for a variety of reasons including the fact it probably has the most pockets on a fishing vest.
The Simms brand is known for well-designed high-quality products that are durable and last so it's not a surprise that this vest hits the top of the list of the best fishing vests.
This is one of the most functional and comfortable fishing vests which is why it is worn by many top river guides and top river anglers. It has all the features a great fishing vest is supposed to have. I have used this vest and I know many clients and friends that love this fishing vest.
One of the things that I really like about the Simms Guide vest is how comfortable it is. It has a built-in ventilated and padded collar which is great if you have it loaded full of gear.
The padding is also great for anglers that cast a lot because it doesn't dig in or rub around your neck as other cheaper vests can.
This vest comes with a whopping 26 pockets mixed from the front, inside, waist, and on the back.
As an added bonus the material that this vest is made of is covered with a water-resistant coating to keep your gear dryer in the rain.
The Simms Guide Vest Comes in an olive/sage Green Color and in Grey color.
Best Used For:
River Fishing
Bank and Pier Fishing
All Season Fishing
Can also be used for:
Kayak and Canoe fishing – Does not float and is not a PDF
Boat fishing
The key features of the Simms Guide Vest are:
There are 26 total pockets in total.
There are 2 vertical pockets on the Chest with 2 zippered side-access pockets built-in, and the2 flap closure cargo pockets on the chest.
There are 2 large storage pockets on the waist area and 4 flap cargo pockets with 2 horizontal pockets and a couple of small stretch stash pockets for your smaller gear.
The inside of the vest in the chest area includes 2 quick-access mesh pockets and 2 larger storage pockets.
On the inside of the waist area, there are 4 velcro drop pockets.
On the back of the vest, you will find one horizontal pocket designed to hold your water bottle, and another deep cargo pocket that is great for your lunch or an extra shirt or a packable rain jacket.
One of my favorite features is the built-in retractors for attaching tools like forceps or nippers.
Another great feature so you never need to head back to the bank to put your rod down on the ground is a built-in third-hand rod holder with velcro fasteners and a reel seat sling to secure the rod.
There are 4 tool attachment D-Rings on the front of the vest to attach anything you want like a lanyard for your net, and on the back is 1 D-Ring on the back for your vest. To see how to properly secure your wading net as the pros do, check out my page 5 Best Trout Nets And A Guides Advice On How To Attach Them.
The Simms Guide vest is made of 100% Nylon fabric with DWR finish with 100% polyester mesh lining.
The weight of the vest is 19 oz. or 538.7 grams.
This fishing vest usually sells for around $179.99 – $199.99 and it's worth the price.
I have found the best price and best availability at FishUSA.com
Simms Guide Vest Review by Others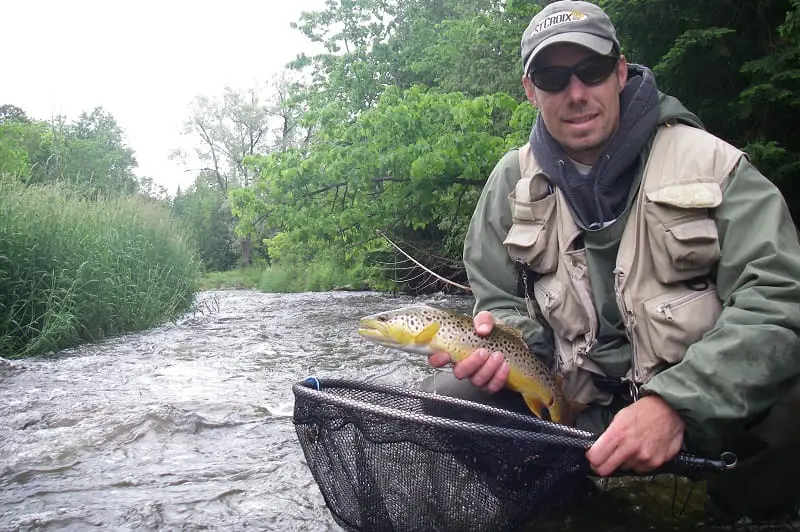 I did some research for you to find out how many other Simms guide vest reviews I could find and what they had to say about this vest.
There were a dozen or more websites ranting and raving about this vest. It was near impossible to find any issues with it except for maybe the $199.99 price tag at some retailers.
Let Us Know What You Think About The Simms Guide Vest
If you have used this vest let us know in the comments section below what you think about it.
Tight Lines
Graham