Fishing the Salmon River Idaho: A Complete Guide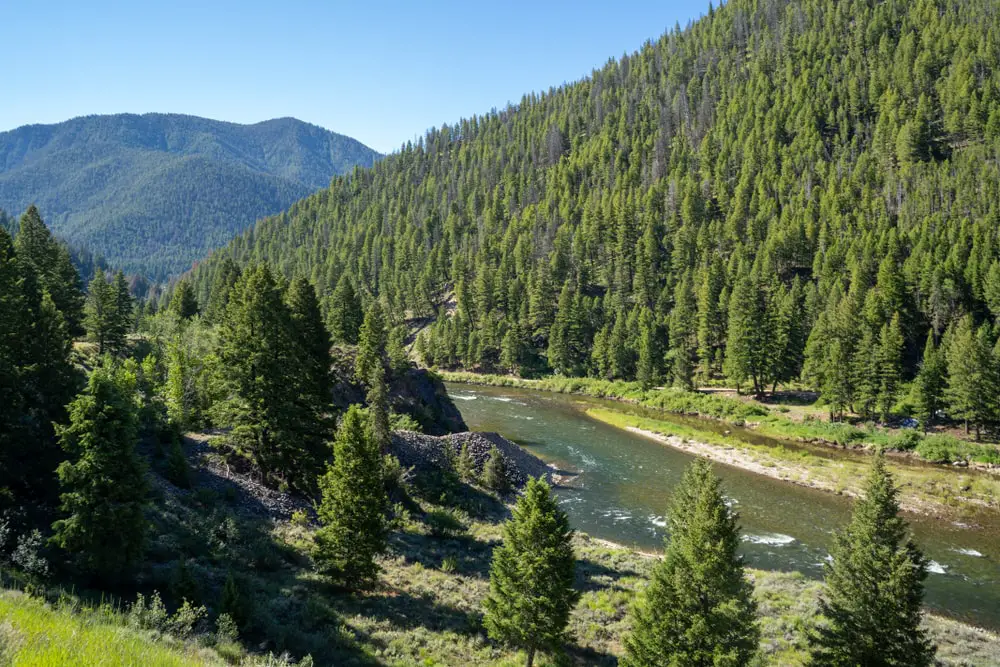 You will find multiple fish species, unique wildlife, and remote and breathtaking scenery when fishing the Salmon River Idaho.
The river is renowned for its abundant fish species, such as bull trout, rainbows, multiple salmon species, cutthroat trout, bass, white sturgeon, and even whitefish.
In some areas, the river is so remote you will need a boat or need to hike for hours to get to your spots. Other areas are more accessible, and many anglers will catch fish from bridges and near roads.
| Best Fishing Types | Prime Seasons | Notable Locations | Recommended Methods |
| --- | --- | --- | --- |
| Trout Fishing | Late Spring – Fall | Near Salmon, Idaho | Fly Fishing |
| Steelhead Fishing | Feb-April, Oct-Nov | Near Salmon, Idaho | Fly Fishing, Backtrolling |
| Salmon Fishing | Mid-Fall, Late Winter | Lower River Stretches | Trolling, Bottom Bouncing |
| King Salmon | Mid-May through July | Salmon River Canyon | Various Techniques |
The Majestic Salmon River: A Fishing Paradise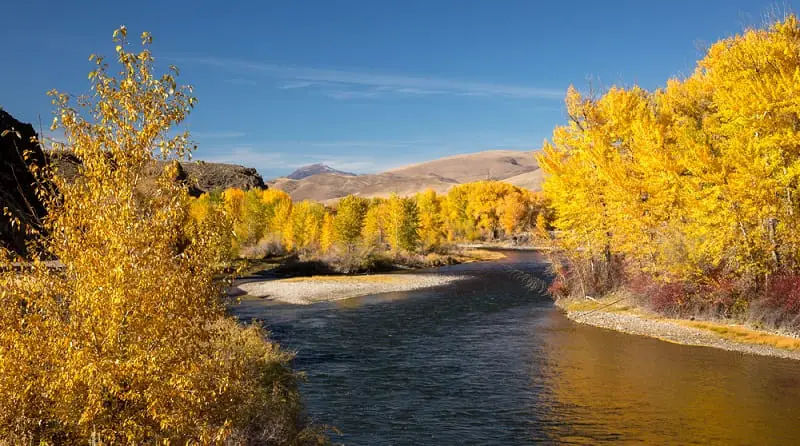 Winding through the heart of Idaho, the Salmon River, often referred to as "The River of No Return," unveils a canvas where nature paints its most exquisite scenes. From the lush Sawtooth and Lemhi Valleys to the rugged terrains with cliffs and canyons. This is part of the allure when fishing Idaho's salmon river.
An angler could spend weeks and never fish the same piece of water.
Scenic Beauty and Wildlife Encounters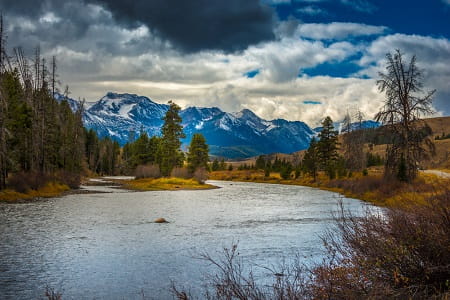 As you navigate through the river corridor, the scenic beauty of the Salmon River unfolds, revealing the majestic Sawtooth Valley and the serene landscapes of Central Idaho.
Anglers often find themselves amidst a plethora of wildlife, including mule deer and bighorn sheep, enhancing the fishing trip with moments where nature and wildlife converge in a harmonious display.
Fishing The Salmon River Idaho: Species
There are multiple species in the Salmon River, including bass and white sturgeon, but the main sport fish are trout, steelhead, and salmon.
Not to mention great boat trips and some great lodges.
Trout Fishing On the Salmon River, Idaho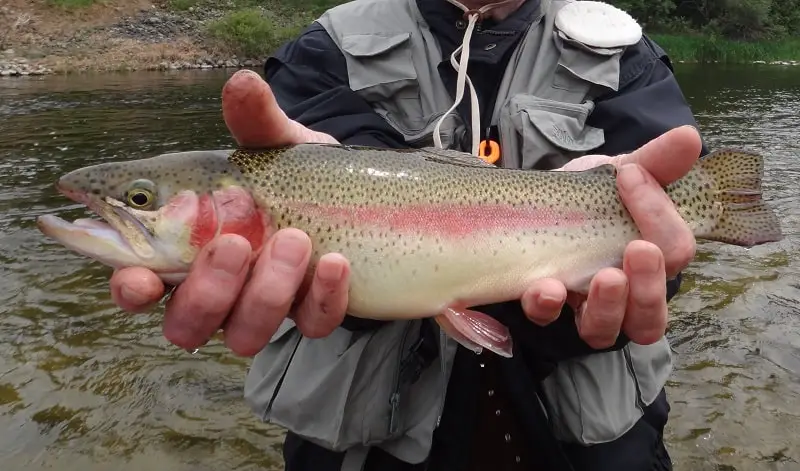 Trout can be scattered throughout the Salmon River, but the upper Salmon River has some of the best habitat for wild trout and is easier for trout anglers to read the water, find fish, and land fish.
Fly fishing with nymphs when the fish aren't rising, but good hatches are available for dry fly fishing during the summer.
Best Times and Areas: In early spring, when the river has ice-cold water from run-off, the fishing is generally slow. Late spring to early fall, especially near Salmon, Idaho, provides more optimal conditions for trout fishing. Good hopper hatches and larger hatches occur in July and August. The middle fork is also excellent for trout fishing.
Trout Species: Engage with various trout species, including cutthroat trout, rainbow trout, and bull trout, each offering a unique angling experience.
Methods: Using a fly rod is popular, but many anglers will use spinning rods and reels and cast lures or drift baits.
Baits and Lures: Artificial flies, spinners, worms, or dry flies that mimic local insects all work for the trout.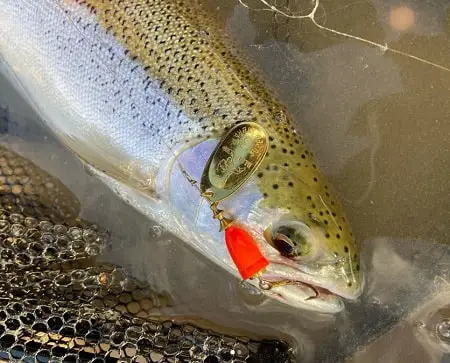 Near the town of Stanley is where the Salmon River originates. The Stanley area is serviced by the Stanley Fly shop.
Stanley Fly Shop is the place to visit for local fly patterns and information on upper Salmon River fishing conditions and access spots.
North Fork: The North Fork of the Salmon River is another option that proved good fishing for trout in the summer.
Steelhead Fishing On the Salmon River, Idaho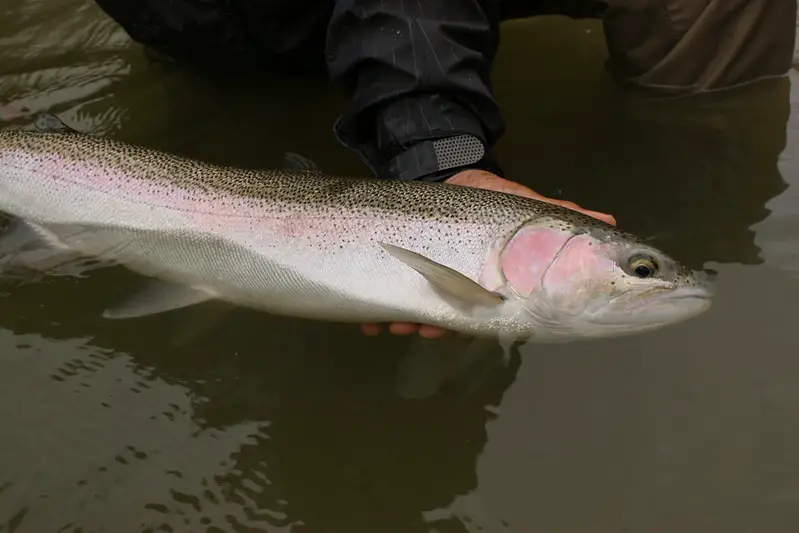 Location: Lower and main stem of the Salmon River and good areas for catching steelhead. Look for areas around the mouth of small tributaries, seams, pockets, pools, and slower water along the river's edges.
Prime Times: Late February through late March and mid-October to mid-November are your best bets for steelhead fishing. There are steelhead in the river in December and January, but it can be icy and slow fishing.
Methods and Baits: Fly fishing, drift fishing, plunking, and back trolling with roe, jigs, plugs, or spinners are effective for catching steelhead on the Salmon River. Back bouncing is also effective in the larger and deep pools.
Salmon Fishing On the Salmon River, Idaho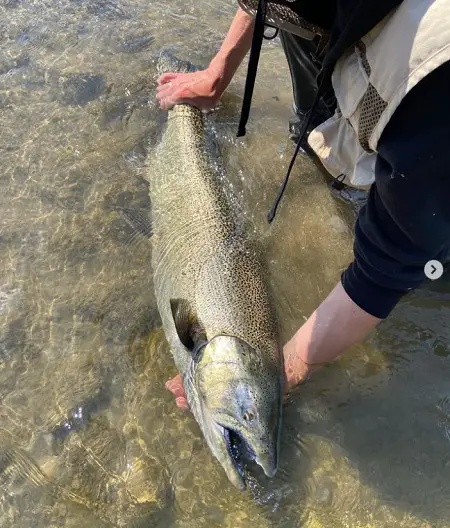 Peak Seasons: Salmon enter the river in the summer season and anglers will start catch salmon as early as may. Coho salmon is best in early to mid-fall.
Salmon Species: Encounter various salmon species, including chinook salmon and sockeye salmon, each providing a unique challenge and reward.
Methods and Lures: Trolling and bottom bouncing with herring, spinners, and plug-cut baits often prove to be the favored choices.
King Salmon Fishing On the Salmon River, Idaho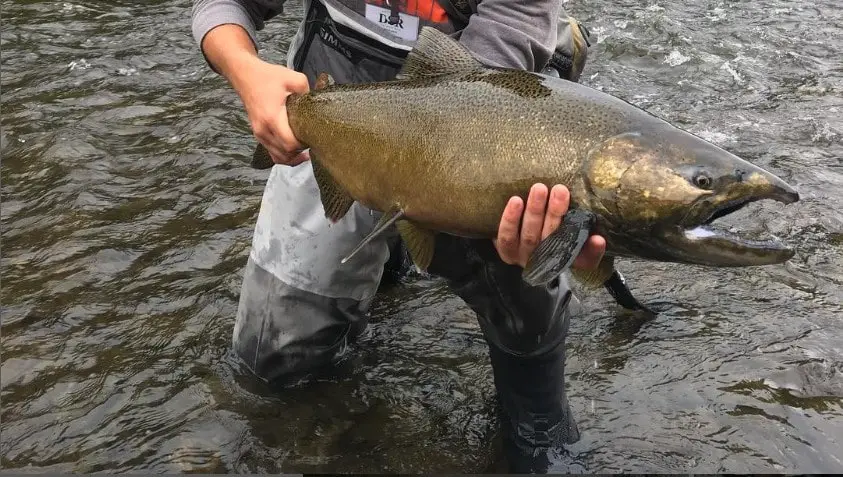 When to Visit: Seasons can fluctuate, but typically, King Salmon make their appearance from mid-May, continuing through June and into July. Seasonal weather and conditions will dictate run times and it take time for the salmon to migrate up from the Pacific Ocean.
The Experience: Employing a variety of techniques, from trolling to bottom bouncing, anglers can engage with these splendid fish, creating memories that linger long after the trip.
Before using any method or any bait, check the Idaho Department Of Fish And Game for rules, regulations, and updates on fishing closures.
Best Fishing Guides on the Salmon River, Idaho
Navigating the bountiful waters of the Salmon River is an exhilarating experience, and having an expert guide by your side ensures you make the most of your angling adventure.
Whether you're a seasoned angler or trying your hand at fishing for the first time, these guides offer a wealth of knowledge and an enhanced fishing experience.
Rest and Relax: Lodges Near the Salmon River, Idaho
After a day of casting lines and reeling in catches, having a cozy place to rest and rejuvenate is essential.
These lodges not only offer comfort and amenities but also ensure you stay close to the action on the Salmon River.
Redfish Lake Lodge provides a serene getaway with stunning views and easy access to fishing spots. Redfish Lake Lodge may offer guiding services.
Triangle C Cabins offers a rustic and comfortable stay, ensuring you're energized for your fishing adventures.
River Dance Lodge ensures a comfortable and scenic stay, keeping you close to the vibrant life of the Salmon River.
Combining the expertise of seasoned fishing guides with the comfort of nearby lodges ensures your fishing trip on the Salmon River, Idaho, is not only fruitful but also incredibly enjoyable and relaxing. Whether you're here for the fish, the scenery, or a bit of both, the Salmon River welcomes you with open arms and a wealth of experiences.
Disclaimer: All information on this page is for entertainment purposes. It is your responsibility to check the official rules and regulations.
Are there grizzly bears on the Salmon River Idaho?
The black bear is the most common bear found in this area. However, grizzly bears are found near the Salmon-Challis National Forest and the surrounding area. See Safety Tips For Fishing Near Bears.
Is the Salmon River good fishing?
The Salmon River has very good fishing for multiple species and combined with good access and great scenery, it is a great place to fish.
How deep is the Salmon River in Idaho?
The depth of the Salmon River is different throughout the river with some sections said to be over 50 feet deep and other sections less than 5 feet deep.
How big is the Salmon River in Idaho?
The Salmon River is 425 miles long and it covers 14,000 square miles.
Additional Resources