8 Best Travel Fly Rods: 2023 Buyers Guide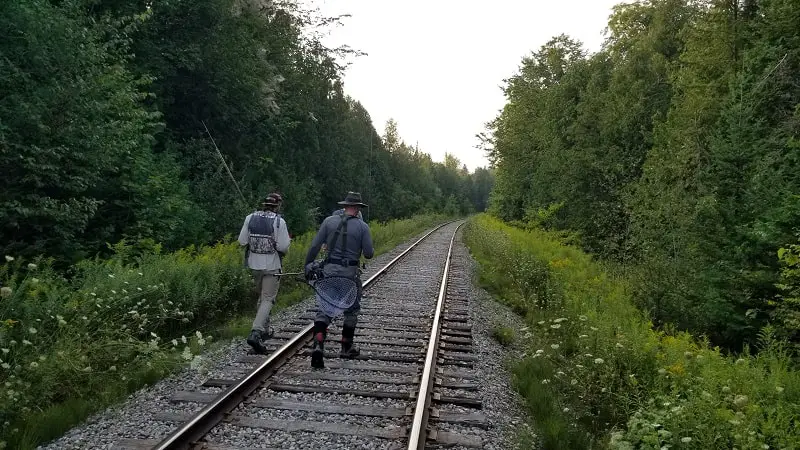 To be honest, I don't own or use travel fly rods myself, however, since I have guided hundreds of traveling clients that have come from as far away as Africa and Australia, some of them bring their travel fly rods so I've had plenty of opportunity to cast and fish with some good travel fly rods, and some not so good travel fly rods.
If you are on a budget, the best travel fly rod is the Redington Classic Trout which sells for about $189, or the Orvis Clearwater Travel Fly Rod for $249, or if you've got the cash, the overall best travel fly rod is the Hardy Aydon Travel Fly Rod.
I'll discuss other travel fly rods from $79.00 to over $500.
To be honest, some of the discount travel rods and the telescopic travel rods I've tried really suck! They just don't load well which means they cast poorly, and when fishing with them they either feel like a pool cue or are whippy like a wet noodle. As a fly casting and fly fishing instructor, learning to cast on these very cheap rods will be harder.
Unless all you can afford is a super cheap travel fly rod, I would not recommend them, especially if you plan to use it often. And since some of the ones I tell you about here are really not that expensive, spending a little extra will get you a much better travel fly rod.
This page contains affiliate links. If you buy something through one of these links we may make a small commission which is at no cost to you. Commissions allow us to continue to bring you great content. Thank you for your support. Affiliate Policy
What Is A Travel Rod?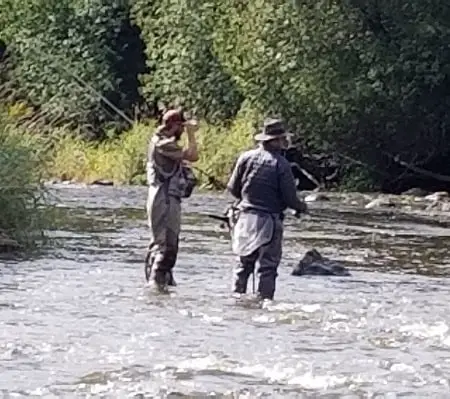 Travel rods are like regular fly rods except that they are six or eight pieces, and when they are broken down, they are often less than 20 inches making them perfect for a suitcase on a plane or for stuffing in a backpack and hiking into a secluded fishing spot.
A travel fishing rod or travel rod uses a lightweight design crafted of graphite or carbon fiber.
Travel rods do not typically come with a reel unless you are buying some of the cheap ones on Amazon. You can find travel rods designed for various applications and weights from 3 weight to 10 weight for big salmon.
Although they are called travel fly rods, they can be used anywhere and all the time if you want.
These are my reviews of the top travel fly rods available today, and I'll let you choose which one best fits your needs.
Common Travel Fly Rod Lengths, Weights, and Pieces
While travel fly rods can reach up to 14 feet in length, those designs remain pretty rate. The typical lengths for these rods range from 8.5 to 10 feet, with the most common lengths including:
8.5 feet,
8.6 feet,
9 feet,
9.5 feet,
10 feet.
What's the perfect length for a travel fly rod, you ask? Choose fly rods of up to nine feet in length to gain the best accuracy, but if you need greater flexibility or for custom methods, choose a rod of greater than nine feet. Nine feet offers the sweet spot for a fly rod.
Because travel rods are made with more pieces than a 2-piece or a 4-piece they are slightly heavier. This is due to the ferrules and the extra resins. Many 5 or 6 weights are around 3 to 4 ounces on average, however, the actual weight of the rod will depend on how long the rod is and the rod weight rating.
Some of the really cheap Fiberglass fly rods weigh the most, between six and 15 ounces (between 170 and 425 grams), but graphite and composite rods weigh less. Fly rods don't come imprinted with their ounces or grams weight but you can find that on the manufacturer's website.
Typically, you use the same line weight as the rod weight rating, so if the manufacturer recommends a weight rating of five, you'll read a 5wt on the side of the rod or its packaging.
Pro Tip: Rod weight matters a lot. Use a fly rod with a weight of one to four for small trout or panfish, or really for any small stream fishing. When fishing in large streams or rivers, use a four to six-weight rod to catch trout and small bass.
If you can only pack one rod for a trout fishing trip, choose a five-weight for its versatility.
Bass, carp, pike, and steelhead fishing requires a six to eight-weight fly rod and line, while large salmon, steelhead, musky, or saltwater fishing requires eight to 10-weight rods.
Fly fishing for big game fish like Tarpon takes the heaviest weight rod and line of 10 to 14.
Pro Tip #2: With any fly rod the sections can come apart when casting. I've seen hundreds of rod tips go flying off when casting. With travel rods, there are even more sections that can potentially come off.
To lower the chance of this from happening, when lining up your ferrules, instead of lining them up and then pushing them tight, have them slightly misaligned and then twist them into alignment as you push them together tight. This twisting locks them in place better, and rarely do my rod pieces ever come apart during casting.
Best Travel Fly Rods: All Price Ranges
Now that we've covered the common weights, lengths, and pieces, and what sizes are best per species, let's dive into the greatest depths of fly fishing gear to explore the best travel fly rods.
I'll cover a variety of rod weights and lengths, so you can find one that suits your needs whether you want to fish the shallows of the Oklahoma River or the deep waters of the Hudson River, or the Niagara River.
Douglas Upstream Ultra-Lite Fly Rod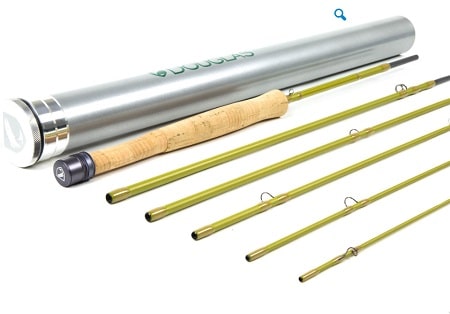 I really loved fishing the Douglas Upstream Ultra-lite Fly rod in both the 4-piece and the 6-piece travel rod.
It is super smooth casting and is a light rod that is great for small stream trout and panfish.
This is as the name implies a lightweight rod and it only comes in 2, 3, and 4 weight sizes.
Douglas offers its Upstream Ultra-Lite fly rod in eight lengths, ranging from six feet six inches to eight feet eight inches.
Choose between a simple two-piece fly fishing rod or a more complex six-piece design in this.
Only the six feet six inches rod comes in the two-piece design. The seven feet three inches, eight feet, eight feet three inches, and eight feet eight inches rods come in four pieces, you can get the seven feet, seven feet six inches, and eight feet lengths in a six-piece design.
Every option uses the same bamboo-like handle design made from cork. This rod features spigot ferrules to enhance energy transferability and a sliding ring reel seat to reduce weight.
Every rod comes with a 1 5/8" brushed aluminum rod tube and sock to make packing it easier.
Hardy Aydon Travel Fly Rod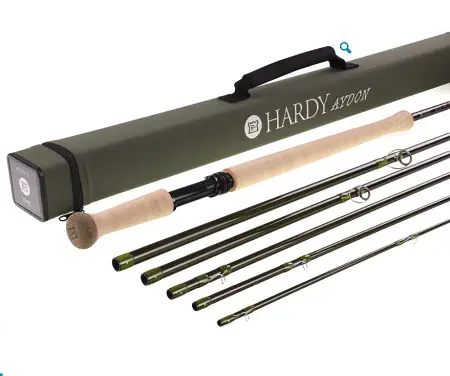 When you want the best medium fast rod action travel rod, try the Hardy Aydon travel fly rod, offering four length options from 3 weight to 10 weight:
8 feet,
9 feet,
9.6 feet,
14.6 feet.
This six-piece rod handles line weights of four through 10, depending on the length of the rod. The design combines a cork rod handle with a ceramic guide of lined titanium stripper and a chrome single foot.
The overall rod uses Sintrix multi-modulus carbon fiber, so it weighs less than a fiberglass rod. Some individuals may find this an easier rod to use because of the keyed fly reel seat slide band that doesn't weigh much.
Depending on the rod length you choose the design either uses aluminum or wood spacers.
One of my favorite things about the Aydon model rod comes from its packaging. Hardy provides a travel tube that helps keep all of the pieces of the fishing rod together in your backpack or suitcase.
Greys Wing Travel Fly Rod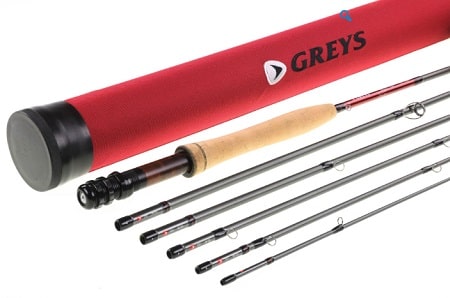 Okay, I feature this rod, hence the link to another page on this website, so you know I love it.
It's my favorite when I need a medium-fast rod action. Greys Wing six-piece travel fly rod comes in four lengths, but I recommend the nine feet length because it offers the greatest versatility in various fishing situations.
Here are all of the length options though:
9 feet
11 feet
11 feet four inches
14 feet.
Depending on the length you choose, you can use a 3wt, 5wt, 8wt, or 9wt line with this six-piece rod.
You get two handle choices – RHW or TPSF. Like most travel rods, this design uses a cork rod handle. Greys Wing's design features a lined stripper with a stainless steel snake on a Powerlux carbon rod in a grey and red color combination.
Depending on the length of the rod you pick, this design uses either single or double-foot snake guides and either wood or alloy spacers with an alloy fly reel seat. Its reel features dual locking nuts with a nylon cushion ring.
Similar to the Douglas Upstream, it uses a keyed and milled reel seat slide band. I love that Greys Wing makes it easier to safely pack this rod by supplying a hard tube and rod bag for it.
Echo Trip Eight Piece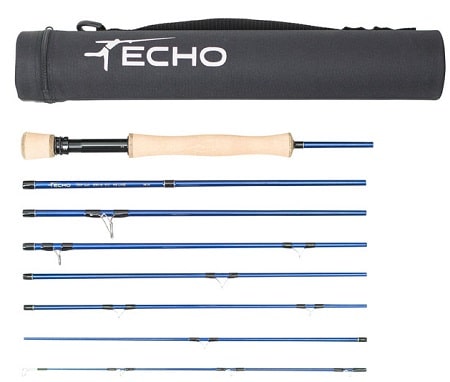 The other fishing rods reviewed offer a bevy of lengths, but Echo's Trip travel rod comes apart in eight pieces for truly simple packing.
Each piece measures 15 inches and its case measures 18 inches. That means you can easily fit it into any suitcase or backpack.
Echo chose to offer its travel fishing rod only in a nine feet length.
It does offer three versions of the rod though – catering to three line weights, 5wt, 6wt, and 8wt.
By choosing to design this rod in only nine feet, Echo has focused on providing power and fast action for its travel rod.
Orvis Clearwater
You can get excited with the price of the six-piece Clearwater Travel Fly Rod, $249. It is a great rod for that price.
It doesn't really cost half of what the other rod and reels cost. That price covers just the rod. To get the whole outfit, you'll pay the same price as you would for the other options in this article – about $500 to $550.
Now, on to its design. This snazzy-looking black chrome rod with white accents features a chrome snake and a stripping guide with a ceramic insert.
The sleek looks continue with its black nickel aluminum reel seats. It does just look cool though; Orvis used composite tips on the fighting butts to add to the durability of the rod.
Like many other travel flys, it comes with a rod tube. This one's in gray.
Redington Classic Trout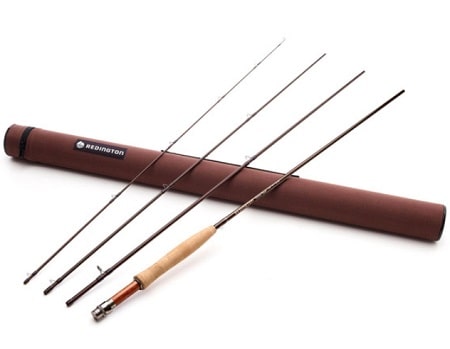 The Redington Classic Trout fly rod is specifically designed for trout. Why? It's in the name.
Redington also custom designed a travel version of this fishing rod and I have had the opportunity to try this rod a few times, and if I were going to buy a travel fly rod under $200 this would be it.
The Redington Classic Trout Rod comes in 4 pieces and 6 pieces.
While all the four piece rods come in lengths and weights, starting at 7 feet six inches, and ranging up to nine feet in length.
The Redington Classic Trout travel rod only has one model which is a 9 foot 5 weight that comes in 6 pieces to make traveling easier.
This rod's moderate action works well for all anglers and it is good in small creeks, rivers, or from the comfort of your boat.
Because it only weighs 3.1 ounces and offers great flexibility, it provides a superb alternative for a long day of fishing.
Choose from two configurations – a four-piece or a backpack-optimized six-piece. Various fly fish rod lengths work with different line weights. Here's a quick guide:
7 feet six inches, 2wt or 3wt
8 feet, 4wt
8 feet six inches, 3wt,
9 feet, 5wt, 6wt.
As usual, the nine feet in length option offers the greatest versatility in application.
Redington Trailblazer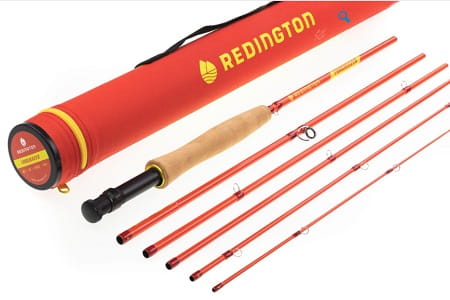 I'm following the Redington Classic Trout rod with another Redington winner, the Redington Trailblazer.
While the Classic Trout specializes in trout fishing, the Trailblazer was made for backpacking and traveling and can work for essentially any fishing situation.
The compact design breaks apart into six pieces and comes in two-length options.
Choose either a 7 feet six-inch design that works with a 3wt line for small stream fishing, little tout, and panfish, or a nine feet option that works with a 5wt line for bigger rivers, lake fishing, nymphing and streamer fishing, bigger trout and bass, and any waterway requiring a loner casts.
Redington includes a compact storage tube to help keep all parts safe and organized.
According to the manufacturer, the Trailblazer provides the lightest rod they've offered.
Also, if you care about such things, this rod comes in a jaunty red blank streaked with neon green.
Getting down to the mechanics of this rod, it uses single-foot snake guides and an anodized aluminum reel seat, resulting in a travel rod that weighs less, but also proves more durable.
M MAXIMUMCATCH Travel Fishing Rod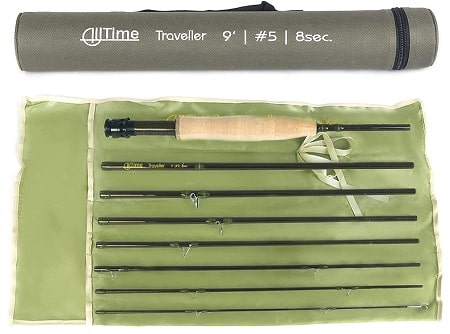 Best Tavel Fly Rod Under $100
One of my clients had this rod with him and since I'd seen it on Amazon and since it is very inexpensive I decided to try this rod out.
Although the M MAXIMUMCATCH Maxcatch Traveler Fly Fishing Rod casts 40 feet of fly line pretty good this is still my least favorite of all the rods on this page.
I felt that the rod felt a bit heavy and a bit stiff compared to most rods and my concern is the durability of the rod. it just didn't feel as good when casting and fishing and when fighting fish.
However, I you are a total beginner or you have a young child who is hard on gear and you don't want him using a $200 rod, then this is a good option, and that is why I'm recommending it.
It comes in a range of 5 to 8 weight and is only made as a 9 foot rod.
The manufacturer claims it is crafted of a 30T mixed with 40T carbon fiber blank using Maxlinq technology (whatever that is), and it blends five layers of carbon with a reinforced carbon layer. Apparently, that makes it weigh less than other rods and offers a stronger fishing rod. However, I have not tested this side by side.
Its medium-fast action means it works well in streams, lakes, rivers, and essentially any freshwater application. The carbon fiber blend results in a casting action similar to that I've gotten using a four-piece rod design. The rod itself offers lower section stiffness and flexibility everywhere else to use it to reel in larger fish. 
Although this rod costs much less than most, it uses high-quality mechanical parts, such as MaxSelect ceramic insert stripping, chrome guides, a high-density machine cut reel seat, and an oversized tip loop to help with long casting.
Like the other choices I've covered, this rod uses a cork handle. The hard Cordura tube doesn't add to the space taken up by the travel rod, since it measures just under 17 inches in length.
If you are looking for an entire setup, check out my recent article on the best fly fishing combos and kits, and if you need a reel to go with your rods check out the Best Fly Reels page.
Best Travel Fly Rods Summary
If you are looking for the best travel fly rods these are them and they range from $79 to over $900.00. My advice when choosing a travel fly rod is to choose the best one that fits your budget.
Tight Lines,
Graham