Steelhead Net: The 5 Best Steelhead Wading Nets

As a veteran river guide for over 20 years, there are some years that I will put over 500 steelhead in my steelhead net. I'm not bragging, I'm just saying that I'd be lost without a steelhead landing net that was a suitable size and type to land big steelhead for my clients. I'd also have some disappointed clients if I didn't have the proper net to land their big steelhead.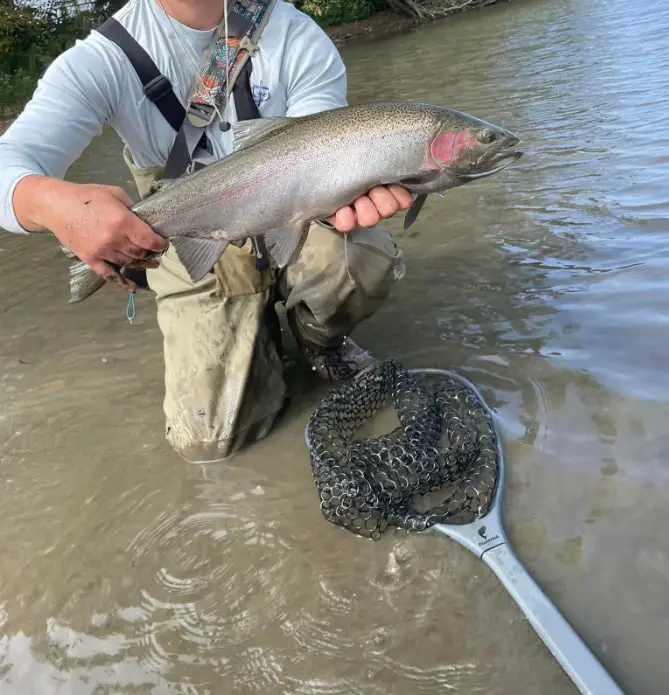 The best steelhead net will have a long enough handle for more reach, a wide and long enough hoop to fit big steelhead in it, a deep enough net to securely hold big steelhead, a net mesh that is easy on the fins and scales of the steelhead, and it must be portable and lightweight.
I've used and tested a lot of good nets for steelhead, and some not-so-good landing nets, so in my opinion, these are the five best steelhead wading nets for river fishing.
You might be surprised by the nets I use, but they work and I have my reasons.
This page contains affiliate links. If you buy something through one of these links we may make a small commission which is at no cost to you. Commissions allow us to continue to bring you great content. Thank you for your support. Affiliate Policy
My Quick Pick Steelhead Nets
FishUSA Premium Trout & Steelhead Landing Net: Best Overall with a longer handle.
Frabil 17×22 floating trout net: Best Lightweight Budget Net
Fishpond Nomad El Jefe Net: Best High-End Net
How To Use A Steelhead Net Properly So You Don't Break It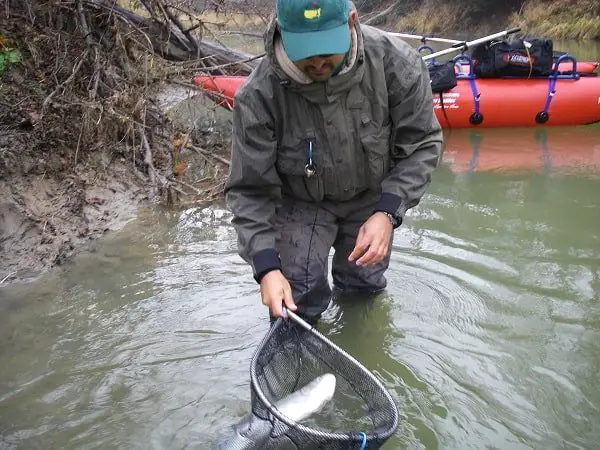 You may be thinking this is a no-brainer, but I'll be honest with you and say that often, if a net breaks, it's human error.
Steelhead landing nets are made to put the fish in them and then hold them in place while the fish remains in the water.
Nets are not meant to carry a 15-pound fish up and out of the water, at least not for long.
Most nets break when big fish are lifted and the full weight of the fish is pulling on the net.
Nets also break more often from being caught on branches or logs when walking through trails and forest areas.
For these reasons, I prefer cheaper nets like my net in the above image which cost me less than $30.00.
The Best Steelhead Wading Nets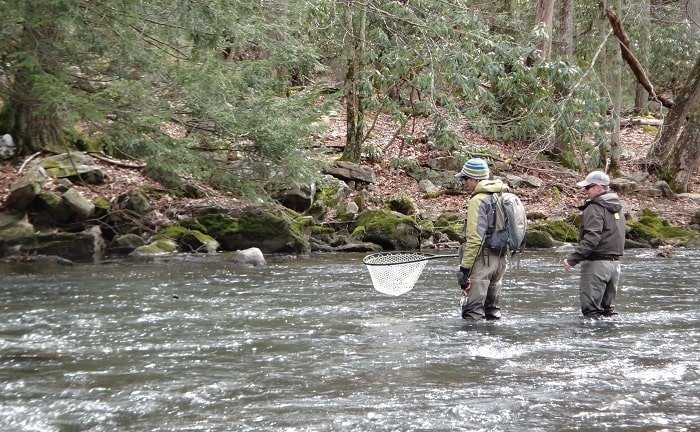 It's actually difficult to find a good wading net suitable for steelhead that doesn't cost a lot of money.
I've even seen some of these very expensive nets rip with big fish swimming right through the net, so expensive doesn't always mean better.
These are the 5 best steelhead nets:
1. Frabil Floating Net: Guides Choice
The Frabill Floating Trout Net is the net I have used for many years when wading for steelhead, salmon, and trout and it's a great net for the average steelhead angler.
The 17″ x 22″ is great for steelhead and is big enough to get most of the body of a large salmon in. Enough to control the fish in the water. It's also cheap, but it works well, which is why I love it.
Just don't try to lift a big heavy fish up with this net, or it might break. I've put thousands of steelhead in this net because I don't lift them up and carry them out of the water.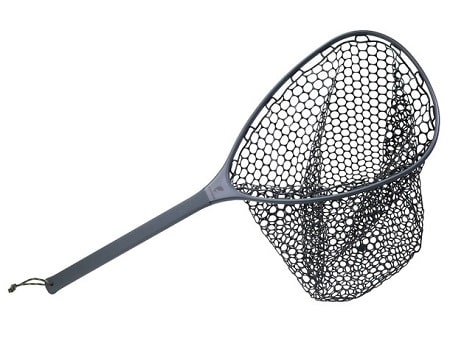 2. FishUSA Premium Trout & Steelhead Landing Net
This is one of the best mid-length handle nets is designed for steelhead and trout.
This net offers the benefits of a larger hoop, a deeper bag, and a mid-length handle suitable for steelhead fishing.
Made of lightweight carbon fiber so it's not heavy to carry, it floats, and the 18-inch tangle-free deep black rubber bag is larger enough and deep enough for steelhead up to 15 pounds.
The net measures 37 inches in total length, with a hoop size of 13 x 18 inches and a bag depth of 18 inches.
3. Fishpond Nomad El Jefe Net
The Fishpond Nomad El Jefe Net is a net used by many river guides when wading for steelhead, salmon, and trout.
The 13″ x 21.75″ wide mesh rubber netting is good for steelhead. This net also works from the boat.
Also, don't try to lift a fish up with this net or it might break.
Clear rubber net bag
Length: 41.5 in.
Weight: 1.23 lbs.
Head Dimensions: 13 x 21.75 in.
Bag Depth: 14 in.
If you like a shorter handle you can try the Fishpond Nomad Hand net: See it here.
4. Frabill Kwik Stow Folding Trout Net
The Frabill Kwik Stow Folding Trout Net with the 22 x 20-inch hoop is the net I have used for many years on and off my boat.
It folds up nicely, but it can be a little difficult to unfold when fighting a fish by yourself.
If you are looking for a decent combo net for the boat and walking, this is a good one.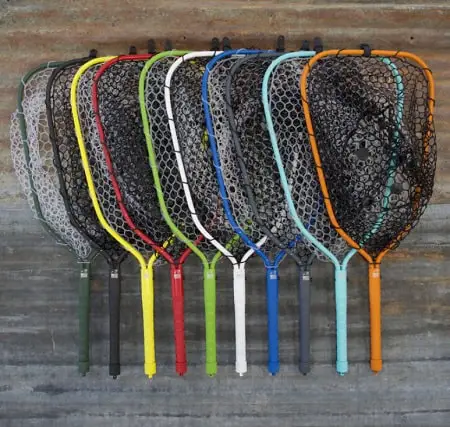 5. Rising Cerakote Stubby Lunker Fishing Net 10″ Handle
The Stubby Lunker Net is a cross between the smaller Brookie and longer-handled Lunker Net. The shorter handle makes it easier to wade with and hang from a vest or a pack. Also, it's made in the USA.
It features a total length of 33.5 inches, with a hoop size of 14 x 22″, with a rubber bag depth of 11 inches.
Connect Your Net Properly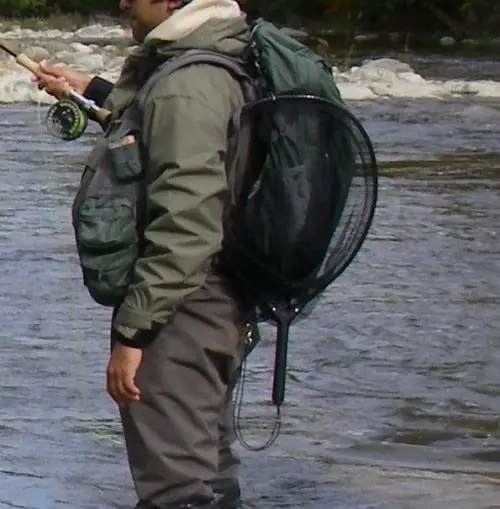 I have found lots of nets on the side of the river or along the path. Most of the time, it's because the net is not properly secured and it will get caught on a branch or log and come off, and the angler just keeps on walking without noticing it's gone.
The problem is most anglers attach their net with the handle up. The pro anglers and competition anglers have the handle down.
The handle-up means the meshing of the net is dangling low and is more likely to get caught on branched and low obstructions. Handle up and also harder to grab.
Having the handle hanging low like in the above picture keeps the mesh out of the way, and look where the angler's hand is and how close it is to the handle. This makes it much easier to grab when you are fishing a big fish.
To rig this properly, connect the net release magnet at the top and have an elastic cord attached to the bottom of the hand, with the other end of the elastic cord attached to your belt.
The elastic cord should be stretchy enough to allow you to reach full extension with your arm and hand, but still be strong enough not to break if it gets caught on a branch while walking. A thin bungee cord works for me, and I use a carabiner to connect it to my belt.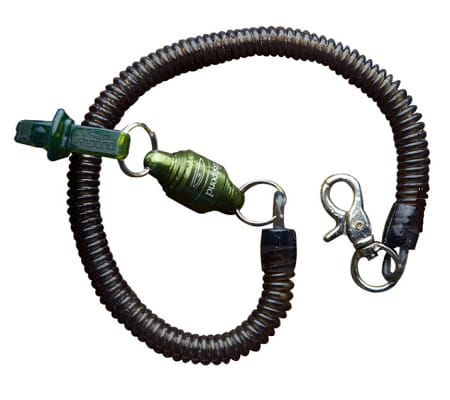 Cheap magnetic releases that I have tried sometimes suck. They just don't have a strong enough magnet to hold the bigger steelhead nets.
The Fishpond Confluence Net Release is a great option.
Best Steelhead Net Q&A
If you have a question about the best steelhead net or you have advice on a good net that works for you, let us know in the comments section below.
Tight Lines,
Graham